The sun had set, the fire outside was crackling, and the homegrown heirloom carrots were almost ready to plate.
Dylan Palmer, 30, the event organizer for the New Year's Eve festivities at Lupin Lodge—the longstanding clothing-optional institution in Los Gatos' mountains—was scurrying around handling final preparations.
"Mystics have said there's a lot of feminine energy coming up through the Earth," he said, referring to the location's unique positioning along the Loma Prieta segment of the San Andreas Fault. "This place calls out to people, and you never know who you're gonna meet."
The nudity-embracing space, founded in 1935, was about to kick off an evening blending hostel, rave, hippie and festival culture, in a decidedly chilled-out fashion—due to the surging Omicron coronavirus variant and the nippy conditions in the air.
This would put a damper on the amount of naked bodies making an appearance at the gathering, but not on the communal atmosphere—where young bass music heads were overheard commenting on how cool it was that older folks were around to share their stories.
Palmer grew up in Morgan Hill, and has been coming to the property for years.
"I always felt when I was here that I could be the best version of myself," he said. "It made me feel comfortable exploring that unknown."
Over the years, the venue has played host to rising electronic artists like Shlump and G Jones, who now boast tens of thousands of fans. Back then, G Jones went by Grizzly J and played in the yurt just past the big oak tree by the communal kitchen, Palmer remembers.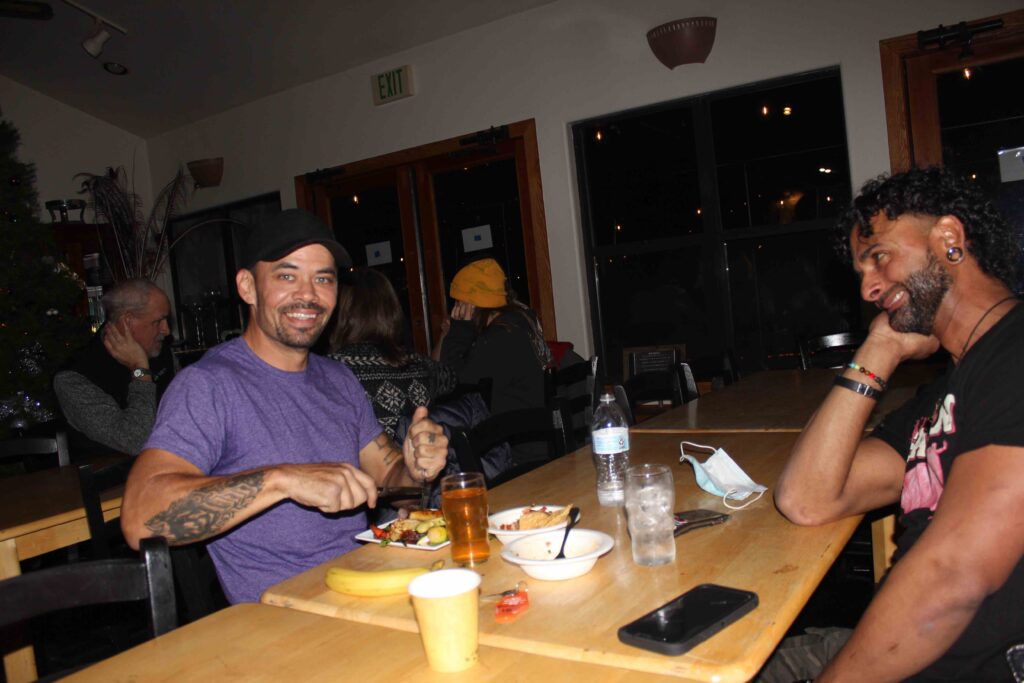 Javier Marquez, 36, has been a Lupin guest as far back as 2012.
"I remember we booked CharlestheFirst here, when I was still part of Blockhead," he said, referring to the Greater Bay Area production company he was involved with.
Festival-headling DJ CharlestheFirst, aka Charles Elias Ingalls, "passed away in his sleep" on Dec. 10, so bringing him up resulted in a somber moment of remembrance.
"He was just starting to blow up when he played here," Palmer said.
Julian Marquez, 27, of San Jose said when he decided to check out activities at Lupin, he was following in the footsteps of his friends, who'd already been frequenting the locale.
"It's always been a great community vibe," he said, adding he appreciates how you can "come out here and hang out with your friends and family."
Eventually, the DJ events at Lupin got a bit too rowdy and had to be scaled back, forcing the community to ask itself, what does a "Lupin party" look like?
"It took a long time to figure that out," Palmer said. "The party had to transform."
Lupin may have played its part as the dubstep and EDM wave swept across America in the early 2000s, but at its core it's always been about a freeform connection to the natural world.
"There's a difference between 'nudism' and 'naturism,'" Palmer said. "It's the real 'raw': What would man look like without all that societal influence?"
Other than the pool area, where 'no clothing' is strongly encouraged, people are allowed to keep their garments on everywhere else if they like, he explains.
"It sets the playing field," he said. "You have the ability to choose where you sit within that."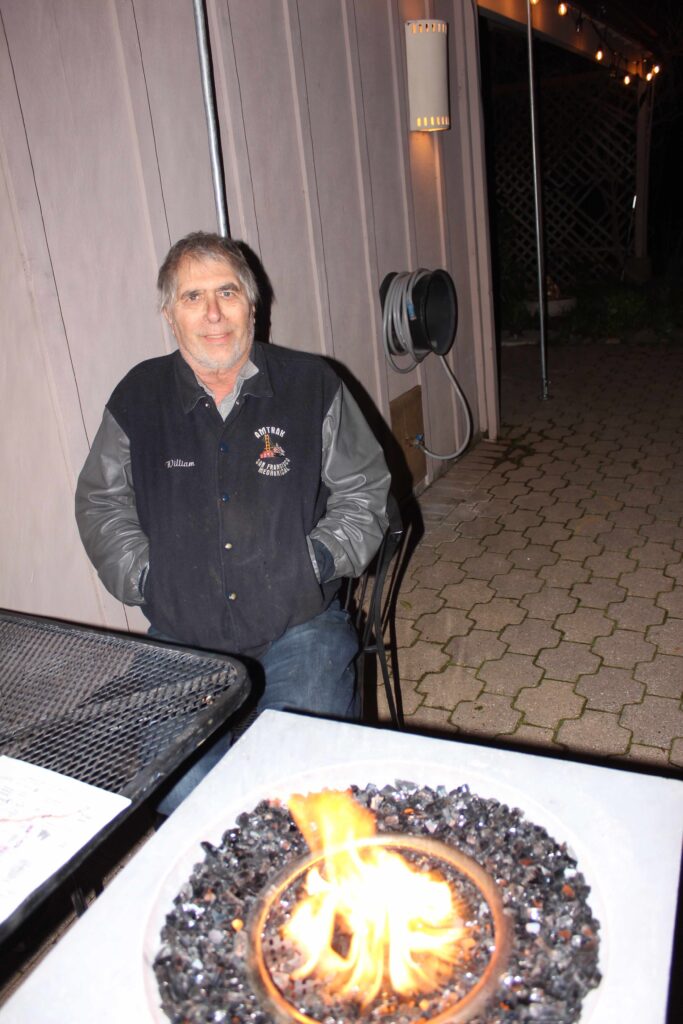 Bill Wisneski, 65, who is originally from Rowland Heights in Southern California, has been living on the property for about six years—and visiting for about 15.
"I like the tranquility of the place," he said, adding he particularly enjoys catching glimpses of wildlife. "You've got the deer, the wild turkeys, the skunks."
He isn't a huge fan of the more youthful parties, but supports them, because he knows they help pay the bills.
As to his nudist habits—"not so much anymore."
These days he appreciates how living at Lupin allows him to be in Silicon Valley, close to his railroad job, without breaking the bank.
"This is one of the cheapest places to live," he said. "I like this place. I do. It's a marvelous place."
Plus, he continues, there's something pure about a community based on naturism.
"It doesn't matter if you're rich, or poor, or anywhere in between," he said. "Clothes can tell people what your status is. But if you don't have any clothes on, nobody knows your status. That's the neat thing about this place."
An outsider might have found it a bit jarring, as Errol Strider, 78, saunters through the dining hall au naturel, but this approach to life has been with him since his earliest days.
"He was a closet nudist," says wife Rochelle.
Errol disputes this—"I've been out of the closet since 9 years old," he retorts. "I just like the freedom and the vitality."
The couple met each other in 1974 and moved in together the next year. They toured the country for 40 years with their theatre show, Strider Entertainment.
It was "inner-tainment" they stress, a way to connect with your internal self.
Errol is particularly proud that a soundbite about one of his naked escapades was a clue in an episode of NPR's "Wait Wait…Don't Tell Me!" quiz show that made quips about his fanny pack.
But their playfulness comes with a considered undertone.
"We have a message for America. The message is: We have the capacity to heal ourself," he said. "We have to be willing to let go of what we think it's all about and open up to divine penetration."
Over in the living room that's decked out with a pool table, a well-stocked bookcase and couches, Bryce Lewan, 27, and his girlfriend Hana Stanke, 22, were plopped on the floor, painting on large canvases.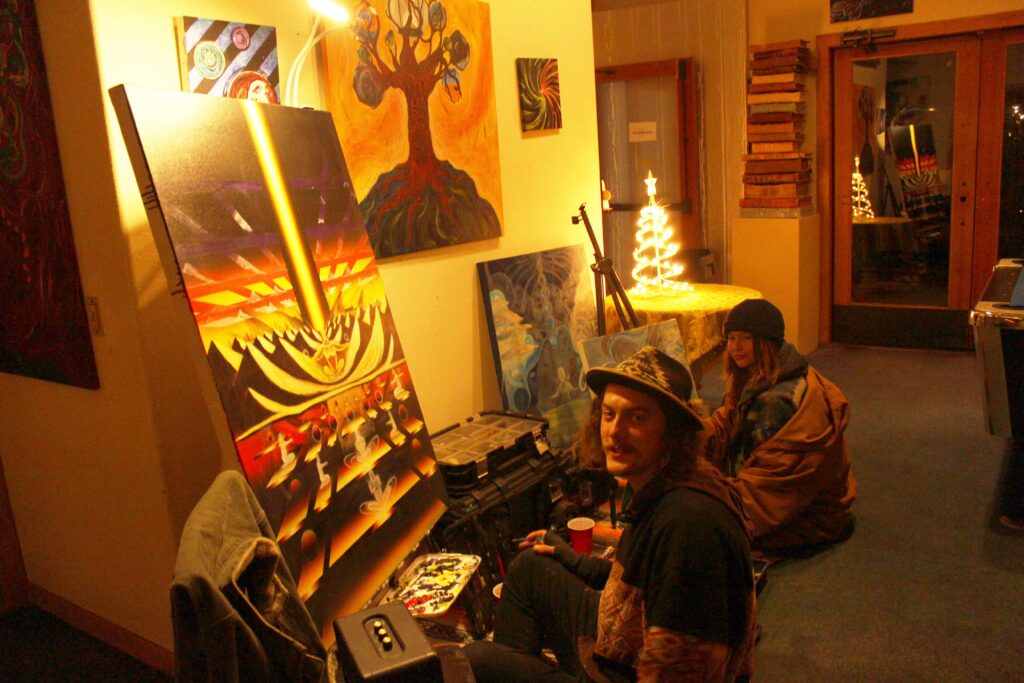 Like all attendees in sight, they were wearing clothes.
"I'm excited to see what this year brings us all," he said. "I think 2022's gonna be super good."
Their van, which they live in along West Cliff Drive in Santa Cruz, was recently broken into, so staying at Lupin for a few days was a treat. Plus, working on art in a small vehicle isn't exactly the easiest thing in the world.
"It's hard to paint in the #vanlife," Lewan said, as he gently stroked his brush across a year-long effort that's shaping up to look like a Pink Floyd or Journey album cover. "We're sharing art together."
Stanke, who is originally from Hamburg, Germany, made progress on an abstract teal image with flowy features.
"I feel great here," she said. "It kind of feels familiar and welcoming."
Saratoga resident Charles Perkins, 70, came to Silicon Valley in 1997 for a programming job at Sun Microsystems.
"I joined Lupin as soon as I came here," he said, noting that he's actually been visiting the property since he was 40. "Lupin is famous."
Wife Sherry Hagen, 75, says there are weekly Lupin House Band performances, and monthly nude art classes (where painters are fully clothed).
Perkins was already on the board of directors when he got laid off in 2019 and decided he didn't feel like looking for a job. Instead, he's dedicated himself to renewing the property to its former glory.
"It has become successful not just because of me," he said in his amiable drawl. "I think the general atmosphere is better."
For a while there, after the Great Recession, the organization experienced its own downturn, according to Perkins.
Now, out of a couple hundred members, there are around 50-60 regulars, he says. That's on top of the campers and one-off event attendees.
The pandemic meant some people stayed away, while others moved onto the property to take advantage of the Santa Cruz Mountains.
But a clothing-optional community isn't so clothing-optional when the thermometer drops, he adds.
"In a lot of ways, nudism is pretty seasonal," he said. "There's just more things you can do nude in warm weather."
Hagen says she enjoyed last summer's Shakespeare play, and the singers and dancers on Thanksgiving weekend.
"It's not about the nudity, or the pool, or the dancing," she said. "It's about the community."
They even have a book club.
"We're naked in the summer, and fully clothed in the winter," she said of the group.
Perkins says the organization runs checks on new members to make sure they aren't sex offenders, and maintains a strict set of standards to promote a safe environment.
"They don't want people coming in just to look at the naked people," he said. "That's sort of impolite."
As the older folks made their way elsewhere, the party ramped up, with dubbed-out vibes, trap influences and warm breakbeats.
Most not only wore clothes, but full-on winter coats, for ease of transit to the outdoor fire pit—although some male and female revelers went with a topless approach.
One young woman who chose this option, said it was a way to embrace an uncorrupted, less commercial, form of self-expression.
Around 2am, as DRMWVR was ending his set with the reflective track "Medicinal Truth," attendees migrated to the yurts, where they caught up with one another, shared sneak peeks of emerging musical creations, and told triumphant tales of overcoming addiction.
Wisneski, the railroad worker, was long in bed. But what he'd related earlier would likely have resonated with the late-night crowd.
"This is a nice place to meet real good people," he said, explaining he's quite the introvert. "I've opened up a lot."