Council Chambers were brimming as residents turned out Tuesday night for the ceremonial handoff of mayor and vice mayor duties.
And as Rob Rennie, who's been vice mayor for the past year, took the gavel from now-former mayor Marico Sayoc, he commended her for her leadership.
"Thanks for your personal sacrifices to get us through the year," he said, lauding her efforts to push Los Gatos to become a more inclusive community. "For many, Marico remained a beacon of safety, hope and happiness."
After a brief public comment period, the proceedings kicked off with a series of commission appointments.
Maureen Cappon-Javey, a member of the Arts and Culture Commission, said she looks forward to working with two incumbents and two new members named during the evening to that commission.
"I think what happened tonight was: Los Gatos showed its true character," she said. "For a little town of 33,000 people, we are mighty."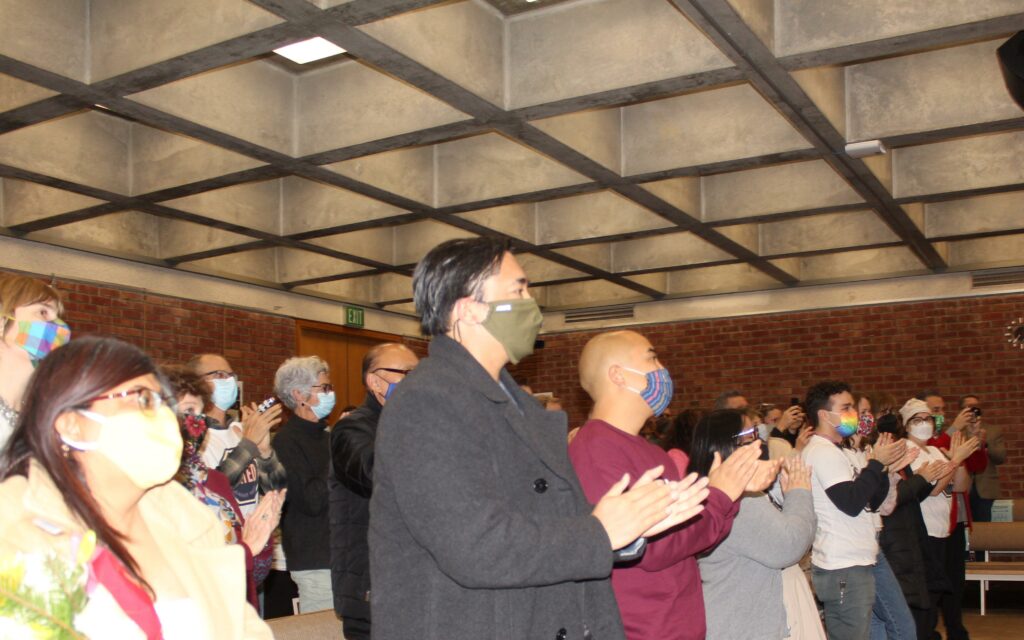 She was referring to the show of support for Mayor Sayoc, evident through the white "anti-hate" T-shirts, enthusiastic clapping and an emotional address.
A year-in-review presentation (sans intended 10,000 Maniacs soundtrack, due to a technical glitch) highlighted the ribbon-cuttings Sayoc officiated, marches she spoke at and intergovernmental successes she achieved.
She thanked Town staff for their tireless work during a difficult year.
"They have continued to provide service to this town with professionalism, with grace," said Sayoc, whose council term ends in 2022. "It's been an absolute pleasure working in partnership with each and every one of you."
Sayoc said she's happy the community has remained in such a solid financial position, and for the ways the community retained its spirit despite Covid-19 restrictions.throughout.
When looking back to the thousands of people who streamed into the streets for a recent "anti-hate" march—in the wake of disruptive council meetings where she and her family were verbally targeted during public comment periods due to her inclusivity policies—she was brought to tears.
"November 14—it will be etched in my memory and my heart," she said. "You gave this Filipina joy to be serving."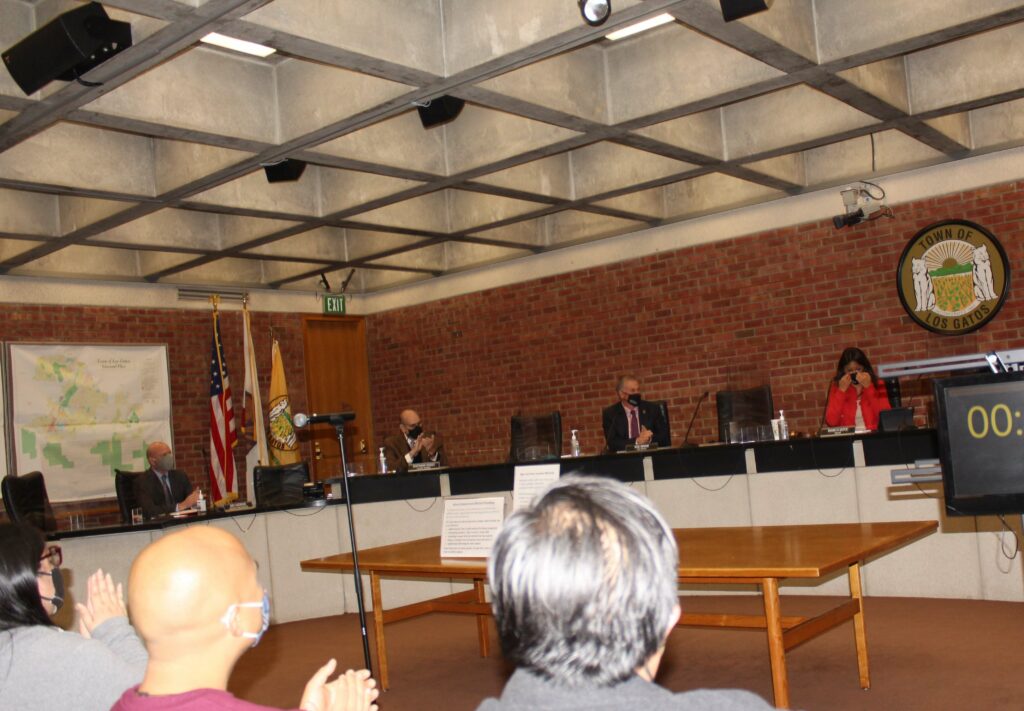 She thanked her fellow council members and noted the incoming mayor, Rennie, was the first vice president of Silicon Valley Clean Energy.
As he took over, he read from several pages of prepared notes, reviving his "areas of focus" from his previous turn as mayor, four years ago: emergency preparedness, business and community vitality, seniors and seniors' services, environmental issues, financial sustainability, and traffic.
"It's a great honor to serve as mayor of this great town," he said. "There's a lot of work to do this year."
Los Gatos has already been making great strides preparing for disasters, according to Rennie.
Rennie said he'll work to improve life for seniors during his tenure, including making sure they can continue to afford to live in Los Gatos.
"Part of the diversity of our community is being pushed out where only the wealthy can afford to live here," he said.
He selected Councilmember Maria Ristow to serve as Vice Mayor.
"Maria's very thoughtful," he said. "She's the kind of person we need on the leader track."
Ristow said she admires Sayoc and has found it fulfilling to have gotten the chance to work alongside her.
"Marico's been a heroine," she said. "I look forward to continuing to serve everybody here."