Los Gatos Town Council candidate Rob Moore says, so far, he's knocked on about 1,500 doors in Los Gatos, experiencing cordial conversations even with detractors.
But last week he was hit by a low-budget attack campaign that called him out for allegedly supporting everything from the Black Lives Matter movement to LGBTQ acceptance to traffic congestion.
"The citizens of Los Gatos want NO MOORE rainbow sidewalks, racist agendas, quarreling neighbors, forced acceptance, lockdowns, big business, low-cost housing and CRIME!" went the laundry list of assertions about what the local is supposedly aiming to accomplish. "We want to preserve our historical presence, wholesome traditions, family community and continue to be a very desirable place to live.
"Just say NO MOORE!"
Moore suspects the strong rhetoric is coming from the same camp who were against mask mandates and opposed former mayor Marico Sayoc's policies, last year.
He says he actually agrees with many of the points the author made about his positions, such as being in support of inclusivity.
The flurry of flyers came the same week Gov. Gavin Newsom signed into law new rules outlining public decorum at municipal meetings, a direct response to the very people Moore believes were behind the new Los Gatos posters.
While the nonpartisan Californians for Good Governance told the LA Times the law could ultimately limit public participation in some places, other groups said it striked a good balance between civility and free speech.
Moore learned about the unsanctioned election activity targeting him via email and headed downtown to assess the situation.
There were about 50 flyers posted in the North Santa Cruz Avenue area, he says supporters told him.
The anonymous activism deployed his own branding—of a bicycle using the two o's in his last name as wheels—to introduce each concern the maker took issue with ("Moore LGBTQ+++" "MOORE inappropriate wasteful spending" "Moore propaganda").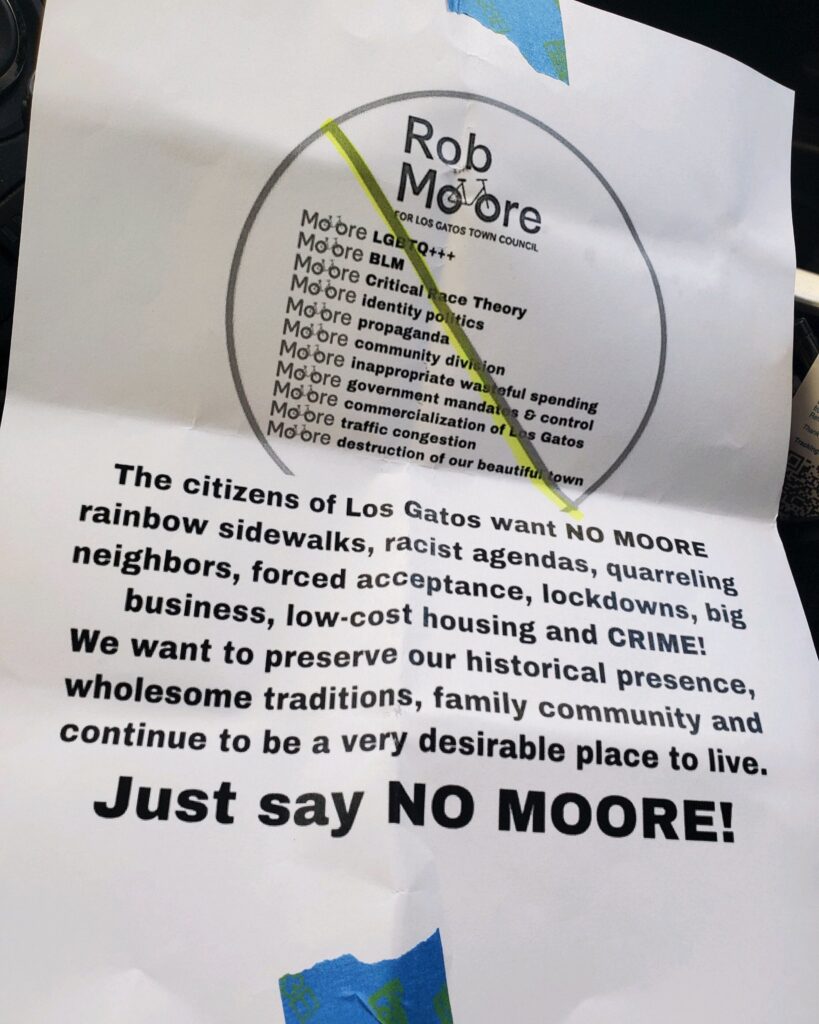 Moore is an unabashed Democrat and even interned for local congressional representative Anna Eshoo.
Much has been made of the Democratic Congressional Campaign Committee spending nearly half a million dollars this year on ads in support of a "Make America Great Again" candidate in Michigan to unseat someone who voted to impeach Trump.
So, are the Los Gatos flyers just a cleverly disguised guerilla marketing tactic from the Moore campaign meant to generate buzz? Not so, says the candidate.
"It's actually very much the opposite," Moore said. "It's very motivating and really it shows that there are these folks…who were harassing the mayor—They're back around."
Moore said by the time he canvassed the North Santa Cruz Avenue area, his supporters had removed all the other posters, so he only removed a single piece of paper from a street pole.
He also took a moment to lambast his critics, by commenting on the rudimentary nature of the graphics.
"You can check my computer and I do not have Microsoft Paint—Microsoft Paint from 1996," he said. "I would never drag the LGBTQ community."