As Mayor Marico Sayoc stepped up to the podium at the Civic Center Lawn, Sunday afternoon, she was in her element.
The community had come out in force for the Los Gatos United Against Hate March—with police pegging the crowd at 2,000-2,500 people, one of whom yelled, "We love you Marico!"
"And I love you—and I love every single one of you," she replied. "Because you know what? Today we are standing united against hate."
Residents from across Silicon Valley—and the Greater Bay Area—congregated as part of the kickoff to United Against Hate Week, which runs Nov. 14-20, and to support local elected officials and their family members who'd been singled out in response to inclusivity policies.
The mayor has largely stayed out of the spotlight following a series of recent disruptive council meetings where protesters referenced her son during a public comment period. Now, Sayoc was buoyed by emotion, as she took in the sea of people voting with their feet around diversity and tolerance.
"This solidarity, this ally-ship, this is what we value," she said. "And this love that we have for one another, this is what we need to foster."
The march followed in the wake of anti-Semitic graffiti found at the Addison-Penzak Jewish Community Center and at Los Gatos High School, where authorities also discovered homophobic slurs.
"Words matter," Sayoc said. "And they cause as much pain—sometimes even more—than physical assault."
Kevin Buchanan, principal of Los Gatos High School, said on the Monday following Halloween—just weeks after a teacher's home was hit with graffiti—school officials found vandalism directed at specific teachers.
"We're working with the police department to see if we can apprehend those responsible," he told the Los Gatan, during Sunday's event. "I think this march was timely and seemed to galvanize a lot of people around the issue."
Diane Fisher, director of the Jewish Community Relations Council, explained that on "the holiest day of the year," Yom Kippur, the JCC was blemished with a swastika, the same week the symbol was also scrawled on the sidewalk outside a Starbucks frequented by students.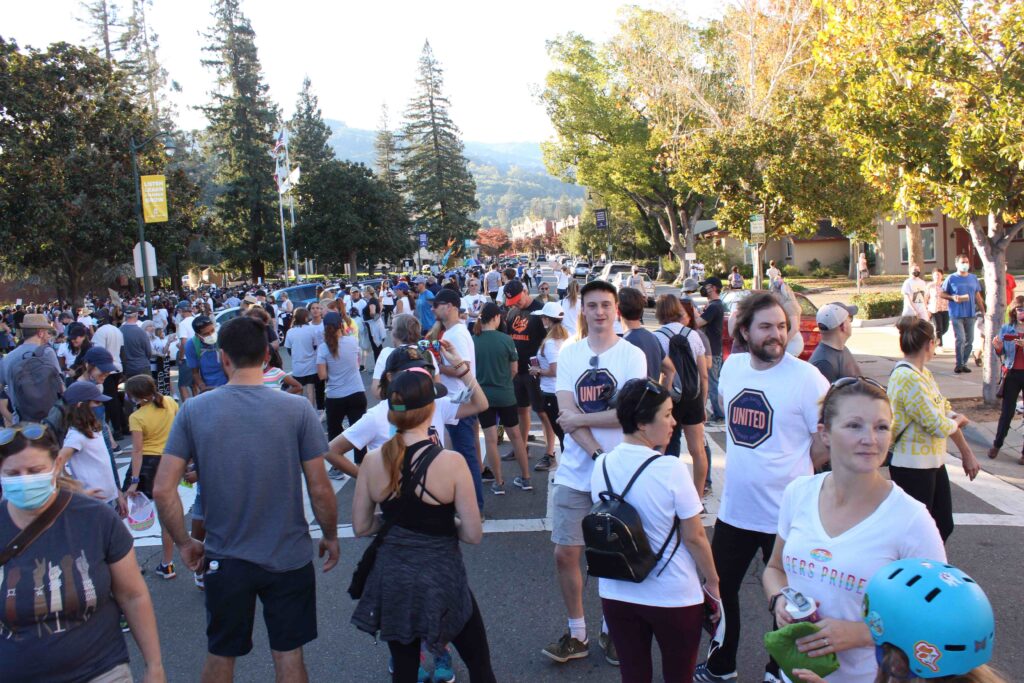 "I've been speaking with students at Fisher Middle School who say it happens all the time," she said in an interview, adding these are reports of whiteboards and desks marked with the Nazi emblem. "Students seem to not understand the horrific hate that is symbolized by the swastika. They need to learn that."
Fisher, whose great-grandmother was killed in the Holocaust, said she's reached out to the principal of Fisher Middle School to request an extra professional development day for teachers in May, during Jewish American Heritage Month, so teachers share about the pain caused by anti-Semitism.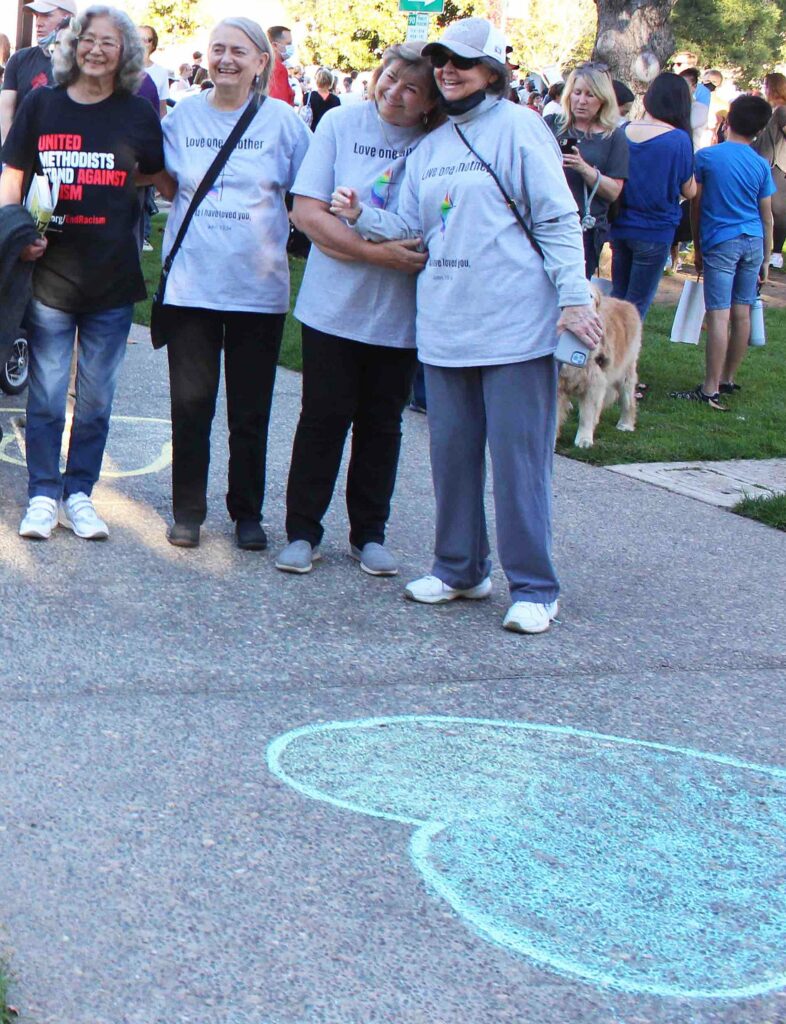 She was pleased with Sunday's turnout, particularly the grassroots nature of it.
"I reached out to some number of people, and then everyone else continued to reach out further and further," she said. "That's why this is so powerful, because it's the power of all the people who did all that work."
In her speech, Katherine Brezoczky, the LGHS associated student body president, expressed her "deepest empathy" toward people targeted in recent incidents.
"These discriminatory acts that we've witnessed in our schools, streets, homes and online are intolerable," she said. "This march today is sending a very loud, and very clear, message that we believe in loving and supporting our neighbors and peers."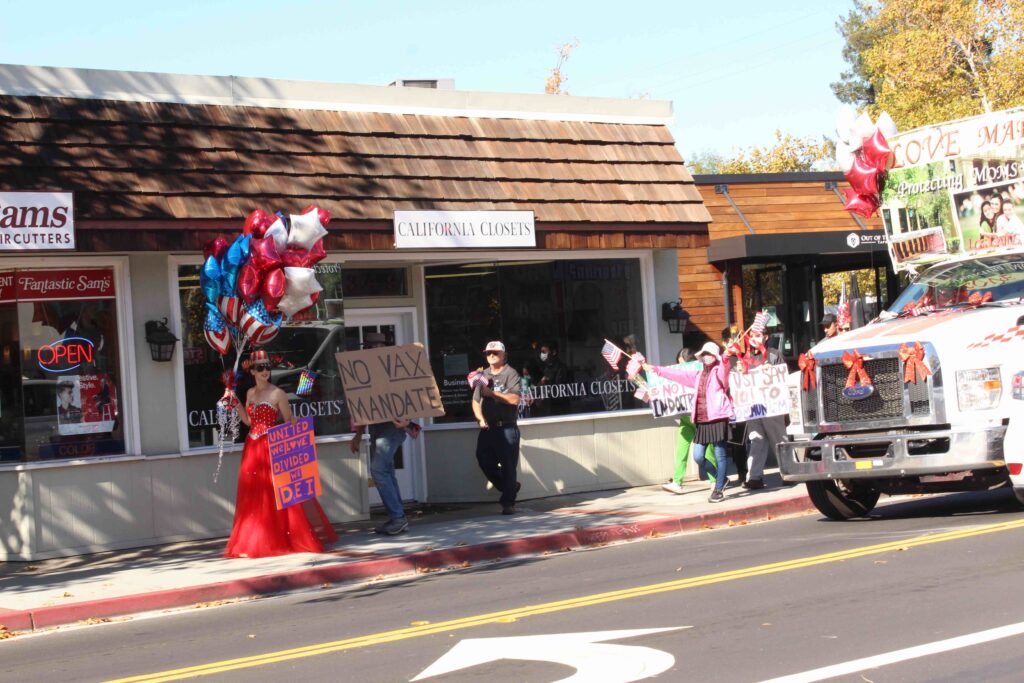 In a recent Saratoga Area Senior Coordinating Council survey of 149 people, conducted in Los Gatos in September and October, 42% of respondents said they wished the Town would "stop all initiatives related to diversity, equity and inclusion," with 58% saying it should maintain the current level or start additional initiatives.
On Saturday, a socially-conservative and anti-vaccine-mandate group of about 30 people—including activists referenced by multiple political leaders during the following day's anti-hate march—gathered for a "Love March," where they handed out roses and sang lyrics from a Les Misérables song.
One of the attendees was David Monteil, 60, of Santa Clara, who explained that while he got the Johnson & Johnson vaccine, he doesn't think people should lose their jobs if they don't feel comfortable getting a shot.
"I'm not one of these people who don't believe it's real," he said. "They don't take into account natural immunity."
As they set out, Lynley Kerr Hogan—a main agitator in recent Council episodes—urged participants to be on their best behavior.
"This is going to be a peaceful, loving experience," she said. "We are not going to be arguing or poking fun at people."
When the Los Gatan asked men with beards, wearing Proud Boys garb, what the "PB" on their shirts stood for, one replied, "Peanut Butter." At least three Proud Boys attended.
After the event "JOIN THE BAY AREA PROUD BOYS" stickers were found plastered on downtown poles.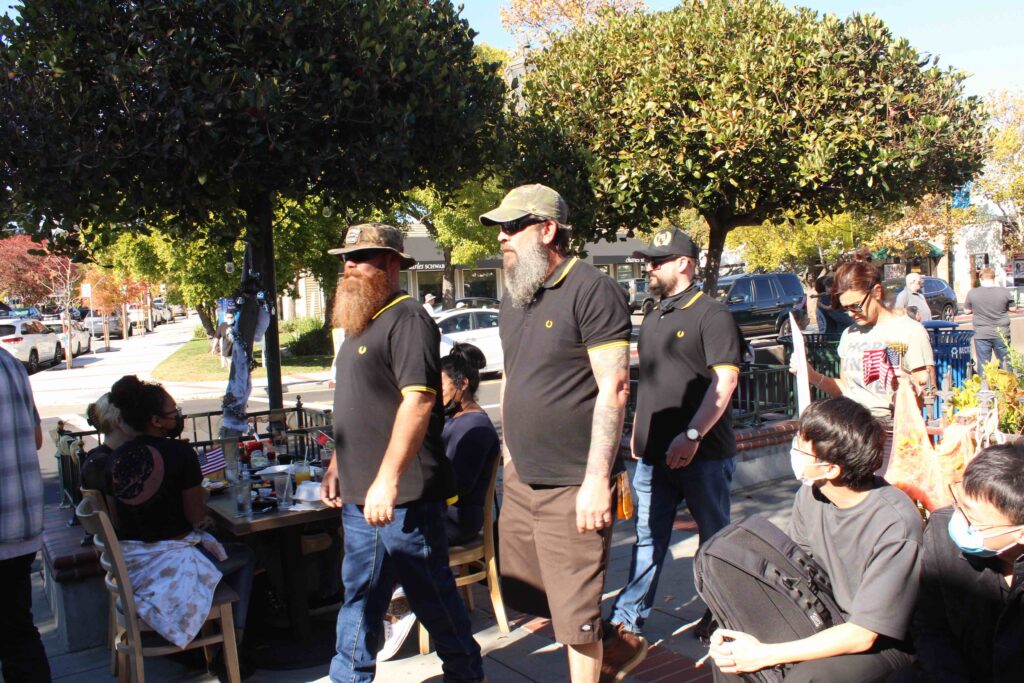 Aiko Moudry, 32, of San Jose, who regularly protests against coronavirus vaccines with her parents, said the Proud Boys' presence can be unsettling at times, because they tend to attract far-left activists. She urged her mom, who wore a "Q" hat, to try to steer clear of the more conspiratorial arguments when speaking to a reporter.
Many a free rose was rejected that day, although there was plenty of honking from passing cars and trucks, as the group paraded around with large pro-life and anti-Gavin Newsom signs.
Dale MacGowan, 72, of San Jose, said he showed up because of his Christian faith.
"I'm very, very much in favor of what we're doing here for moms," he said. "I feel our schools are letting us down."
After the group reached the southwest corner of Santa Cruz Avenue and West Main Street, one youth, a person of color, when questioned about their reaction to the "Love March," mentioned she'd heard a marcher yell to a passing motorist, "Go back to your country."
These sorts of reactions are what speakers, the following day, said Los Gatos residents need to avoid.
In his address, District Attorney Jeff Rosen noted his office is prosecuting more hate crimes than ever before.
"A hate crime is really a crime against three," he said. "Number one, it is a crime against that individual victim, who has been targeted. Two, it is a crime against everyone from that victim's racial, religious or ethnic community. And three, a hate crime is a crime against all of us as Americans, as Santa Clara County residents, as Los Gatos residents."
As the weekend drew to a close, Camille Valerio, 23, reflected on the success of the anti-hate march. It was her first rally ever.
She attended as a member of a group that helped organize it, Leadership, Education, Activism & Dialogue (L.E.A.D.) Filipino.
"I thought it was great," she said, adding that she didn't know how many people to expect. "It was just nice to have all the youth involved."
Visit the Los Gatan page on YouTube to relive Sunday's rally.