Barbara Hinman, 82, just moved to Los Gatos to live with her daughter Karen Shields.
Along with hundreds of others, they took to the blocked-off North Santa Cruz Avenue last night to soak up the first in a series of Thursday Promenades.
"The music down there was great," Hinman said, referring to the performance by the Summit Sisters. "This was my first time here, but it won't be my last."
Hinman says it was nice to be out among people—and without having to wear a mask to ward off the coronavirus.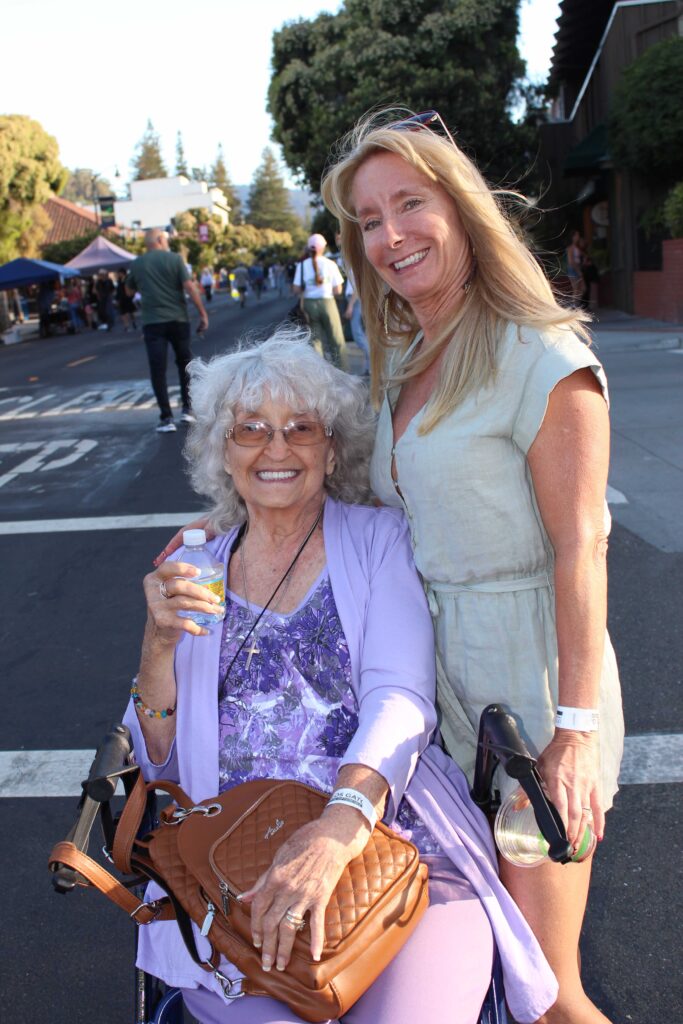 Shields said the light crowds proved the perfect atmosphere for her mother.
"We had a lot of fun dancing," she said. "It's less crowded than I thought it would be—which is good for her, because then she doesn't get jostled."
Campbell resident Steve Kearns, 63, had just arrived with his dog Buddha, but was already appreciating what he was seeing.
"I love when they block off the streets like this," he said. "It puts some human condition into the town."
It felt like Los Gatos had come alive, he said.
Xander Dinsmore, 9, from Los Gatos, was captivated by the jugglers on stilts.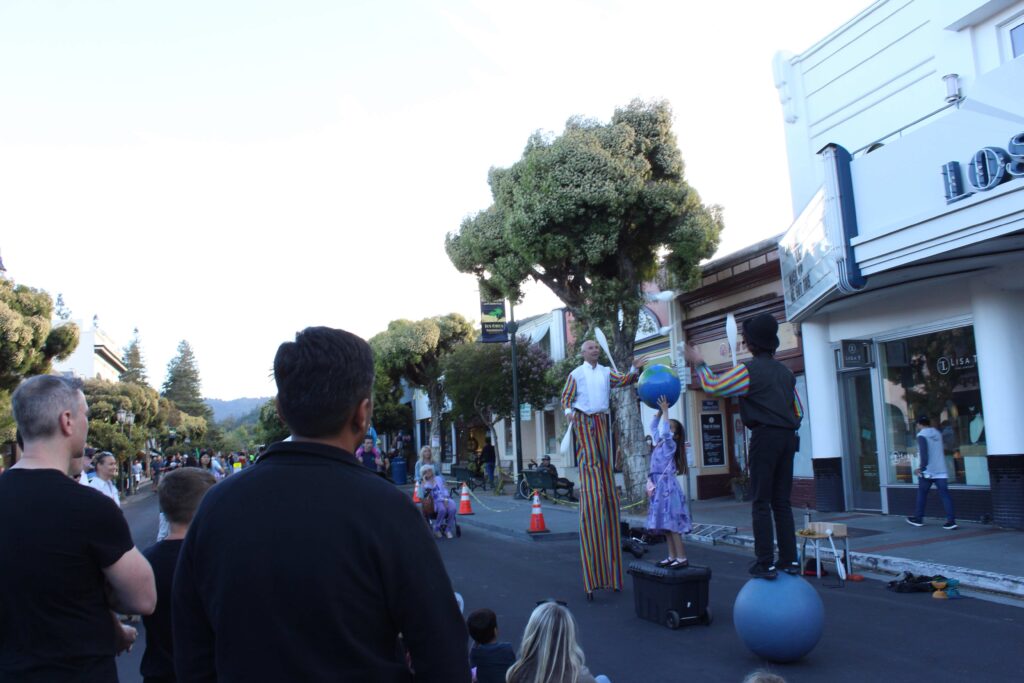 "It's fun to watch," he said, suggesting maybe he could perform tricks like that, too, one day if he practiced enough.
Next to him, Xavier Zaler, 10, another Los Gatan, was similarly impressed.
"I think it's awesome," he said of the father-son performance on the street in front of the theater. "I like how they're interacting with everybody."
A guitarist perched at the cusp of a cross-street played an acoustic version of "In the Air Tonight" by Phil Collins; a band outside the Palms performed "Walkin' on the Sun" by Smash Mouth.
Paid ID checkers wandered the streets, the police department's top brass kept a watchful eye, and a punkier group rocked the house at Gardino's Restaurant.
A collection of young men—Zach Siguenza, Sasha Tal, Ethan Brasseur and William Peironnet—sipped beverages and chatted up vendors as the light began to fade.
George Sikich bundled herbs to help promote the Kiwanis end-of-summer wine festival.
Becky Keady, 58, shared details about the upcoming launch of Restore Hyper Wellness.
"We're just getting the word out," she said, "—building awareness."
Her 23-year-old daughter Rachel said the evening was quite enjoyable.
"I think it's a really good turnout," she said.
First of the 2022 Promenades (Photos by Drew Penner / Los Gatan)
Leighanna Murphy, 55, founder of Daring Gray Movement Center, said it was nice to see the diversity of movement at the event.
"There's a good cross-section of mobility in the people coming to this event," she said. "I see some people on skateboards, and I see some people in wheelchairs."
She said she even helped relieve tension from the neck of a 20-year-old in her massage chair.
"More people should come check it out," she said of the Promenades. "I love the live music."