Los Gatos residents got their first chance to evaluate potential new Town Council members over a pair of candidate forums in the last couple of weeks.
Dozens of locals came out to both the Los Gatos Community Alliance event Sept. 13, which focused on economic issues but was boycotted by two candidates, and one held Monday hosted by civic-engagement group Democracy Tent.
Planning Commissioner Reza Tavana, a candidate for council, didn't attend either forum.
At the Sept. 13 event, Margaret Smith introduced herself as one of Los Gatos High School's Class of 1975 who operated downtown anchor business Domus for many years, and previously served as president of the Los Gatos Chamber of Commerce and chair of the Planning Commission.
"I cared about property rights," she said of her time on the commission. "I cared about historic preservation."
At Monday's forum, she said she'd use a three-prong approach to handle community issues: gathering facts, making an assessment and designing a strategy to overcome challenges—such as the Town's financial woes.
"We are not the only town or city that has faced a structural deficit," she said. "In my opinion, it doesn't serve any good cause for us to be looking at the negative. We are not going to run out of money. We have a way to fix this."
She said a budget deficit task force would be a step toward solving the problem.
"We have many revenue generating ideas that are going to come to fruition," she said, suggesting the Town could try to attract a medical device company to the space Netflix is vacating on Winchester Circle.
Rob Stump, a fire-resiliency advocate who worked for the last 25 years as a corporate executive, told the Los Gatos Community Alliance forum audience it's time to look for ways to trim down the Town's budget.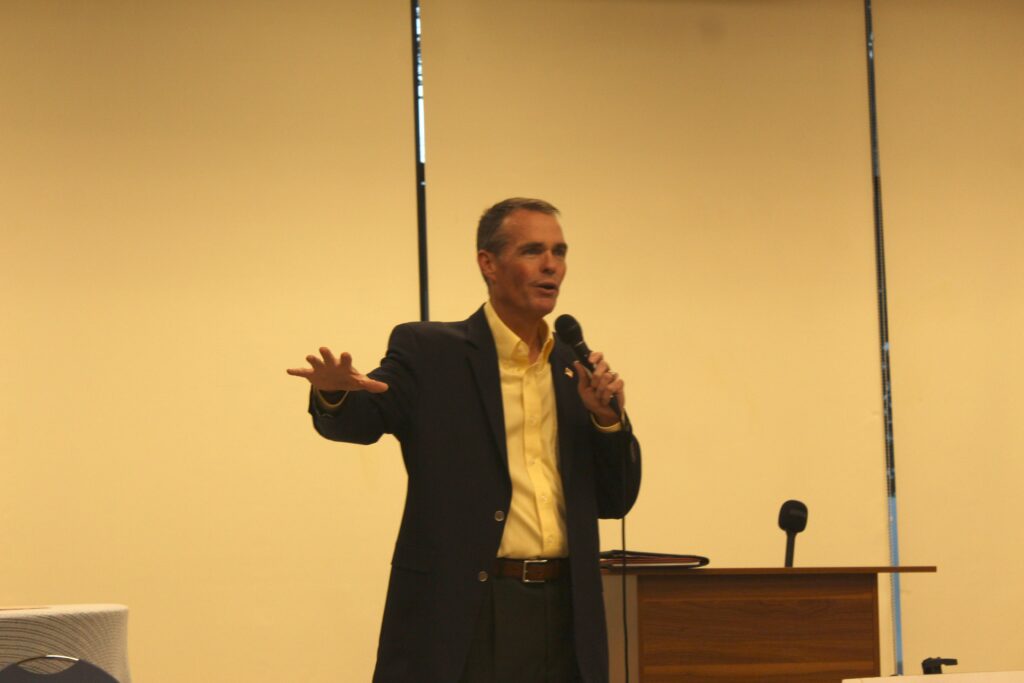 "We can't kick this can down the road any longer," he said, suggesting personnel costs need to be examined for cost-savings opportunities. "We've got a lot of senior staff people that deserve to be paid well, but we've got to slow that growth."
He suggested upping the sales tax and attracting more business travelers could be ways to generate more money.
During the Monday forum, Stump, who previously worked as a PG&E manager responsible for the "Mighty Moss" gas power plant in Moss Landing, was asked by a Plant-Based Advocates member how he'd respond to climate change challenges such as those caused by agriculture.
Stump replied he doesn't think it's in the best interest of the community for Council to "lead the charge" on the climate change education front.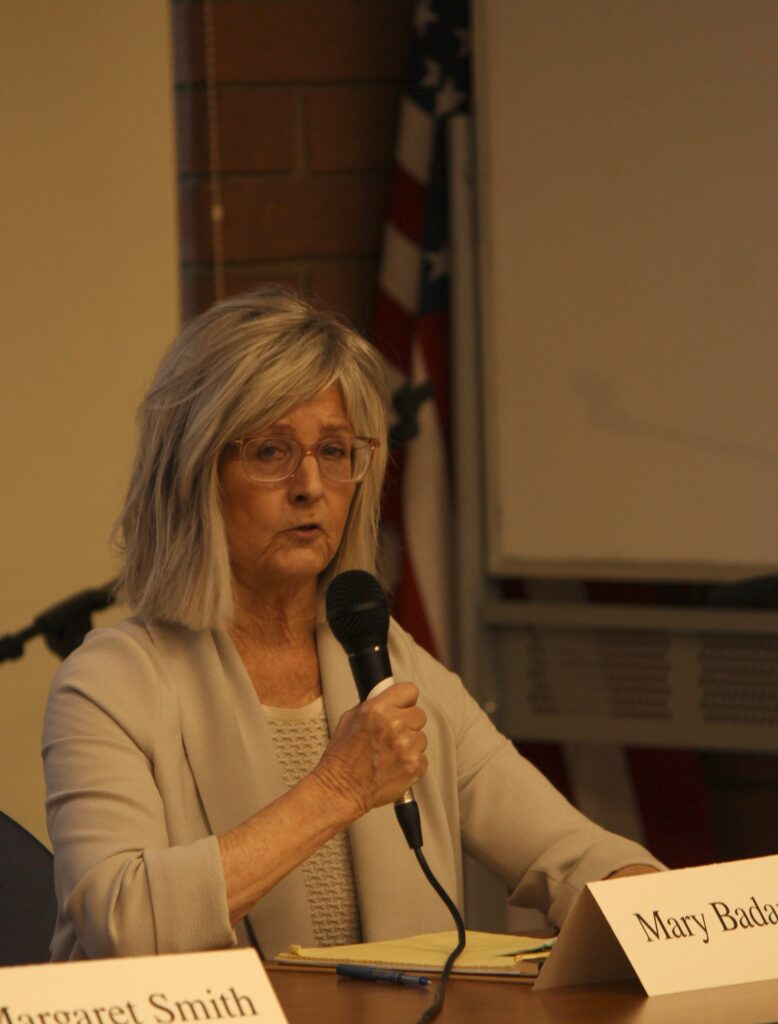 At both events, incumbent Councilmember Mary Badame pitched herself as the "courageous" candidate to tackle the growing imbalance between town expenses and revenue.
"I happen to care very much about this community and the people in it," she said Monday. "I'm also looking at concentrating on tangible issues for our town."
She said Los Gatans tend to have a taste for "high quality," so she'd opt to increase personal or sales taxes over cutting services.
She derided the 2040 General Plan for the way it increases density in some areas, but said she'd be willing to go along with housing edicts from Sacramento.
"We can fight, we can push back, but we have to comply with the law," she said.
She handed the microphone—which was being shared due to a technical issue—to moderator Lee Fagot. But after a moment, she grabbed it back.
"But let me clarify, I do not support building above and beyond those requirements," she added.
Mayor Rob Rennie and San Jose Conservation Corps manager Rob Moore were both questioned about why they boycotted the LGCA forum.
When asked whether he'd skip the upcoming Chamber of Commerce candidate forum, too—since he's served on its board—Moore said that's different because he stepped down ahead of announcing his candidacy.
Moore praised LGCA for its work as an advocacy organization, but said it shouldn't have begun supporting candidates before hosting a supposedly neutral forum.
In addition to seeking to improve pedestrian and bike routes, Moore harkened back to his childhood years growing up in a single-family home, promising to leave those areas intact.
If Los Gatos wants to hit affordability mandates, he said, it must maintain positive relationships with low-income housing providers—revealing Habitat for Humanity leaders told him the nonprofit had such a bad experience in Los Gatos it won't return.
"And that's a tragedy," he said. "Because Habitat for Humanity is such a good partner."
The biggest fireworks of the night came as LGCA founder Jak Van Nada took Rennie to task for balking at the invite to last week's forum, and for the mayor's statements in Sept. 13 edition of the Los Gatan.
Reading his quotes back from the article, Van Nada attempted to paint Rennie as a poor financial manager.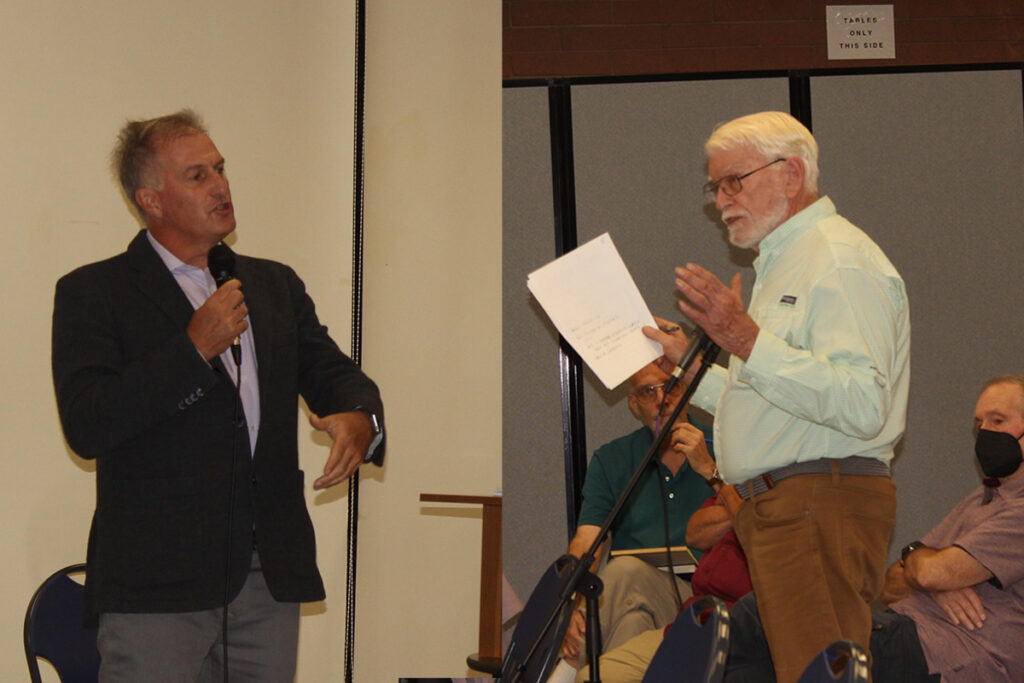 The two went toe-to-toe on investment basis points, service fund balances, data misrepresentation techniques and pension liability coverage strategies.
"I find it very disingenuous," Rennie said of a particular Council decision criticized by LGCA. "You're the one that gave us that idea."
Van Nada characterized Rennie's responses as "hoop-jumping." He left before Badame, a candidate he supports, took her turn at the mic.
Rennie was asked by another audience member to commit to leaving office if he's reelected and wants to make another run for county supervisor, so Los Gatos isn't left in the lurch.
Rennie said that while he wouldn't make any promises, he'd strongly consider this suggestion. However, he's not sure he'll make another attempt at joining the board of supervisors, he continued.
He's now contemplating a water board run, he told the dwindling crowd.