A little over a year ago, Aydon Stefanopoulos had a mental breakthrough. Competing in national cross country and track races but not coming up with top finishes in his age group, the Los Gatos resident and Mitty High freshman realized he had to go all into a sport that requires nothing less than a supreme effort. 
"I realized if you're not working your hardest, what's the point of doing it at all," he said. "You better be the best and give your best for a sport; otherwise, there is no point in doing it."
Stefanopoulos' renewed focus has resulted in the 15-year-old having the best stretch of results in his burgeoning running career. His latest accomplishment came in the form of an eighth-place finish in the USATF Junior Olympic National Cross Country Championships in Paris, Kentucky on Dec. 11. 
Competing in the 15-16 year old championship race division, Stefanopoulos finished the 3.1-mile course in 17 minutes, 46 seconds. For his efforts, Stefanopoulos—a member of the Los Gatos Track Club (LGTC)—earned All America honors. Stefanopoulos and his fellow competitors were literally caked in mud afterward, as the area had been hit with inclement weather the previous week (including tornadoes in the southern part of the state). 
Usually, runners go into a race with the goal to hit a personal-record (PR). That simply wasn't realistic with the tough conditions present.
"I usually run two minutes faster for that distance, but the weather was absolutely horrendous," he said. "During my race, there was no rain but the course had already been trampled (from previous races in other age groups), so no space was untouched. It was muddy and the ground was uneven everywhere."
Despite the less than ideal conditions, Stefanopoulos was somewhat content with his performance, knowing it continued a trend of solid racing. The Junior Olympic Nationals followed the Central Coast Section Championships and CIF State Championships in November. 
In the CCS Division II race at the famed 2.95-mile Crystal Springs Course in Belmont, Stefanopoulos placed sixth in 15:57.9 (5:24-mile pace), the 22nd best overall time among all five divisions and second best among all freshmen in the race. In the State Meet at a much faster Woodward Park 3.0-mile course in Fresno, Stefanopoulos went 15:53.5, taking 22nd place in the Division II field. 
Results aside, what encourages Stefanopoulos the most is he felt like he could've done better at both CCS and state, and he's primed to learn something from those races. 
"At state I felt good, but I went out too hard," he said. "It's taken me a while to realize you don't have to go out leading the race. You can follow the leaders and then pass them later."
Stefanopoulos' favorite moment of the cross country season was the third West Catholic League meet of the season in which he took third place with a PR of 15:51.2 at Crystal Springs. In the process, he bested all but one of Bellarmine's top runners. 
Bellarmine is a perennial power and for Stefanopoulos to beat most of the upperclassmen from the other WCAL schools was impressive to say the least. 
"That was a nice highlight because older kids from other schools don't often like this freshman coming along into a top placing," he said. "It was a nice feeling because I was putting in the work and now getting the results. It showed what could happen if I was disciplined in my training."
Having grown up in Los Gatos, Stefanopoulos said it was a tough decision to enroll at Mitty, as most of his friends attend Los Gatos High. However, he still trains with some of them during LGTC workouts, and credits coach Glenn "Willie" Harmatz for being a great influence in his running career. 
"Willie is a phenomenal coach and I wouldn't have any other coach in the world to push me," he said. "He pushes you to your potential, it's amazing."
Stefanopoulos grew up playing soccer, but when he was 6 or 7, he suffered a broken femur. Out for six months, Stefanopoulas returned to play for the youth soccer team. 
"I wasn't very good, but I realized I loved running up and down the field," he said.
So much so that the soccer coach gave Stefanopoulos the nickname "gazelle" at the end of the season team banquet. A short time later, Stefanopoulos asked his mom if there was a sport that strictly involved running, and of course she answered in the affirmative. Stefanopoulos got his start with a small local run club before switching to LGTC a little over four years ago. 
In addition to Stefanopoulos' accomplishment, the LGTC 13-14 year old girls team of Kylie Hoornaert, Lola Herning, Shea Elmore, Sabrina Zanetto and Tatum Pyle turned in a terrific performance. Herning took third in 16:52, and Hoornaert was 18th in 16:17.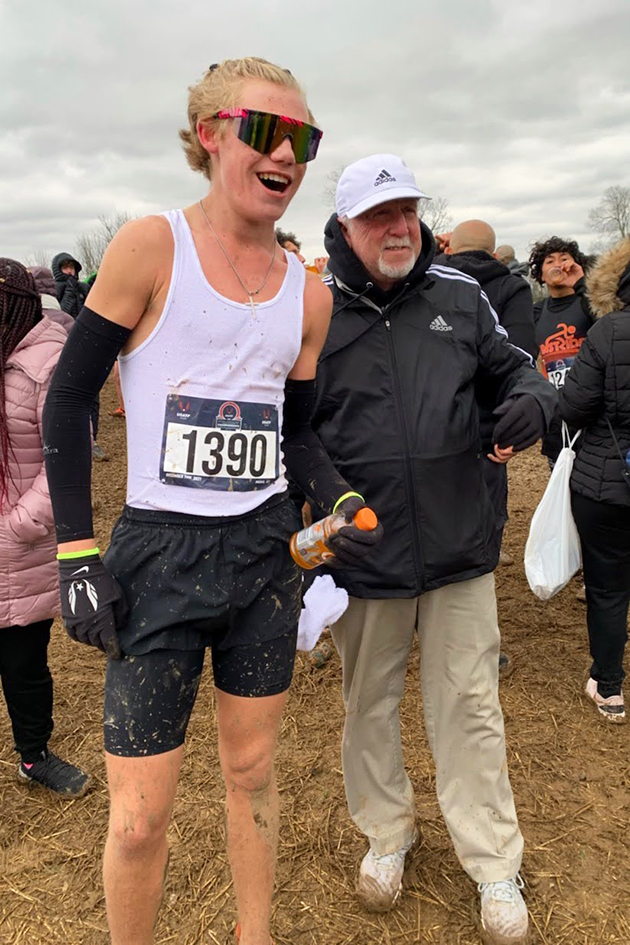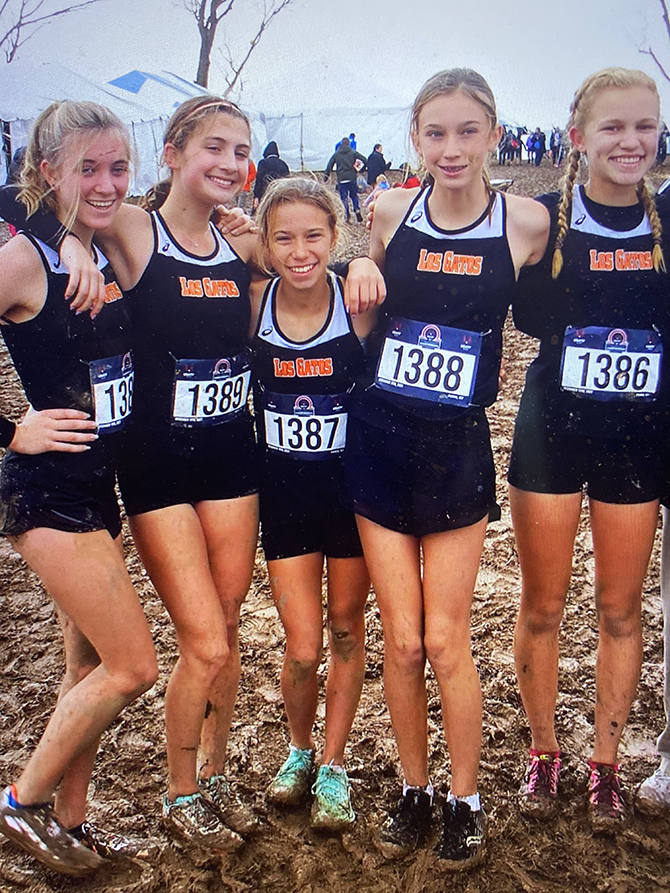 Sports editor Emanuel Lee can be reached at [email protected] and (831) 886-0471, ext. 3958.