Los Gatos High girls basketball coach Sara Quilici tells her players she doesn't care what the scoreboard says as long as they work hard and give a max effort. Take care of effort and work rate, Quilici said, and she can live with the result, win or lose.
"Our new thing is if you ask the kids what the score is, we're down by two because that's the effort you should be giving all the time, whether you're up 30 points or down by 30," Quilici said after the Wildcats' 59-29 home win over Leland High on Dec. 20. "I'm so proud of my team today because the effort and what they gave is exactly what I wanted."
Nine different players scored for Los Gatos, which enters its "mid-season" winter break with a 7-1 record. Claire Galbo scored 13 points, Belle Bramer and Ashley Childers had 12 points each, and Jeanette Grasty had 10 to put four Wildcats into double figures. For all intents and purposes, this one was over after the first quarter when Los Gatos jumped out to a commanding 13-2 lead before padding its advantage to 32-12 at halftime.
With four 6-footers, the Wildcats' height and length flooded the passing lanes, forcing Leland into dozens of turnovers. Los Gatos held a decisive advantage on the boards in the first half, seemingly grabbing an offensive rebound on every missed shot. Bramer displayed her versatile skill set, as she is able to shoot from the outside, drive to the basket, bring the ball up the floor and power her way in the paint.
"Belle is our catalyst," Quilici said. "She just makes things happen offensively and defensively."
Junior Casey Brennan is another versatile player who stays within the flow of the game and can be relied upon to get the job done.
"I love Casey Brennan," Quilici said. "She doesn't score a lot or fill up the stat sheet, but she does all the little things and plays tough."
Grasty mans the point guard position and can fill it up from 3-point range, as can many of her teammates. Los Gatos made 13 3-pointers against Leland, with Bramer and Childers connecting on three apiece.
"Jeanette is becoming a wonderful leader," Quilici said. "She's talking more on defense and really directing the young puppies on our team."
Nicole Steiner has been a force inside, especially in the Wildcats' riveting 50-49 comeback win over Evergreen Valley on Dec. 11. In what was by far the team's most impressive game this season, Los Gatos rallied from 16 points down midway through the third quarter to overtake a solid Evergreen Valley team. Steiner had a Bill Russell-type game, finishing with 23 points and 25 rebounds.
"Nicole Steiner is just incredible and a pure athlete," Quilici said. "She's learning to work hard, getting her touch around the rim and has been doing well."
Childers perhaps doesn't know just how good she is, but her teammates do and Quilici certainly recognizes Childers' talent. Childers can shoot it from the outside, take it inside and is active on the boards. Then there's Galbo, who has a propensity to be clutch at the very end of each quarter. She hit buzzer-beating baskets to end the second and third quarter, representing the third consecutive game in which she's connected on a buzzer-beating shot.
"We call her buzzer-beater Claire," Quilici said. "She's playing great and really using her height and length and getting more vocal."
As spectacular as the team's comeback was against the Cougars, it was a lopsided 55-32 loss to Silver Creek on Dec. 7 that really got the team's attention. Up until that contest, the Wildcats were riding high—perhaps too high.
"I'm happy the Silver Creek game happened because we had been feeling high and mighty," Quilici said. "We hadn't lost a scrimmage, we hadn't lost a sportsmanship game, we were just thinking we were God's gift. That game brought us down to Earth a little bit and it got the message across to our kids that simply showing up isn't good enough.
"You're not going to beat an eighth-grade team if you just think showing up is good enough to win. I think that game sat with us a bit and it did the job because losses have to mean something and you have to use them to learn. And I think that—excuse me—ass whipping was probably exactly what we needed. I think if we hadn't lost to Silver Creek, we wouldn't have beaten Evergreen."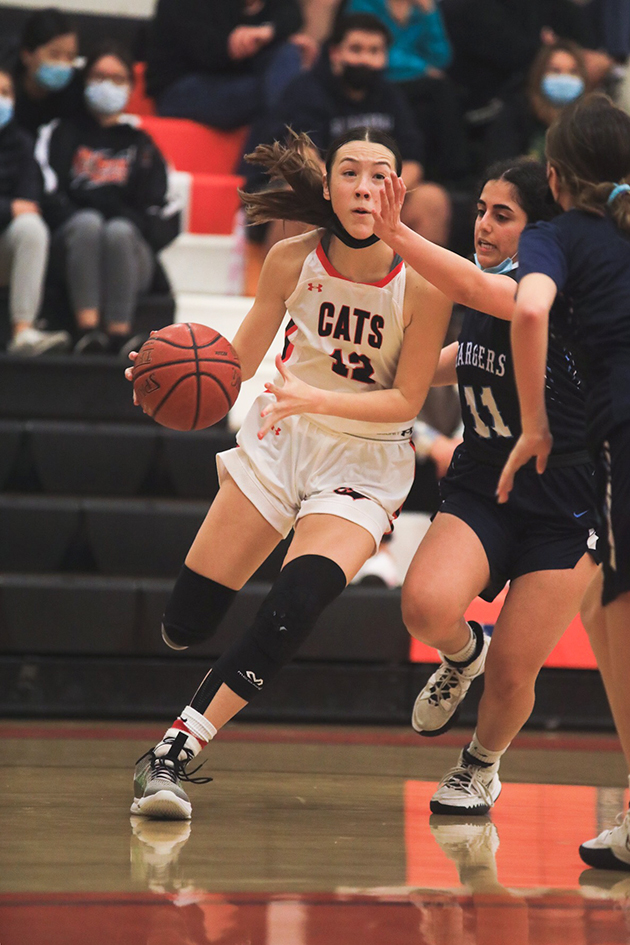 Sports editor Emanuel Lee can be reached at [email protected] and (831) 886-0471, ext. 3958.