For the Los Gatos High boys basketball team, there's no rest for the weary. With the season in full swing, the Wildcats will only take the Christmas weekend off before resuming game action at the Head-Royce Tournament in Oakland on Dec. 27.
"Forget the holidays, it's basketball season," coach Nick Ward said. "The kids don't have school to worry about and we can't take too much time off anyway because we're playing again three days in a row."
After the Head-Royce Tournament in which the Wildcats (4-5) are guaranteed three games, they'll have six days between contests before their all-important Santa Clara Valley Athletic League El Camino Division opener against Wilcox High on Jan. 4. By that point, Los Gatos should be close to having a full roster as Mitty-transfers Max Houghton and Tommy Ankenbrandt will be eligible to play.
Additionally, two players who have been injured—Simon Estrin and Jack Rusiniak—are recovering and Ward is hopeful to have them back "real soon."
"Those guys are seniors so having those guys out has been tough," Ward said after the team's 59-38 home loss to Christopher High on Dec. 23. "We've definitely seen the lack of experience showing with our team with those guys out so it'll be good to get them back. And with Max and Tommy come January, they'll be ready and we know what we're getting from them. But it's still a learning process for us right now and we're still trying to figure things out."
The Wildcats were never in it against Christopher, falling behind 18-6 after one quarter and 32-12 at halftime. They did play better in the second half, but by then the outcome had already been decided. Arya Emarlou was the only Los Gatos player to hit double figures, finishing with 21 points.
Emarlou's shot wasn't falling early—he missed his first eight attempts—but he started heating up in the third quarter. Even though Christopher was quicker and had superior athleticism, Ward said his team could still learn things from the loss.
Namely, being mentally prepared to play back-to-back games less than 24 hours apart. Los Gatos was coming off a victory over Carmel High the night before—the game didn't tip off until approximately 7:15pm—which was followed by a 3pm tipoff time against Christopher.
"It's tough on the body, but at the same time the schedule is what it is and you have to walk into the gym ready to go," he said. "It just seemed like we were a little tired at the start and Christopher just seemed to have fresh legs. They showed us they were bigger, they were physical, and we just weren't ready for it in the first half. It's too bad. But it was a good challenge in the second half and I thought we played better and more physical."
Ward continued to be impressed with the work rate of Luke White, who stayed aggressive and drew fouls by his tough play around the paint.
"Luke White hustles everywhere and it's hard to take him off the floor because he's always in the right spot," Ward said. "He's throwing his body around, he takes that football mentality and he's great to have on the basketball court. We use him as the example of, 'Hey, this is what we need to get to.' So he's a great attitude guy with a great work ethic and if we can get more guys on that page and flying around, we'll get where we need to be."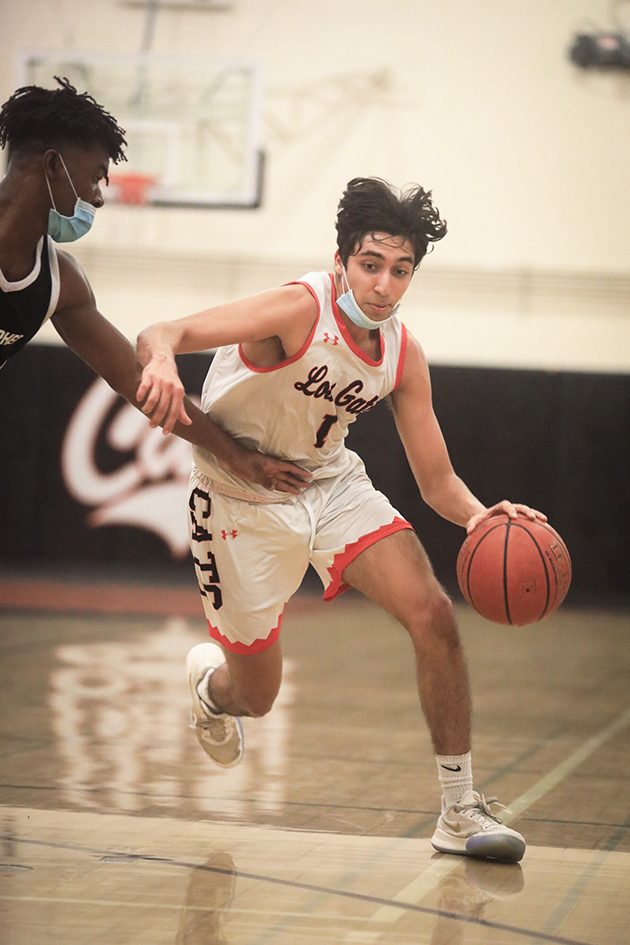 Victor Josifovski and 6-foot-5 post Tyler Cowan displayed nice footwork in the paint, which at times created a little breathing room against the stifling Christopher defense. However, one play early in the third quarter highlighted the Wildcats' predicament.
Josifovski beat his man off a spin move in the lane, but as he went up for a shot, two other Christopher players contested it, with one coming away with the block. Josifovski did everything right but the Cougars simply made the better play.
"Victor and Tyler both have really good footwork, but Christopher is really tough," Ward said. "Those guys are really good with some big bodies and they do stuff right. Tonight was tough for us."
Despite the loss, Los Gatos has reason for optimism. Not only will the Wildcats get reinforcements in early January, but they gain more experience with each passing game. All of the team's five losses have come to quality squads.
"We had a lot of close losses over the summer (in summer league) and tried to use that as experience, but it seems like we're still trying to figure it out and get over the hump in those close games against good teams," Ward said. "But our guys are getting there and we're definitely better from where we were three to four weeks ago."
Sports editor Emanuel Lee can be reached at [email protected] and (831) 886-0471, ext. 3958.