Though Council members acknowledged there were still month worths of improvements ahead to get a final version prepared, in a special meeting held Monday, they voted to deem the current Draft Housing Element good enough to send over to the California Department of Housing and Community Development.
The decision—a 4-0 vote with Vice Mayor Mary Badame abstaining—came just a day before the deadline.
"This is a living document," said Mayor Maria Ristow, "—and an ongoing process."
The resolution, moved by Councilmember Rob Moore and seconded by Ristow, represents Los Gatos' roadmap for responding to the governor's call for help building 3.5 million homes over the next few years.
It acknowledges the state was second last in housing-units-per-capita in 2018 and makes the case for how the 1,993 homes (2,312 if the buffer's factored in) the Town is set to allow by 2031 goes far enough to pitching in to the herculean task of righting the ship.
This comes in the wake of a review of the draft that was more favorable than some had expected, but more critical than others had hoped.
The all-important letter from HCD, which arrived Jan 12, set forth a number of changes Los Gatos would need to make to its Housing Element before it could be certified.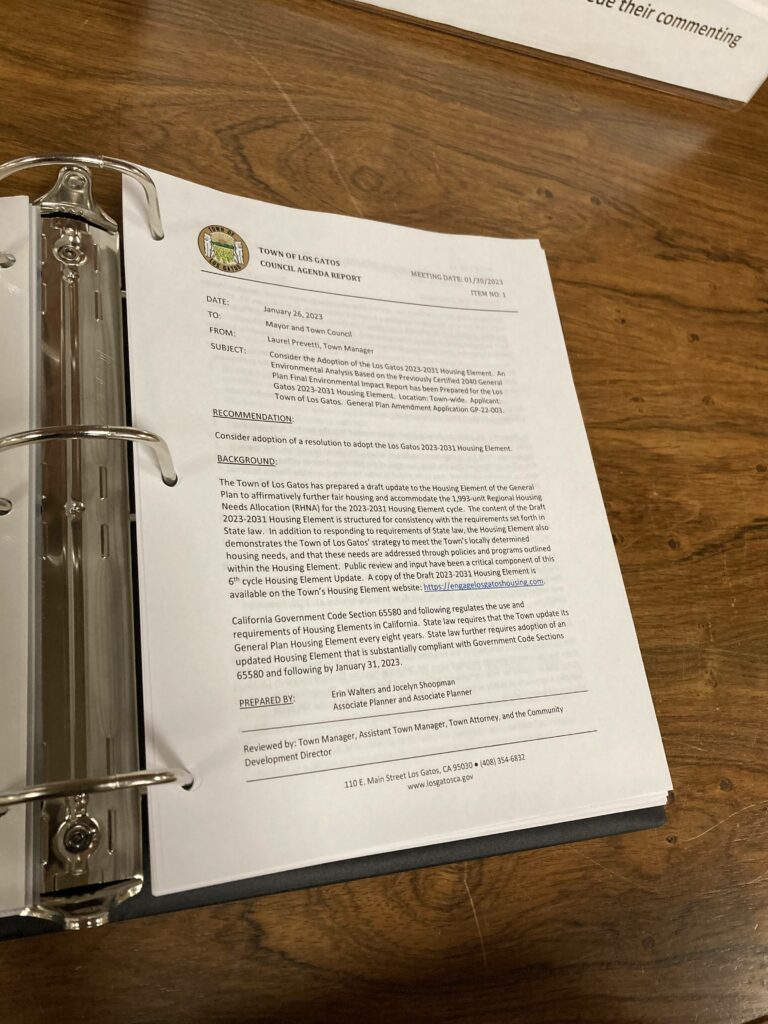 Much of the bad marks had to do with areas where Los Gatos didn't go far enough to show how it would fix its decades-old problem with economic and racial segregation.
HCD did not respond to a request for an interview about its assessment for this article.
During the meeting, staff argued that because it managed to improve one of the highlighted sections—the sites inventory, which outlines places Los Gatos has targeted for residential growth—that would be enough to put the document in "substantial compliance," even if it would still have to beef the document up with all the racial justice stuff later on.
The resolution states the Housing Element is good to go (for the most part) because staff revised it to assume properties will be developed at the minimum density level and added two additional sites to the inventory.
It was not at all clear where Council would end up on whether to approve the Housing Element or not.
Lee Quintana, who worked on the plan as part of the Housing Element Advisory Board, urged Council not to.
"The changes are going to be more than just a few and more than minor," she said. "I'm still very confused by this whole process."
Jak Van Nada, of the Los Gatos Community Alliance, which spearheaded the referendum on the 2040 General Plan that HCD said it needed more information about written into the Housing Element, also urged Council not to forward the document to Sacramento.
"If the Housing Element is already in compliance, why is there need to keep working on it?" he asked. "The HCD letter says it does not comply with the law."
Councilmember Rob Rennie said staff wasn't asking Council to find the Housing Element was in "compliance" but just "substantial compliance," a distinction Councilmember Matthew Hudes wanted more information on.
The Town Attorney said, in many cases, HCD's critiques were about pushing for Los Gatos to introduce steps it's already taking, or for tweaks to existing programs.
Staff was planning to tell a more comprehensive narrative in a future version of the Housing Element that would likely assuage the governmental concerns that Los Gatos hadn't even done the bare minimum.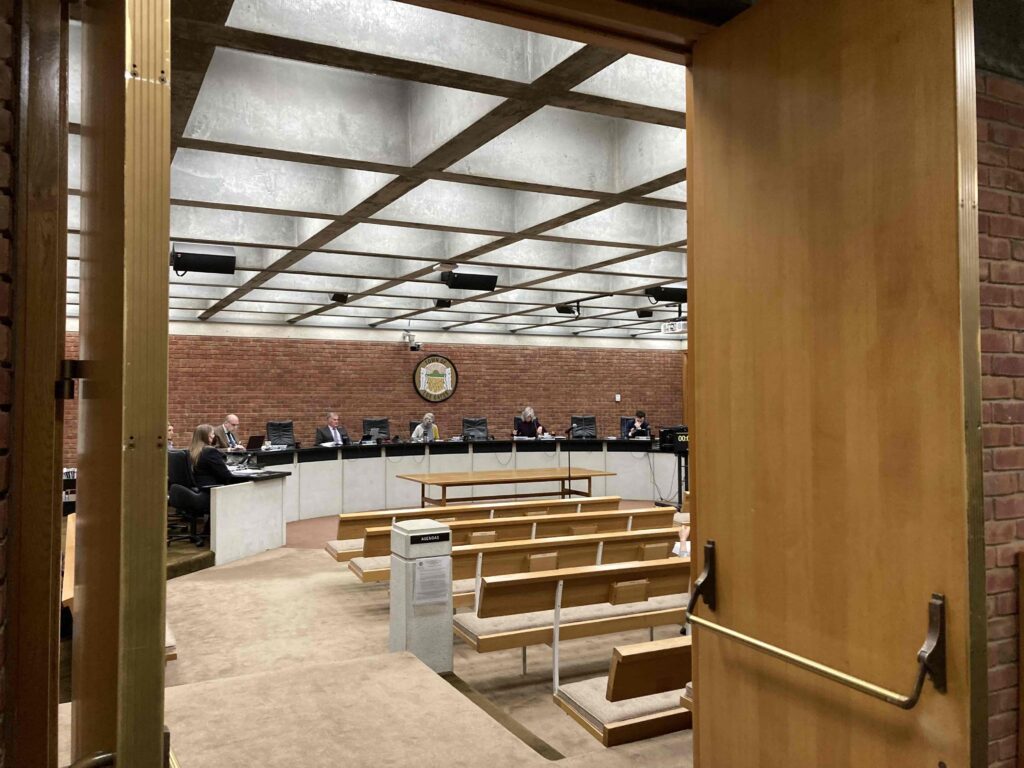 For example, the State agency wanted more information about how the Town would monitor the production of below-market-rate affordable housing, she noted.
Ristow's initial assessment was that there didn't seem to be much support on Council for passing a document that definitely wasn't up to snuff.
But as Rennie dissected various points of contention about the Element—and learned more about the consequences of not passing something by the end of the month—support for going with the current iteration (at least for the time being) grew.
If Council rejected the current draft, staff said it would be possible to return with an updated document sometime in April.
That would mean developers could have projects approved "by-right" in that time; but they'd have to promise to build 10% "low income" or 100% "moderate income" units—a heavy lift in an expensive area like Los Gatos, staff said.
And Los Gatos would be on the hook for attorney's fees if someone sued the Town for having an illegal Housing Element and won, the Town Attorney stated.
"I'm very uncomfortable about being in the position that we're in…I don't think we're doing the best for the residents of Los Gatos," Hudes said. "At this point, I think it would be best to adopt a Housing Element and use all efforts possible to address every single item in the HCD letter to bring it into compliance."
Council discussed raising the maximum density on the North 40 mixed-use development to 40 units-per-acre, a move suggested by HCD, but in the end Moore didn't try to include this in his motion.
Rennie checked with staff to see if Los Gatos had gone far enough to address HCD's concerns that the SB9 figure of 96 units in the plan was reasonable.
Staff replied that it was confident it could justify the assertion that these lot-splits would materialize, despite the poor take-up on the housing type, thus far.
Once again, like with a similar vote on the trajectory of the Housing Element process, in December, few people appeared in person or spoke remotely to oppose or support the plan.
The vote stood out in another way, too: Unlike during General Plan discussions, in contrast with last year, when Hudes and Badame appeared to move in lock-step opposition to any efforts to push for growth, here Badame chose to abstain, even as Hudes supported the Housing Element approval.