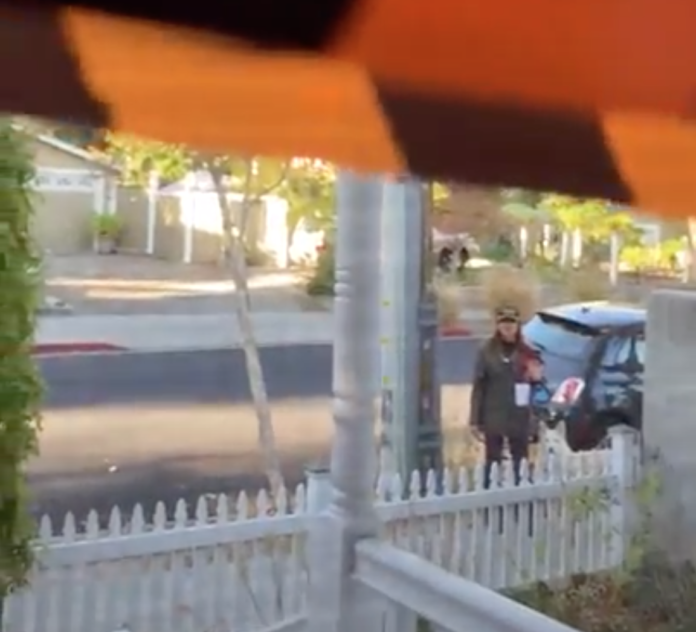 Leaders from around Silicon Valley are rallying to the side of Los Gatos Mayor Marico Sayoc, as video emerged of an activist launching a barrage of anti-LGBTQ and anti-Black Lives Matter insults at her from outside her house, telling her, "You need to leave this town."
In a letter to Town Manager Laurel Prevetti Oct. 14, Assemblymember Evan Low and Senator Dave Cortese inquired about the measures Los Gatos has in place to protect elected officials from bullying and harassment.
"We are going through a generational crisis and our residents deserve bold leadership to keep residents and our public servants safe," they wrote. "We offer our services to support you as you take swift action in addressing the escalating tensions at recent Town Council meetings."
The letter of support was sent the same day as a restraining order was partially granted by Santa Clara County Judge Carol Overton against the mayor's husband, Jeffrey Scott, following his verbal outburst outside of Council Chambers, Oct. 5, where he stood up to anti-mask activists who'd made personal comments about their son during public comment period.
A boisterous, name-calling, pro-Trump group of community members have been escalating their vicious anti-Sayoc campaign the past several months.
They oppose initiatives that promote gay and transgender acceptance in community spaces, the introduction of diversity curriculum into schools and the use of public money for pro-inclusivity ceremonies and symbol. Many believe Donald Trump is the rightful president.
On Oct. 13, Cyndi Sheehan, 44, filed a restraining order against Scott.
She also checked the box that says, "I fear for my physical safety (and that of others, if applicable)."
And she sought protection for her 45-year-old husband and her 15-year-old son.
"Jeffrey Scott is well connected," she wrote. "I fear he will retaliate by attacking my family as well as myself."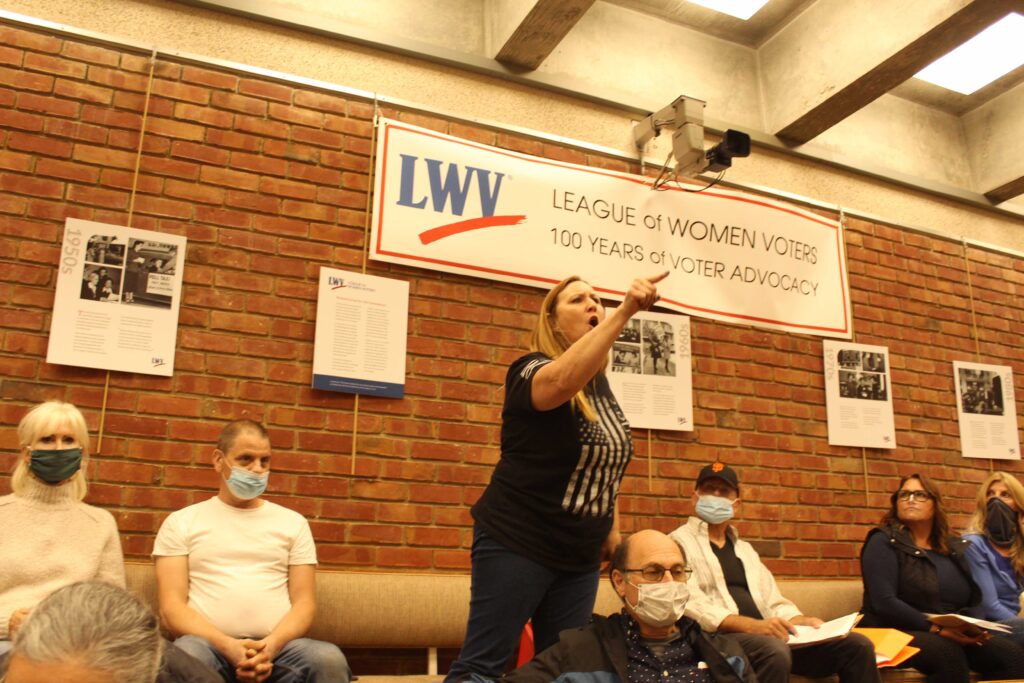 The judge ordered Scott to stay 300 yards away from Sheehan and her family members, and 20 feet away during Council meetings or other community events. Scott is not allowed to possess any firearms while the order is in place. It is set to expire Jan. 4, 2022.
When filing for the order, Sheehan wrote that she never met Scott before his Oct. 5 outburst outside Council chambers and stated she believes he wasn't arrested because he's the mayor's husband.
"I am an opinionated community activist and parent, a Conservative, who uses my civil right to speak publicly," she wrote in the civil harassment restraining order request. "I have never threatened anyone with violence, but I have been attacked several times for my political opinion and strong stance."
She pointed to a January 2021 series of events that led to her employer firing her.
Anonymous high school students called her boss at the real estate brokerage where she worked and she was removed from her position, she said in the court filing.
"That was the THIRD time that I have been fired from a brokerage due to my political beliefs, while in every instance I was attacked and had video proof to back it up," she told the court [emphasis in original].
Footage posted in early January on social media—days before the Jan. 6 breaching of the Capitol by pro-Trump protesters in Washington D.C.—shows Sheehan aggressively throwing a beverage container at one or more people on a downtown Los Gatos street.
In a video taken at the same location Sheehan posted to her YouTube channel Jan. 2, a white female smacks Sheehan's megaphone before an Asian male jumps into the fight. Sheehan starts hitting him with a pro-Trump flag, and a white man throws the Asian male to the ground.
YouTube flagged this video as "age-restricted" for possibly being "inappropriate" for some users. That means it can only be viewed on the company's platform, not when shared more broadly.
A member of the Los Gatos Anti-Racism Coalition (LGARC), who declined to give their name for fear of retaliation, said they are concerned about Sheehan.
Multiple teens of minority background have alleged that Sheehan has harassed them, the coalition member said.
The source also mentioned an incident in which Sheehan threw a beverage container at one of their members, although it was unclear if they were referring to that January incident or not.
YouTube removed the commentary video Sheehan posted that captured her making personal attacks against the mayor's family, including their son, during the Oct. 5 Council meeting—which sparked the reaction from Scott. It was deleted "for violating YouTube's policy on harassment and bullying," the San Bruno-based company said.
'We are weaker when the fabric of our free and open society is unable to handle the vigor of an exchange of ideas, but we are also weaker when we gratuitously attack others with the intent of harming them.'

—Cupertino Mayor Darcy Paul
In an interview with the Los Gatan, Cupertino Mayor Darcy Paul said he found the public comment discourse "troubling" and shared his support of the mayor.
"As a society, each of us has difficult work to do in getting the best out of everyone," he said. "For my counterpart Mayor Sayoc, I wish her and her family well."
It's important to be able to share your views, but basic behavioral norms have to be observed, too, Paul says.
"Getting along and respecting each other's opinions are bedrocks of our system," he said. "I hope that we can get back to fostering those practices across the board."
Paul adds he hopes local parents will put their differences aside so their kids can live in a happier and more peaceful world.
"We are weaker when the fabric of our free and open society is unable to handle the vigor of an exchange of ideas, but we are also weaker when we gratuitously attack others with the intent of harming them or their loved ones," he said. "I extend my heartfelt and sincere hope that we can work together to enjoy the privilege of knowing and working together with a wide array of neighbors."
Sayoc is the executive director of Counseling and Support Services for Youth, an organization that partners with Bay Area schools to provide mental health services to students free of charge.
She previously served as Chief Impact Officer for at-risk youth service provider Unity Care, which recently had five of its San Jose foster home licenses revoked by the Department of Social Services, according to a Bay Area News Group report.
Sheehan posted a video Monday to her YouTube channel that depicts a different woman approaching the mayor's house with a piece of paper in her hand; it was supposedly Sheehan's third attempt to serve Scott with court documents.
After knocking on the door, the woman walks back down the steps and erupts into a tirade.
"I will kill you—said the mayor's husband," she shouted provocatively.
In the Los Gatan's audio recording of the Oct. 5 incident, the mayor's husband appears to say no such thing. The woman outside Sayoc's home repeated the claim multiple times.
"Mayor Sayoc, I'm so sorry for what you have caused all of us—the pain of LGBTQ and Black Lives Matter and Critical Race Theory—in our town—that's bulls***," she said, her voice rising to a piercing tone. "You don't belong in this town, you aggressors."
A video obtained by the Los Gatan shot from behind a front door screen and Halloween caution tape (that says "KEEP OUT" and "BEWARE" with a skull and bones in between), the would-be document server appeared to be a middle-aged woman.
Flanked by a white dog, the dark-haired activist was outfitted in a dark coat and a dark hat, as she stood on the sidewalk shouting across the white picket fence.
"F*** LGBTQ," she said. "It's a terrorist organization and has infiltrated our country with the help of Biden and Soros and John Kerry—and the Heinz family. We know all about you Mayor Sayoc. You need to leave this town. We don't want you here."
'We were horrified to learn that the mayor—the only person of color on the Town Council—and her family have also been targeted away from Town property'

—Assemblymember Evan Low and Senator Dave Cortese
In the version of the encounter Sheehan posted, a female police officer is seen arriving within a couple minutes.
"Officer, I appreciate you," the anti-Sayoc activist said, adding she sympathizes with the department's staffing challenges in its dispatch center and shares frustrations over the more than $1 million in unfilled public safety positions remaining in the General Fund during the pandemic. "They want to take their money and not give it to you, right?"
The female officer asks if the activist had said anything the Sayoc family might have taken as threatening.
The protester admitted to using provocative language, but claimed to have been quoting Scott. The woman told the officer she believes she would've been arrested immediately if she'd yelled the things Scott did Oct. 5.
"I'm sorry that you guys are going through this," the female officer said, before the protester walked away.
The Los Gatos-Monte Sereno Police Department said they were aware of the incidents and were investigating, but declined to comment further.
In Low and Cortese's letter to Town Manager Prevetti, the pair called the recent spate of anti-Sayoc attacks "abhorrent."
"Bullying, harassment and intimidation at public meetings are absolutely unacceptable on their own, but we were horrified to learn that the Mayor—the only person of color on the Town Council—and her family have also been targeted away from Town property," they wrote. "This is especially alarming in light of the spike in hate crimes targeting Asian American and Pacific Islanders during the pandemic. It is incumbent on the Los Gatos-Monte Sereno Police Department to take meaningful steps in creating safe spaces for the public and elected officials."