The Santa Clara Valley Transportation Authority sent a representative to Los Gatos Council's regularly-scheduled Feb. 7 meeting to explain why it's modifying weekend service to the only route that passes through town.
The #27 travels from Campbell, through town and then heads to South San Jose.
However, congestion in Los Gatos has been so bad that sometimes buses get delayed for more than 30 minutes.
Given that just two to seven riders, on average, get on the bus in town on the weekends, VTA decided to redesign the bus route so it doesn't go all the way into the core on Saturdays and Sundays.
Tracy Wang, transportation and mobility manager for the Town of Los Gatos, said because the update is considered a "minor change," it doesn't need to be reviewed by the VTA board.
Councilmember Rob Rennie, who has served on the board on and off for six years, told Council the transit authority's budget is tight and ensuring buses don't fall behind saves money.
"Over time the buses have taken longer and longer to do their routes," he said, adding the complicated question faced by planners is, "How do we speed up the buses?"
The theory, he explained, is that if you can keep buses flowing, in the end the agency will be more fiscally sound and can add service back later.
Mayor Maria Ristow, a huge transit advocate herself, said she understands that it's important to make sure buses don't get stalled in Los Gatos when riders from elsewhere have places to be, too.
"They'll be late for the hospital, they'll be late for the light rail," she said, but empathized with those who've been relying on the bus. "I feel horrible for those two to seven people who take the bus."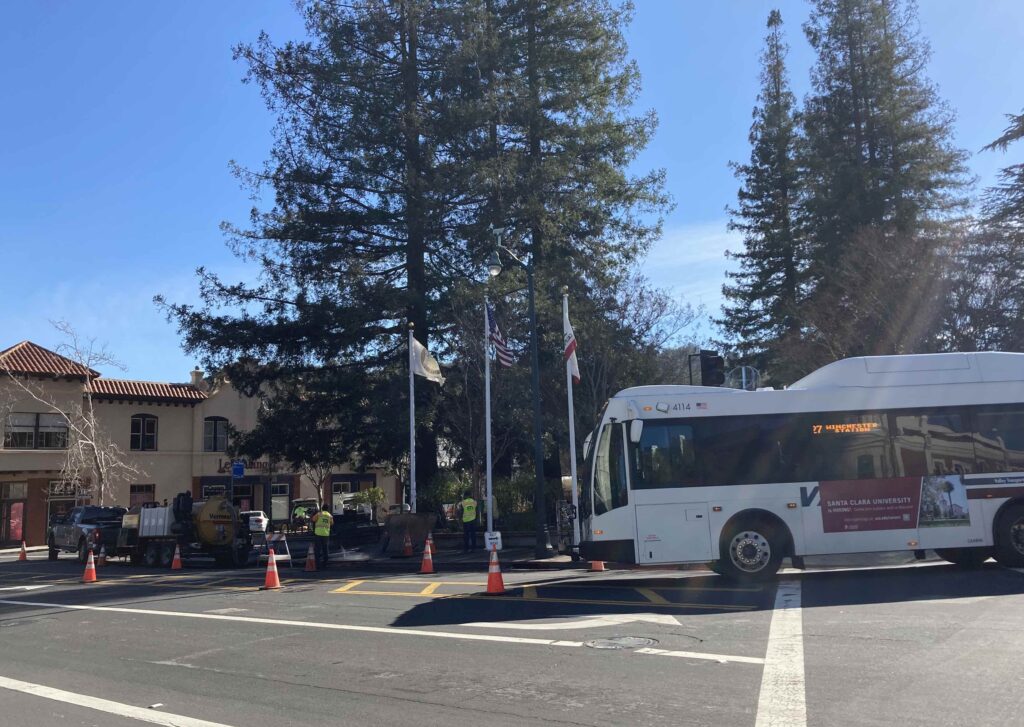 She referred to the VTA move as contributing to a transit "death spiral"—although only on the weekends, so far.
Councilmember Rob Moore, who was elected to Council overwhelmingly on the back of a heavily pro-transit campaign, pointed out the irony in making bus service less convenient and blaming the vehicles clogging up downtown on the weekends.
"It's disappointingly ironic to me that we're cutting this bus route due to traffic," he said. "I'm definitely disappointed to see this."
Councilmember Matthew Hudes asked the transit official if there was any chance of bus service improving in Los Gatos in the years to come.
The VTA rep, Janice Soriano-Ramos, referred to the annual transit planning exercise the agency goes through.
"We really want to look 30 years out," she said. "That effort is wrapping up very soon here."
This wasn't the news Hudes wanted to hear.
"A lot of service has been eliminated for Los Gatos," he said, referencing the death of the #48 and #49 lines that once served the community. "By eliminating routes, it eliminates riders."
Rennie tied the VTA service cuts to Los Gatos' low-rise suburban nature.
"It's really difficult to service the West Valley," he said, explaining that Los Gatos' affluence has led to a more spread-out residential landscape, meaning there are too few riders for VTA to justify maintaining routes. "We can help if we can focus density (in certain areas)."
Monica Mallon, a transit activist, said service isn't being reduced, though some stops will now be skipped on the weekend—since hours are actually being extended, overall.
"Ideally, I would like to see the 27 and a small route that goes through downtown, but VTA doesn't have the funding for it right now, so they had to make a trade-off," she said. "They chose to prioritize improving reliability over having more stops in downtown on the weekends.
"I think that was the right choice."