Sip from a single glass and your entire world will be shaken up, ushering you into a life of passionate inspiration. Sounds fantastical, right?
Well, that's what happened to Los Gatos native Shannon Degrange, 23, when she tried a 2018 Hooked Riesling, from Mosel, Germany—a wine renowned for its cherry and peach notes.
"It flipped my world upside down," she said. "It just changed my perspective completely."
The granddaughter of former mayor John Lochner—aka "Mr. Los Gatos"—had originally started studying business at Northern Arizona University, but eventually switched her major to public relations and advertising.
When she stepped into FLG Terroir: Wine Bar & Bistro in Flagstaff, Ariz., on her 21st birthday, she wasn't prepared for what was about to hit her.
"In college, you're drinking really cheap, gross wine," she said. "It just took me away from everything I was predisposed to about wine."
And with that, Degrange began sliding deep down the rabbit hole of wine research.
"I became obsessed with the concept," she said. "I would skip the bars and go home and buy a $30 bottle of wine."
She began studying for a Wine & Spirit Education Trust certification.
'Why don't I try something in Wine?"

—Shannon Degrange recalls her moment of truth.
She ended up with a near-perfect score.
"I think I got a 99 or 98% on that test," she said. "It really gave me a really great base knowledge of wine."
And suddenly, as the real world began falling apart around her, it was wine that gave her a new lease on life.
"I graduated during Covid, right during 2020 when everything was hitting," she said. "There was just no closure. No closure at all."
She was still looking at going into a communications role at a large company. The thing was, no one was hiring.
"I was pretty devastated," she said. "That was just a blow to your self-esteem."
Then one morning, she went out onto her college apartment deck and was hit with the breeze of inspiration.
"I kind of had this epiphany moment—of following [a] passion," she said, recalling her thoughts in that fateful moment of clarity: "Why don't I try something in wine?"
Degrange made a pact with herself that she would allow herself to pursue her passion for a year.
"I'll give it a year and if wine doesn't work, I'll go back to my major," she decided. "I told myself I would just say yes to everything in that year."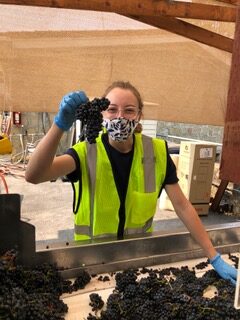 That very morning, she sent an email to 2011 San Francisco Chronicle Winemaker of the Year Cathy Corison, of Corison Winery in St. Helena, asking if she should photograph the harvest, as wildfires raged in the vicinity.
"She said, 'Sure'—and then I made it happen," she said. "She's quite the amazing person."
In June 2020, Degrange moved from Arizona to Mendocino County, to live at home.
Her mom, Kelly, attests to the total shift in her daughter's career path.
"When Covid hit she was just really bored," she said, explaining her daughter was expecting to find a desk job in the Phoenix area. "Everything completely flipped."
But, once she proclaimed her newfound passion for wine, Shannon wasn't all that surprised about how tenacious her daughter was in pursuing it.
"She just hits the ground running," she said, recalling how Shannon even won the "go-getter" award in tumbling, when she was three. "She's incredibly outgoing and focused."
During a trip to Pacific Star Winery, on the Fort Bragg cliffs, Shannon was offered a job in the tasting room within two minutes.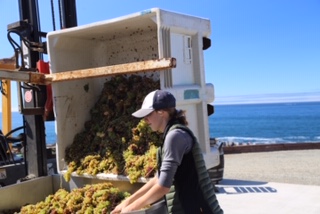 She enjoyed meeting fascinating people from winegrowing regions around the world.
This began her year of working with owner Sally Ottoson, which involved running the winery's social media, sorting grapes and coordinating influencer visits.
One morning in August, she left at 4am and drove down to Corison Winery for the promised photoshoot.
Degrange calls the day she spent there the "coolest experience of my life," up to that point. Her year of wine experiences was off to a great start.
After a few months of living at home, during a tasting at Meyer Family Cellars, she couldn't help but ask for a second job. And she got it.
Degrange says she learned a lot from owners Matt and Karen Meyer and enjoyed taking high-res photos for their social media channels.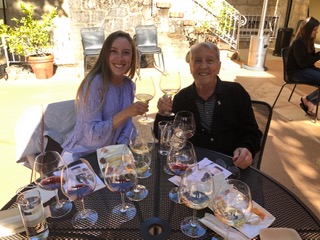 When Degrange's grandpa, back in Los Gatos, messaged her about an email he received from Testarossa Winery about a winemaking internship, she decided it was time to return to Silicon Valley.
"I'm living with my two 93-year-old grandparents, which has been really interesting," she said, adding her 4-year-old cat came along, too. "She loves to smell chardonnay, but she hates pinot noir."
Work in the Santa Cruz Mountains has been grueling. Degrange was reminded of her first job, working on the Billy Jones Wildcat Railroad as a teenager, which involved "extremely hard" labor.
"Testarossa is the most mentally and physically difficult —but also the most rewarding—job I've had in my life," she said. "I can't believe the amount of knowledge that group has in the production team."
Degrange says she feels like she's in the heart of the action, pressing juice out of grapes, punching them in the tanks and barreling the wine, as the center of gravity of viticulture shifts from mass-production in Napa and Sonoma to a wide array of operations in places like the Santa Cruz Mountains.
"I really think this upcoming generation is really looking for niche, small-production wines," she said on Oct. 28, the day before her graduation. "It blew my mind how much I learned from this placement."
Now, she's planning a move to Washington State with her boyfriend, and is looking to get into wine education there.
"I want to be the face of the younger generation in wine," she said, pointing to how thrilling she finds it to inspire others about the grape-based liquid. "I call it the 'Ah-ha' moment."