Since Pier 1 Imports filed for bankruptcy in 2020, the Blossom Hill Pavilion Shopping Center has been seeking a stable tenant to occupy 11,212 square feet of retail space at Los Gatos Boulevard and Blossom Hill Road.
On Nov. 10, the Planning Commission voted unanimously to approve a Conditional Use Permit for Beverages & More, Inc.—better known as BevMo!—for that location.
The company submitted documents requesting to eventually sell food, toiletries, rapid Covid-19 tests and other household goods 24 hours a day, and to sell alcohol from 6am until 2am. BevMo! also requested in-store hours of 7am to 11pm.
But Commissioner Melanie Hanssen wondered aloud about the proposed hours.
"I know we have some relatively newer commissioners…11pm is rather late for every night of the week—at least here in Los Gatos," she said. "Do we have other CUPs for similar retail or food establishments, or whatnot, that go until 11 o'clock every day of the week?"
Joel Paulson, community development director, said other grocery stores actually stay open 24 hours a day, not just for delivery.
Greg Endom of Beverages and More, Inc. said the business was only planning to stay open that late during the busiest times of the year, but submitted the application with those hours for simplicity's sake.
"We've been around for 25 years," he said. "Since Day 1 we've set the gold standard for being an alcohol retailer."
The company doesn't hire anyone under 21 in order to alleviate peer pressure concerns, Endom said.
"We're a specialty beverage retailer, he said. "We want to provide a clean and well-lit, and pleasant, shopping environment."
The company is continually updating its age-verification protocols, he added, "so that we ensure the dreaded sale-to-minor doesn't happen."
Hanssen said she's "quite sure" children from the middle school will attempt to go into BevMo! store.
Endom said one of its locations operates out of the same center as a school, and they are laser-focused on preventing this kind of illegal activity.
"The employees are very much 'on guard' for that very event," Endom said, referring to how people under 21 aren't even allowed inside. "They're not our customer."
According to company data, BevMo! had 15,000 customer visits from residents living in the 95032 zip code in 2019, with 9,000 of those logged at the Camden store alone.
"I didn't even look at the other Los Gatos zip codes," Endom said. "Clearly there is a large percentage of town residents that are shopping in our store outside the town, so that was a real eye-opener for us. We don't see that that often."
Commissioner Jeffrey Barnett disclosed he knows Endom, but pledged to make an impartial decision nonetheless.
'I know retail is really hurting'

—Planning Commissioner Emily Thomas.
The Planning Commission is allowed to issue a Conditional Use Permit if it finds the business conforms to zoning rules, is convenient, is not detrimental to the public, and conforms to the General Plan and Town Code.
BevMo would add to the mix of shops in the area, keep people from driving further afield for the specialty alcohol for sale, and provide employment opportunities in town, according to the applicant.
Planning staff found the business, as proposed, wouldn't conflict with the Town's design standards, since it would be located in a vacant spot once occupied by Pier 1.
The business expects to hire 15-20 staff, with the possibility of additional workers being brought on during the holidays.
Writing in opposition, Katie Piro, who identified herself as a mom, a small business owner and a long-time Los Gatos resident, said another chain store in the area would clog streets.
"Our town has suffered and suffered with new projects, especially on Los Gatos Blvd.," she wrote. "The beach traffic is so bad on Los Gatos Blvd. and on Blossom Hill Rd. during the summer."
She also worried about the impact on Raymond J. Fisher Middle School students.
"All you have to do is drive by this location at 3:30pm on a weekday to see the number of our middle school children that spend time here," she wrote. "It would be dangerous for the kids."
No one spoke during the public hearing besides the applicant.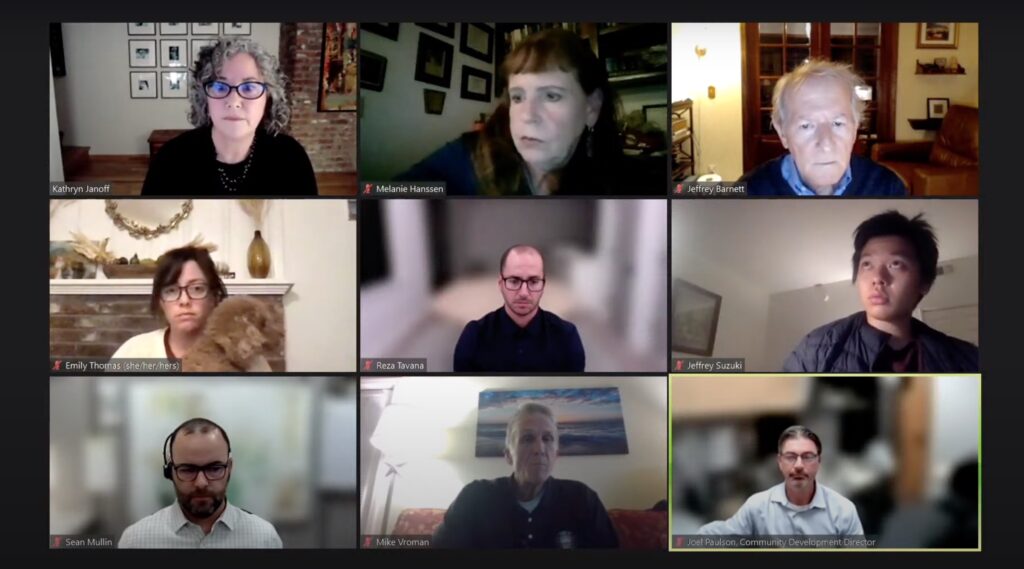 Commissioner Kendra Burch asked if all BevMo! Stores offer 24-hour delivery.
About a year ago BevMo! merged with GoBrands, Inc., which enhanced its ability to run an in-house delivery program, Endom said.
Now, 114 of its 161 stores across California, Washington and Arizona, offer 24-hour delivery.
Burch wondered if the Camden store was one of them.
Endom said there's a major renovation of that area that will involve demolishing all the buildings on the site, meaning the investment involved in rolling out extended delivery hours just wasn't worth it.
"We have been on borrowed time," he said. "We elected not to do it there."
Burch wondered how much time the applicant spent at the Los Gatos property.
"You probably need to spend some time there as school lets out," Burch said. "You have two schools, very, very close (in) proximity…that place is absolutely mobbed with kids. Absolutely mobbed."
Endom said he'd been to 636 Blossom Hill Rd. about a dozen times during the day.
The thought of 50-100 deliveries per day originating from that same lot raises safety worries, Burch said.
"It's not an easy corner to navigate," she said. "I'd really like to understand what your vision is."
Endom said the stated numbers are "optimistic" figures.
"We find the bulk of the orders and the demand comes after 7 in the evening, and before midnight-ish," he said, adding the overnight program will be rolled out in stages. "It takes a while for the customer base to really embrace and understand that there's this option."
With RiteAid, Whole Foods, CVS and Lunardis in the area, Burch wondered if approving another alcohol retailer was really adding to the mix of businesses in the area.
Commissioner Emily Thomas said she understands Burch's sentiment.
"We also want retail space to be filled right now," Thomas said, adding she was excited to hear a company wanted to expand into Los Gatos. "I know retail is really hurting."
The BevMo! location could help improve "walkability" in the community, Thomas said.
Hanssen made a motion to approve the Conditional Use Permit, modifying it so staff will work with the applicant to break down their exact planned opening times, such as during holiday and non-holiday periods.
"Despite my safety concerns I will second the motion," Burch said. "I do agree about the need for retail."