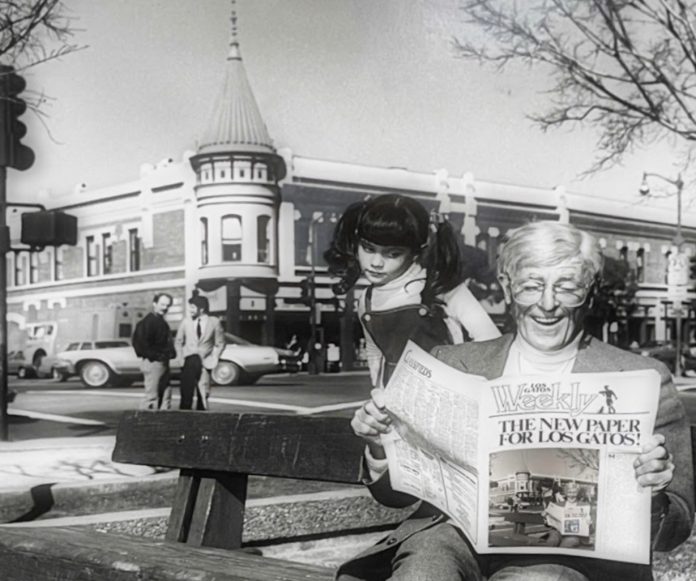 So there we stood… on the corner of N. Santa Cruz Ave. and Main Street two weeks ago, ready to start a weekly newspaper in Los Gatos. Again. Randy Frey was there, as was Roger Sanford, who always manages to show up at the right place and sometimes at the right time. Dina Scoppettone photographed the scene for the new promotional piece.
Like Randy, Roger and me, Dina had been there for the first shot—though she was six years old at the time—looking over the shoulder of the late actor John Hoyt, of Star Trek fame, whom Roger recruited for that shoot.
I was all of 23 then, and Randy, who was the Los Gatos Weekly's founding sports editor, was a few years older. I donned a suit to look more like a publisher than a recent grad of a hippie school with a banana slug mascot. Art director/prankster Rick Tharp aged me further by airbrushing a beard onto the black-and-white photo, snapped by Ted Petersen of the Portrait Gallery. Photoshop wouldn't be invented for another five years.
The Los Gatos Times-Observer had been sold to a company based in Des Moines, Iowa. It had lost its local focus and townspeople were upset. We were too young and naive to know better than to go up against a publishing giant, but it worked out. We bought them out a decade later and merged it with the Weekly to create an award-winning publication that was judged more than once as California's best small weekly.
The dotcom implosion, unfortunately, forced its sale, and the Weekly-TImes eventually wound up in the hands of a huge media conglomerate owned by an East Coast hedge fund with a reputation for saving money by shrinking newsrooms.
>>Fast forward to 2021…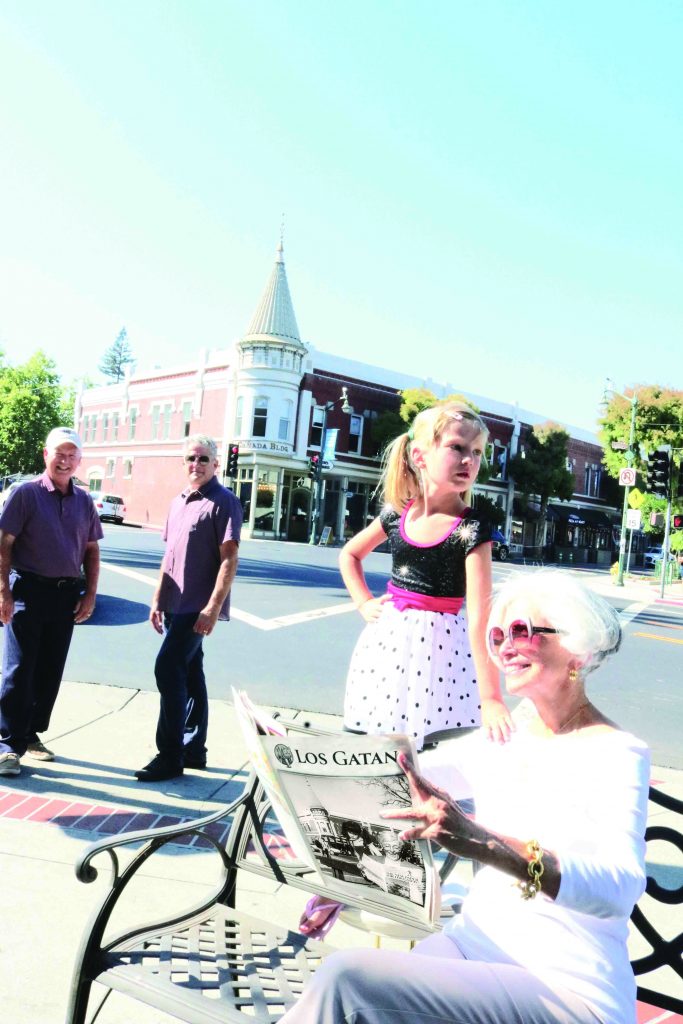 Like the scene in the Blues Brothers where John Belushi says "We're putting the band back together," the first Los Gatan issue was inextricably tied to history. Lee May, who grew up in Los Gatos and co-founded the original Los Gatos Weekly with me is general manager. Roger Sanford, the Weekly's first advertising director, chairs the community board. The 6 year old in the photograph is my daughter. We are a family newspaper, with deep local roots.
We are building the future of local journalism. News deserts don't support the kind of community in which we want to live, or raise our families.
Weeklys, a locally-owned company, won an unprecedented 48 statewide journalism awards this year, so you can count on the best.
The weekly Los Gatan is here. Please read the paper to get an idea of what community journalism can contribute to the collective experience.
Please email your ideas, thoughts and feedback to [email protected]. And, most importantly, please subscribe at lgsubs.com, because that's the real deal, the validation that really makes a difference.