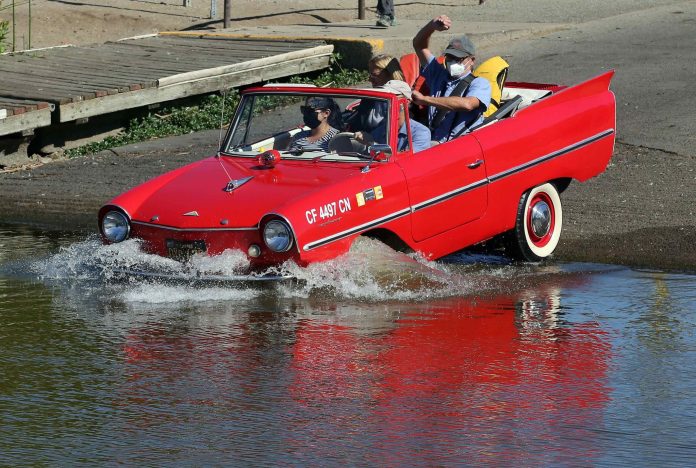 On a recent afternoon, a bright red convertible sports car, with two people aboard, cruised along Green Valley Road and swung into Pinto Lake City Park in Watsonville. Under mild, sunny conditions, they drove the length of the parking lot past a handful of visitors and fishermen, down the boat ramp and straight out into the depths of Pinto Lake.
With their two onboard propellers whirring, the car—now a boat—went for a short cruise around the lake and then returned to shore. They drove up the boat ramp and readied for another group of friends for a second journey across the water.
Welcome to the Amphicar—the "car that swims."
The Amphicar was built in Germany from 1961 to 1968. Total production amounted to 3,878 vehicles.
"They Took in some water on the English Channel trip because they did hit some rough waters"

—Ken Chambers, Los Gatos resident
"They have a 43 horsepower British Triumph engine and are seaworthy and freeway legal, with hardlights, taillights and a standard CF boat registration number," said owner Ken Chambers of Los Gatos.
He said the Amphicar is certainly a "head turner," in that people are not prepared to see a car drive from the roadway into the water.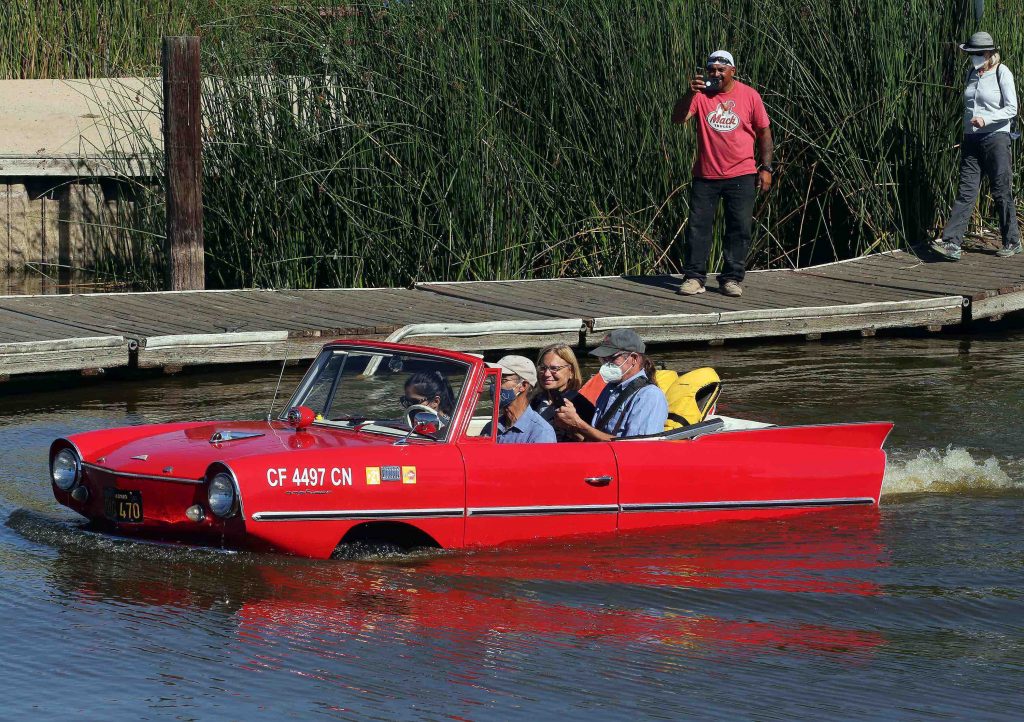 Chambers added that one of the cars has crossed the English Channel and two of them made roundtrip ocean cruises to the Catalina Islands off the California Coast and back, a 44-mile trek.
"They took in some water on the English Channel trip because they did hit some rough waters," Chambers said. "But it does have a bilge pump."
The Amphicar has a top speed of 7 mph in the water and 70 mph across the land. According to Amphicar.com, the Amphicar originally sold for between $2,800 and $3,300, depending on the year. They have appeared in movies, such as "Pontiac Moon," and were also utilized as emergency vessels for first responders.
"I've had some people call 911," Chambers said "It's a fun car and they're well-built."