Town of Los Gatos officials got the ball spinning by arriving at Creekside Sports Park early on Thanksgiving Day to allow organizers to start preparing for the day's big event—the annual Turkey Bowl.
Matt Ober, the National Turkey Bowl League commissioner, entered the astroturf-covered grounds around 7am to set out flags, unpack jerseys and put pylons in the end zones.
"People started getting there around 8 o'clock," he said. "Throughout the day, friends and neighbors, people who played in the past came and showed up."
The one-day flag football tournament is a decades-old Los Gatos tradition, pitting wisdom against youth, veterans against newbies, and the lucky against the skilled.
Younger players who show up are distributed evenly amongst the teams, so matches are as fair as possible.
This year's event got significant support from the business community, says Ober.
People like Steve Angelo of the Purple Onion Cafe, Pete Jillo of Gardino's Ristorante Italiano, Dean and Darin Devincenzi of Double D's Sports Grille, and Adam Chick and Josh Allen of Sidecar all pitched in to help bring the unique supporting ritual into 2022.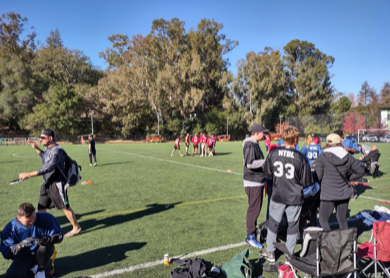 And who could forget the turducken courtesy of Brian, John and the rest of the Chiala family behind Los Gatos Meats?
"It's a big bird," Ober said of the chicken stuck in a duck—which is then connected to a turkey and wrapped with wild boar sausage. "All the players want to get some."
Ober had cooked the creative mash-up of tasty animals for 15 hours at home.
He brought it out to the sidelines first thing, then cut into it after the opening game.
"People all got to get a little piece of it," he said. "There was a little leftover so I gave it to somebody who didn't really have family for thanksgiving."
The contributions from Larry Walker of the Alarm Company, Joey Cope of Cole & Riese Real Estate Group Coldwell Banker, Tony Loeffler of Palms Restaurant of Los Gatos, Alex Hult of Charley's Bar of Los Gatos, Monica Santa of WFG World Financial Group, Jessica Christian of Monte and Kristina Shrader of F45 Training Branham Park were used for the silent auction and to cover insurance costs and other fees.
"It was a perfect day," Ober said. "Very cold in the morning, so the coffee was appreciated."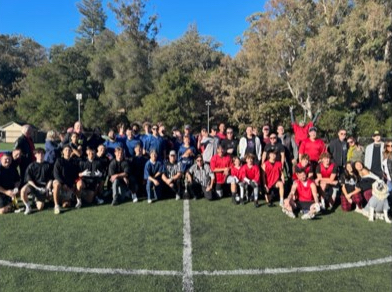 Before the action began, Jonathan Flowers, a former LA Raiders player, spoke to the participants to share a remembrance of his son who used to play in the National Turkey Bowl League.
This elicited a round of clapping from this year's players.
Referees Ober and Ron Zuccaro explained the rules, with a particular emphasis on sportsmanship.
To make his point, Zuccaro took an official NFL rule book and threw it over his shoulder.
"He says, 'I'm the head ref and you don't go by that rulebook,'" Ober remembers him saying. "'If you have attitude, you will do 25 push-ups.'"
However, even the nicest players were in for a whack of the calisthenics.
Because the way the rules go, when one team makes a touchdown, the other team is required to do a round of 25 pushups.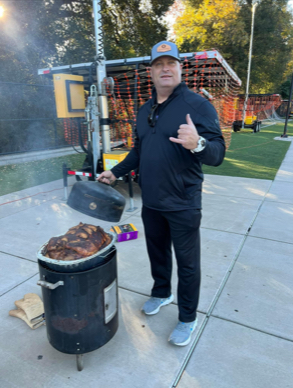 The message seems to have gotten through, because the players really did look out for each other, Ober says.
Even though tackling is prohibited, the sheer amount of energy presents inherent physical risks.
One of the most dangerous parts can be when trying to rip off an opposing player's flag.
"Sometimes going in that motion you do, you can't slow down," Ober explained. "What goes in motion stays in motion right?"
Thankfully, there were no serious injuries.
"It looked like the older folks really protected the youngsters," he said. "If they got the ball and they're running it, it seemed like the adults really helped them be careful."
However, there was at least one star player that did get a big dinged up.
Mark Kibort, the former American Gladiator, did have one particular scary collision, however, it proved to be relatively minor.
"He got a little banged-up," Ober said. "But he went back out."
Because fewer people attended this year, they decided not to use the yellow jerseys.
But they still were able to hold three action-packed games showcasing strategy, adrenaline and agility.
"It's one big family out there on Turkey Bowl field," Ober said. "And that excites me."
While the black team and the red team made it to the final match, in the end, the "Red Riders" emerged victorious.
"It seemed like everyone was having fun," Ober said. "It was just a well-tuned machine."