LOCAL SCENE
Fantasy of Lights tickets now on sale
Fantasy of Lights is set to open Dec. 3-4 for the Walk-thru event and Dec. 6-30 (closed Dec. 25) for the Drive-thru event at Vasona Lake County Park in Los Gatos.
The Drive-thru allows guests to drive by large animated displays while listening to holiday music on their car radio. Light displays include an erupting volcano in the Dinosaur Den, Santa shooting hoops, a pen of penguins, pirate cannons and a tunnel of moving lights. Fantasy of Lights features 50 themed displays and a 90-foot twinkling tree.
Tickets can be purchased by the day and time of entrance (30-minute windows between 6pm-9:30pm). Tickets must be purchased in advance. No tickets will be sold at the park entrance.
Drive-thru tickets are $20 per vehicle (up to 12 people) and $50 for oversize vehicles (capacity 13-plus). Processing fees are additional.
Vasona Lake County Park is located at 333 Blossom Hill Road. For information and tickets, visit parks.sccgov.org/fantasy-lights-2022.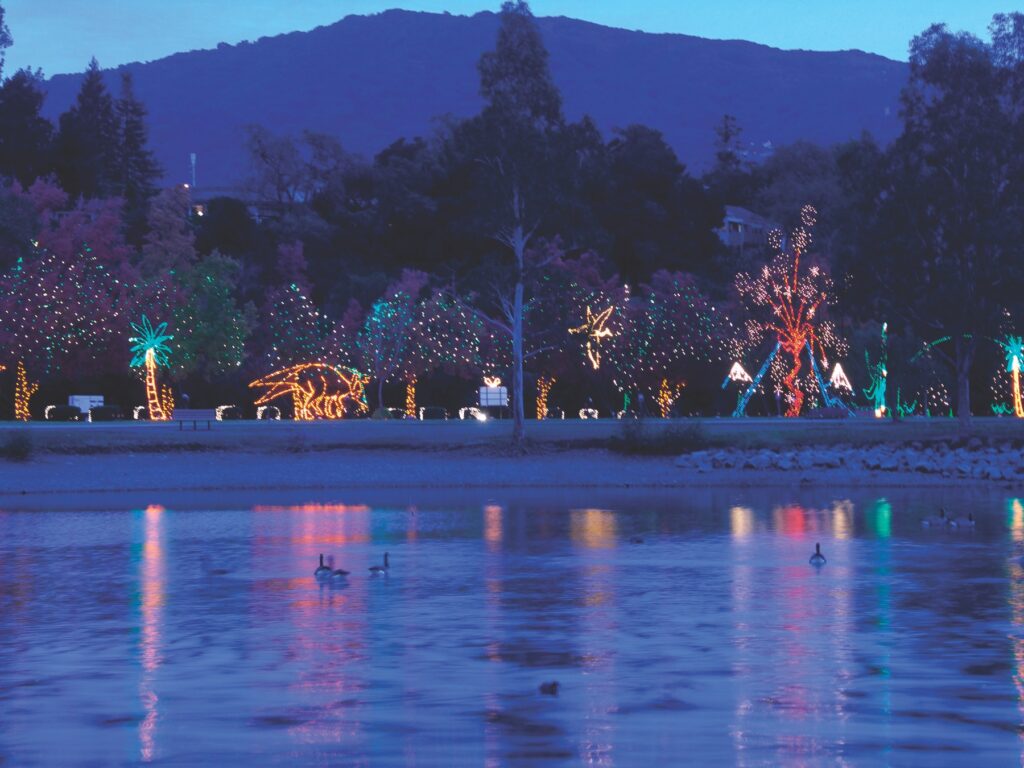 Wildfire Protection Plan update meeting set
The Santa Clara County FireSafe Council is leading a project to update Santa Clara County's Community Wildfire Protection Plan (CWPP).
The project will be supported by partners including Cal Fire, Santa Clara County Fire, County of Santa Clara Office of Emergency Management, County of Santa Clara Department of Planning and Development and others.
The project scope includes all of Santa Clara County with its primary focus on the Wildland Urban Interface areas throughout the county.
CWPPs are a critical element for county wildfire preparedness. This strategic plan allows local agencies to prioritize forest health projects, shaded fuel breaks, escape routes and public education campaigns. The CWPP will further wildfire preparedness initiatives throughout the county and provide support for residents seeking resources to be better prepared for wildfire.
Five public meetings have been scheduled for community members to learn more about the CWPP, meet with local wildfire experts, ask questions and provide their input.
The meeting for District 5, which encompasses Los Gatos, is scheduled for Dec. 1 from 6–7:30pm at the Saratoga Community Center, 19655 Allendale Ave.
For information and to sign up to receive updates, visit sccfiresafe.org/cwpp.
Supervisors push to improve emergency preparedness for Loma Prieta community
The Santa Clara County Board of Supervisors voted on Nov. 15 to direct County Administration, County Counsel and the Office of Emergency Management to explore options for improving emergency services in the Loma Prieta area of the Santa Cruz Mountains.
County Supervisor Joe Simitian proposed options including updating emergency response plans, improving communication with residents, and ensuring that County services are properly equipped to provide prompt and comprehensive emergency services, including outfitting a new Sheriff's Office substation with a generator suitable for providing extended power under emergency circumstances. His proposal was co-authored by outgoing Supervisor Mike Wasserman.
"Folks in the Loma Prieta community are resilient; they're self-reliant. They know how to take care of themselves. But wildfires and disasters in California are getting worse," said Simitian, who now represents the Loma Prieta area and sponsored the request. "So, I've been visiting, listening, and learning—a lot. And folks in the community have expressed a clear interest in working more closely with our County to upgrade emergency systems and planning."
During emergencies which often involve road closures and power outages due to downed power lines and trees, the Loma Prieta community is more difficult for emergency vehicles to access, and do so quickly, according to officials.
In response to these challenges, the County hopes to strengthen connections with local groups such as the Loma Prieta Community Foundation, Mountain Emergency Response Corps, and Loma Prieta Volunteer Fire & Rescue. The County also hopes to improve communication with residents regarding available services and emergency plans.
In response to the proposal, Erin Asheghian, president of the Loma Prieta Joint Union School District, and Sanjay Khandelwal, a member of the Loma Prieta Community Foundation Board, expressed appreciation to the Board of Supervisors for its support of an emergency response plan for the Loma Prieta community. The Board's action, they said in a joint statement, will "ensure that our residents get the services they need and understand how and where those services will be delivered when the next emergency arises."
As the area straddles both Santa Clara and Santa Cruz counties, there are plans in place for both Santa Clara and Santa Cruz County Sheriff's Offices to co-locate in a substation housed in the new Community Center on the Loma Prieta Joint Union School District campus. Simitian said he wants to make sure that the center is "properly equipped with a generator suitable for providing extended power in the event of an emergency."
Construction of the Community Center is scheduled to be completed in September 2023.