They may not have packed a room the way they did in pre-Covid-19 times—when around 1,000 people turned up for the community's Annual Interfaith Thanksgiving Service—but the around 125-strong in-person crowd was augmented by additional attendees participating remotely.
Jeffrey Hall, the senior pastor at Los Gatos' United Methodist Church, which hosted, said the Nov. 17 event gave people of different faiths an opportunity to come together to express gratitude under one umbrella.
"We all have something we can be thankful for, something we can be grateful for," he said. "And so, regardless of what denomination—or even what faith tradition you come from—we can find common ground."
The service was organized by the Los Gatos Interfaith Clergy Association.
The Church of Jesus Christ of Latter-day Saints, Congregation Shir Hadash, Jewish Silicon Valley, West Valley Muslim Association, The Presbyterian Church of Los Gatos, St. Luke's Episcopal Church, St. Mary of the Immaculate Conception, Unitarian Universalist Fellowship and Skyland Community Church UCC (United Church of Christ) and The Terraces of Los Gatos also took part.
Joyce Rhodes played several numbers on the pipe organ and Mark Eastland drummed on a hand pan to help welcome people into the 111 Church St. building.
David Herberg directed the Chancel Choir & Guest Singers.
Rev. Ricardo Avila of St. Luke's Episcopal Church led a call to worship, before the opening prayer by Sharon Aeria of St. Mary of the Immaculate Conception.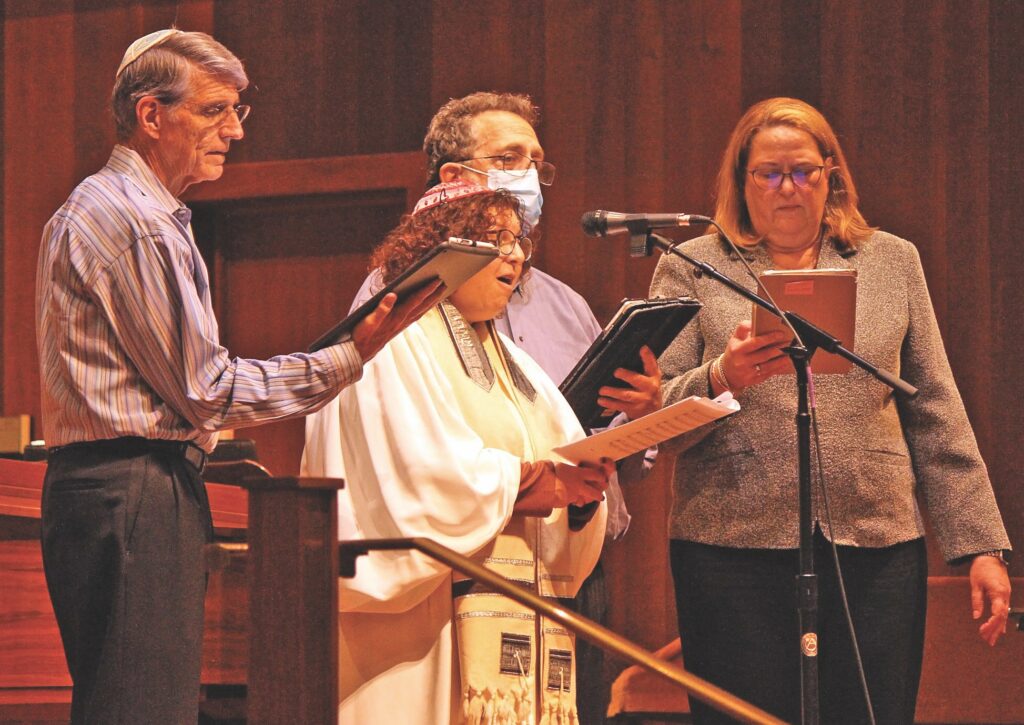 Lubna Shaikh of the West Valley Muslim Association and Rabbi Hugh Seid-Valencia of Jewish Silicon Valley led prayers.
Kathy Cordova, the executive director of the Recovery Café, highlighted the work of her San Jose organization, which provides a community for people dealing with addiction, homelessness and mental health challenges.
A man named Humberto Arriago spoke about the positive trajectory his life had taken through his interactions with Recovery Café.
Hall said he's glad they could help support an organization doing such amazing work.
"Really, what's beautiful is we're coming together to do something good in the community," he said of the significance of the service. "We don't just do it for ourselves."
There was more singing from the Chancel Choir before Rev. Jack Longley, of the Presbyterian Church of Los Gatos, read from Psalm 100.
"Know that the Lord is God. It is he that made us, and we are his; we are his people, and the sheep of his pasture," he said. "Enter his gates with thanksgiving, and his courts with praise. Give thanks to him, bless his name."
In his message, Mormon Bishop Jeff Cole spoke about moving through life with an "attitude of gratitude," before Rev. Cindy McCalmont of The Terraces of Los Gatos gave the introduction to the offertory, which featured the Andrea Ramsey song "We Are Blessed."
Rabbi Nico Socolovsky, of Congregation Shir Hadash, in his Prayer of Thanksgiving shared how, to him, spirituality is about living with attention.
"I am aware of the interconnectedness of all things," he said. "All cannot be without each. And each cannot be without every."
Cantor Devorah Felder-Levy and the Shir Hadash Choir belted out "Modim Anachnu Lach" by Rachelle Nelson.
Hall bookended the service with closing remarks, and Rev. Melanie Weiner of Skyland Community Church UCC delivered the Benediction.
Everything went smoothly, Hall remarked afterwards, as attendees milled about the bountiful spread of cheese, crackers, snickerdoodles and caramel brittle, in quite the display of fellowship.
"It was just great from start to finish," he said. "I think what I'll take away from it is that, this is something we're doing again."