Los Gatos' mayor, Rob Rennie, sent out 45,000 texts in recent weeks as he sought the District 28 seat in the State Assembly.
But last night, after trailing Monte Sereno councilmember Liz Lawler and former Santa Cruz County clerk Gail Pellerin for a week, he sent out a concession message to supporters.
"I was proud to come in second in my home county of Santa Clara, but district-wide the votes fell a little short," he said. "I was honored to have such committed volunteers and generous donors, plus a talented campaign team, all of whom believed in me. How can I thank you enough?"
Rennie had previously been gearing up to try to get onto the Santa Clara County Board of Supervisors, but redistricting meant his home fell outside the new boundaries of the area he was looking to represent.
In Wednesday's 10pm newsletter update, he reflected on the unique nature of the Assembly contest, which he jumped into late when incumbent Mark Stone unexpectedly decided not to try to win again.
"We ran fast and we ran hard, phone banking twice a day for 45 days," he said. "I literally wore out my gym shoes walking the streets of San Jose, Los Gatos and Santa Cruz, talking to people about what I wanted to accomplish in the State Assembly."
In addition to referencing the late night strategy sessions, and "flurry of mailers," he even included a photo of (presumably) his worn sneakers: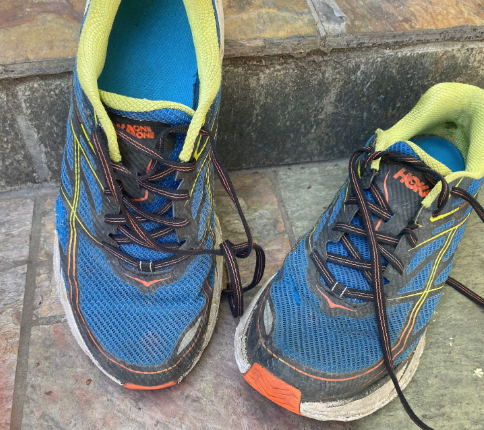 Finishing Strong
In the email, Rennie next turned his gaze to the future…
As I finish out my term as Mayor of Los Gatos, I'll be thinking about what comes next. You've inspired me to keep fighting for solutions to climate change, and for a clean, safe, affordable community. My path forward will most certainly include those priorities.
A special shout out to my wife, Isabella – my head volunteer and auxiliary brain. Thank you Isabella for putting up with all the late nights and constant interruptions.
Again, thank you all from the bottom of my heart. Your support will never be forgotten.
-Rob
Los Gatos' council members take turns in the mayor's chair, so Rennie will still be mayor for about six more months.