The way to thrive in a new climate-change reality beset by power-downs, out-of-control flames and continuous rebuilding is by working together. That was the message that resounded loud and clear from local, state and federal leaders as they descended on Los Gatos' Civic Center Lawn Sept. 18 to reveal $7 million in funding toward wildfire-mitigation efforts.
"The West Valley cities partner in a real significant way," said 28th District Assemblymember Evan Low. "As we continue to combat wildfires in our region and throughout the state, we need to prioritize this regional approach and make sure that we look after one another as neighbors."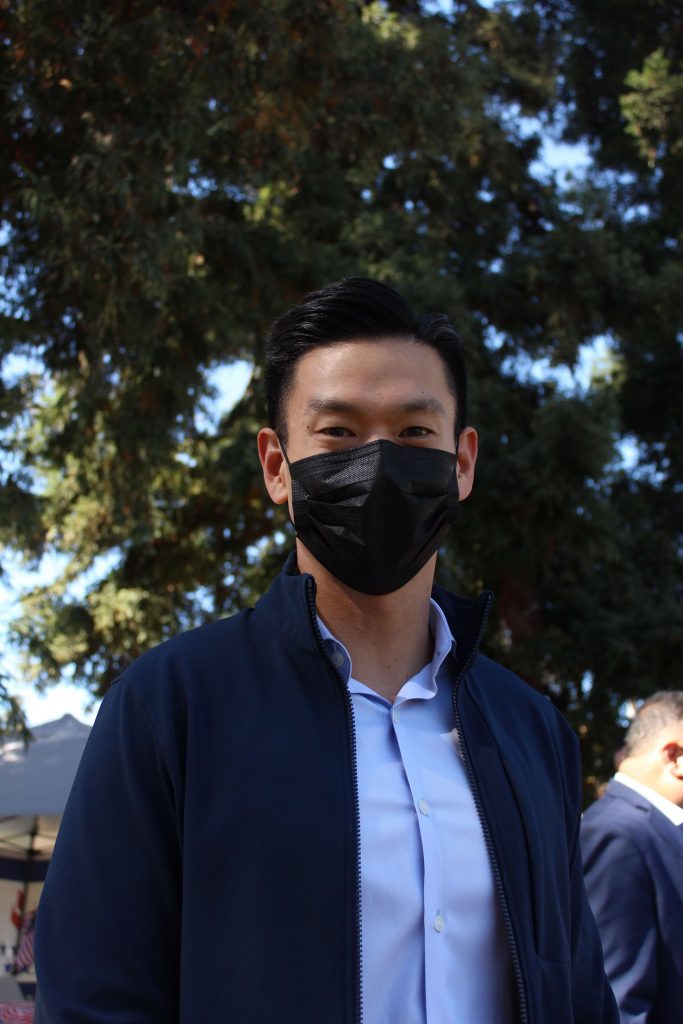 The funding from Sacramento will go toward creating a wildland fire specialist program, as the Santa Clara County Fire Department fortifies "defensible space" around the region. It's earmarked for an emergency operation center and to help first responders modernize equipment. There's money for joint-training exercises, for building retrofits, and for one-time business-resiliency programs, to assist with emergency planning.
"You know, there's a mentality with our small cities—and I come from Campbell, so I also feel it, too—that we're not San Jose, we're not San Francisco, we might not be Los Angeles or San Diego, so we're just going to ask for a little bit," Low said, describing how the Silicon Valley municipalities were timid, at first, with their wildfire-funding ask. "Our collective response was 'No, we need more.' And so, as a result, the initial request was almost tripled."
Santa Clara County Fire Department Chief Brian Glass said fostering a collaborative approach to fighting fires is crucial.
"The Santa Clara County Fire Department prides itself on a regional service delivery model," he said. "This is a partnership where we collaborate, recognize cost savings, share resources, and have mutually-beneficial partnerships."
Battalion Chief Mike Matheson noted the amount of land scorched by wildfires has tripled since 1980.
"The vast majority of that increase has been here in the West," he said. "And climate change has already more than doubled the occurrence of extreme wind events and wildfire weather events."
That's why it's so important to take a proactive approach, he added.
"Investments towards prevention and resilience are proven to offset the costs of recovery and suppression," he said. "I look forward to making the West Valley communities wildfire-resilient."
Congresswoman Anna Eshoo, who represents the 18th District, thanked Low for inviting her to the event, which was held during the Kiwanis' Fiesta de Artes. She talked up the wildfire-related line items in President Joe Biden's $3.5 trillion spending plan.
"I'm sure everyone here remembers that for several days during last year's wildfires, scientists said that our communities were breathing the dirtiest air in the world," she said. "So, my legislation will help us prepare for future wildfire smoke and protect the health of residents."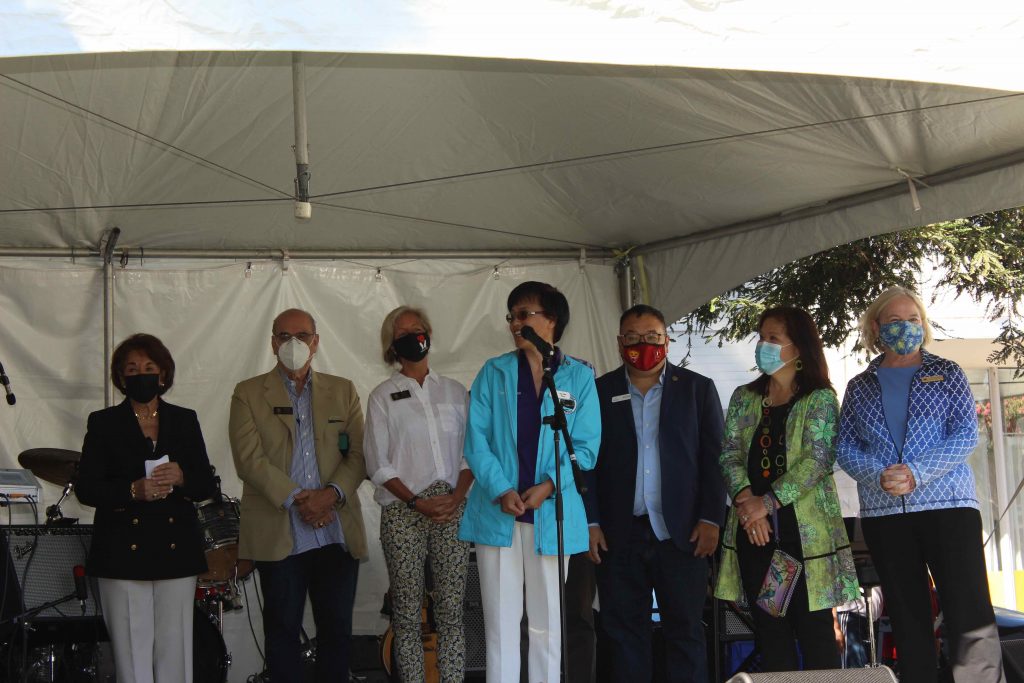 Earlier in the month, the first home game of the Los Gatos High School's varsity football calendar was called off due to smoke from the Caldor Fire, which destroyed more than 1,000 structures and injured five people in the South Lake Tahoe area.
The legislation includes $600 million for a federal firefighter pay bump, as well as converting 1,000 or more seasonal firefighting jobs to year-round positions; there's $3.3 billion for wildfire risk-reduction efforts, such as reducing hazardous fuels, controlled burns and community defense grants; and $5 billion would be directed toward burying power lines so they don't spark forest fires.
"The threat of wildfires is likely to persist because of climate change," she said. "It causes fires to occur more frequently, and we need to be ready."
Low told the Los Gatan that his generation is eager to make sure action is taken on climate change and wildfire issues.
"I'm a millennial," he said. "And I feel like every single year you're seeing the news, and it's like, 'Record heat!,' 'Record wildfire!' This is like déjà vu—every single year. So, let's follow science. We know that we need to take significant action on this. It's important that we're doing our own part here in Los Gatos, and in the region."
The mayors of Campbell and Los Gatos looked ahead to what this wildfire-prevention partnership will look like in practice.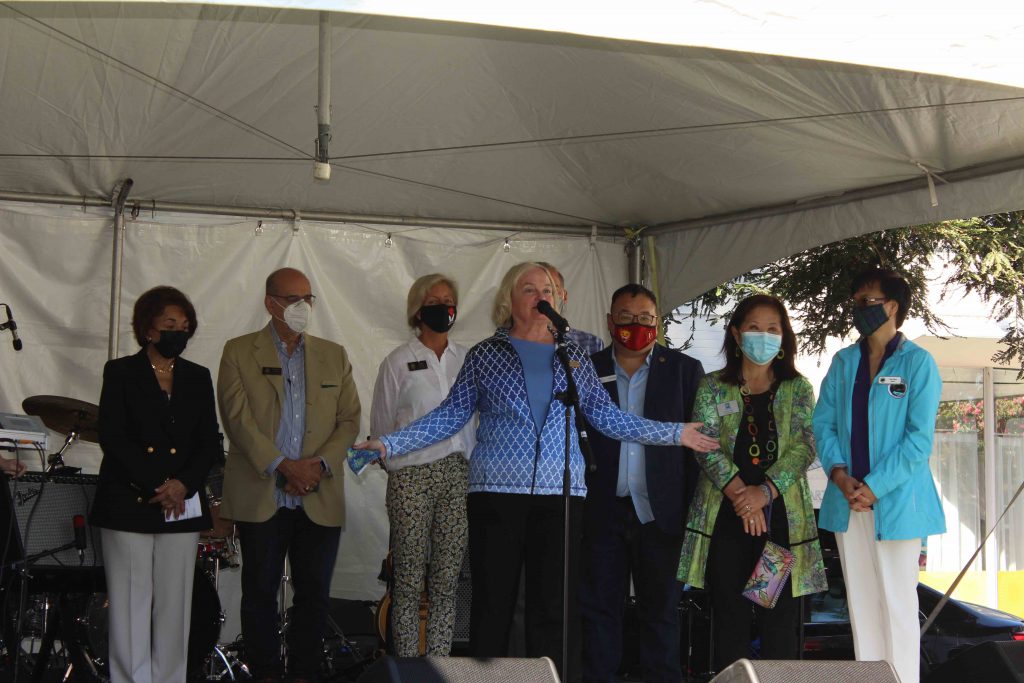 "We realize what happens in Campbell will affect Los Gatos and vice-versa," said Los Gatos Mayor Marico Sayoc, adding the pair of Silicon Valley cities partner on grant-writing and share resources for their Community Emergency Response Teams and Disaster Aid Response Teams.
"You can't tell where the border is between our cities, can you?" Mayor Liz Gibbons chimed in, adding, "There's going to be, in Los Gatos specifically, a defensible-space wildland fire specialist pilot program that's just really going to make a difference between Los Gatos and Monte Sereno and Saratoga."
The geography of the West Silicon Valley makes planning ahead an imperative, she added.
"All our communities are built into the hills, into the forest," Gibbons said. "We want to be sure to have those protected."