One moment, the Los Gatos High football team was seemingly on its way to victory. The next, faces of disbelief littered the sideline.
It's no wonder Wildcats coach Mark Krail called the 34-27 loss to Bellarmine in a Central Coast Section Division I playoff opener on Nov. 12 "the toughest I've ever had." In a game with as many twists and turns as a Stephen King novel, Los Gatos (10-1) fell short in what will assuredly go down as one of the best games of the playoffs—and there are still two rounds to go.
"This time of year somebody's got to go home and there's always good football being played and tonight was no exception," Krail said.
With the game tied at 27-27 and Bellarmine driving down the field for the potential game-winning score, the Wildcats' Jake Ripp intercepted a pass and returned it 25 yards to the Bellarmine 23-yard line as the Los Gatos sideline and fans erupted in pandemonium. Jake Boyd completed a 13-yard pass to Caspian Bailey despite a Bellarmine blitz that put him under heavy duress. 
On the next play, Bailey's short run gave the Wildcats a second-and-goal from the 8. That's when Boyd's pass—which was intended for Ripp—was tipped at the line of scrimmage and fell into the arms of Thomas Divittorio, who returned it 94 yards down the left sideline for a touchdown for the game-winning score with 43.6 seconds remaining.
The Wildcats got the ball back at its 25 with 36 seconds left, but couldn't do much with it. The series ended on an interception. Just like that, Los Gatos had victory snatched from its grasp.
"We called a play that worked several times during the year," Krail said. "It's a 1 on 1 with Jake Ripp and they tip the ball at the line of scrimmage. I mean, that's a brutal way to lose a game. Of all the ways to lose a game, that one is the toughest I've ever had."
Los Gatos pulled out all its bags of tricks out of its playbook which nearly put them over the top. Jaylen Thomas connected with Lucas White for a 57-yard touchdown off a fake punt to make it 7-0 Wildcats with 3:16 left in the first quarter. White was wide open down the right seam and eluded a defender in the open field en route to the end zone.
Los Gatos went to its bag of tricks again trailing 20-13, utilizing a halfback option pass. Johnny Kingsland took a handoff and rolled to his left before the lefty lofted a perfect pass down the near side to Quinn Merritt for a 18-yard TD with 2:49 left in the third quarter.
Los Gatos completely fooled Bellarmine on both of its trick plays that led to TDs. Krail, who called both plays, was waiting for the right occasion to use them.
"(The fake punt) is one you practice twice a week all season long, we hadn't used it and it worked to perfection," Krail said. "Luke White is just an unbelievable, phenomenal player who is one of our senior leaders we're really going to miss. The option was another one we've worked on all season. When you don't have a lot of close games, you don't use those things and tonight was the opportunity to use them and our guys pulled them off. It was good."
Krail said he knew going into the game yards would be difficult to come by because Bellarmine has a tough defense.
"Yet we found a way to score a couple of TDs that were unorthodox if you will," he said.
"Jake (Ripp) is a stud, he has been and he's going to be in big-time college football next year. We ask a lot of him and he's never ever disappointed one time."
Boyd was 14-of-27 for 189 yards and two interceptions, while Emiliano Mejia rushed for 114 yards on 21 carries. Explosive, quick, agile and able to see an opening and hit it, Mejia took on much bigger defenders and usually gained yards after first contact, a testament to his will and mentality to never go down. Merritt had a team-best four receptions and White led the squad with 78 receiving yards.
Ripp led the way defensively with 14 tackles, Luchi Casale had 13 tackles and Jack Saul finished with nine. The Wildcats had a tremendous season, characterized by dominating wins. They completed a 10-0 regular season, one of the few teams in the section to achieve that mark. But for the first and what will turn out to be the only loss of the season, Los Gatos tasted defeat.
And it was gut-wrenching. As is customary for high school football teams with championship aspirations, a loss in the playoffs leaves coaches and players to console each other with hugs and words of appreciation afterward. Most of them were in tears and several players sat on the turf long after the game was over, letting their emotions loose.
"I thought we battled," Krail said. "Our offense wasn't great at times, but we never caved in. We kept fighting and had a chance to win it at the end. To go home like this is going to sting for a few days."
Indeed, playing in front of the largest home crowd in recent memory—5,000 would be a conservative estimate—the team soaked in the environment, which was electric.
"The atmosphere was great, both sides were excited and I couldn't be more proud of Los Gatos High School, the students and the way the town turned out and supported these young men," Krail said.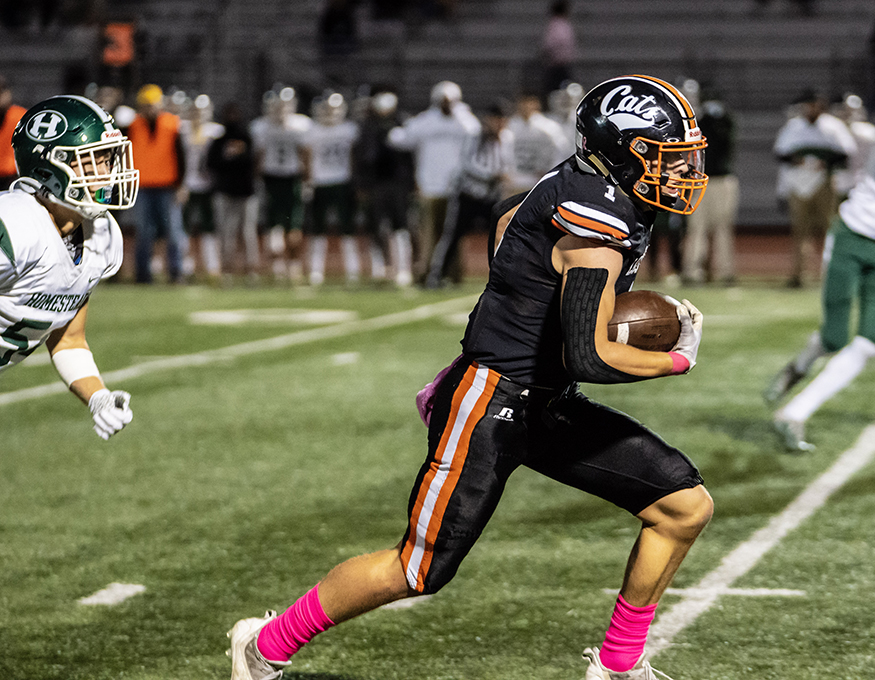 Sports editor Emanuel Lee can be reached at [email protected] and (831) 886-0471, ext. 3958.