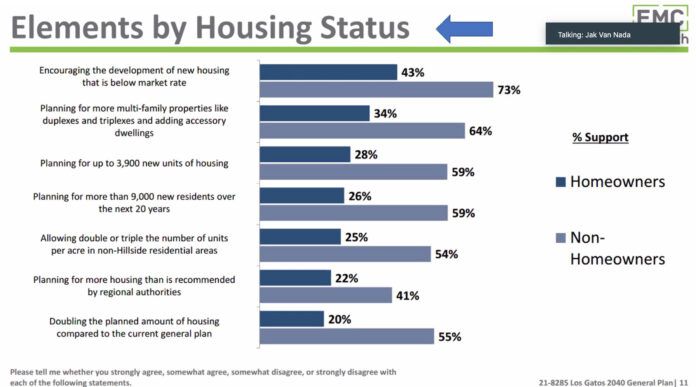 The results of a new survey from the Los Gatos Community Alliance show that when it comes to the future of Los Gatos, there's a gaping divide—between homeowners and renters.
This survey of registered voters in Los Gatos, conducted Oct. 12-18 via telephone interview, email and text-to-web, asked 400 respondents what they thought of the General Plan, which is currently being developed.
"The homeowners are very conservative here," said Jak Van Nada, founder of the Los Gatos Community Alliance, referring to how that group views how much housing should be built in town.
Meanwhile, affordable housing is the most serious concern for people who don't own a home, Van Nada explained, during a Monday Democracy Tent session, where he presented the results.
When asked how they felt about the development of new below-market-rate housing, 73% of "non-homeowners" were in support, while just 43% of homeowners supported this housing type.
Sixty-four percent of non-homeowners liked the idea of planning for more multi-family properties like duplexes, triplexes and accessory dwellings, but just 34% of homeowners were supportive of this.
And while only 28% of homeowners supported planning for up to 3,900 new units of housing—which drops to 26% of homeowners when asked about "9,000 new residents over the next 20 years"—in both of those cases 59% of non-homeowners are still supportive of this vision for the future of Los Gatos.
The only question (on the slide showing support levels for various housing approaches) neither group were in majority in favor of was whether or not the community should plan for more housing than recommended by housing authorities (22% of homeowners; 41% of non-homeowners).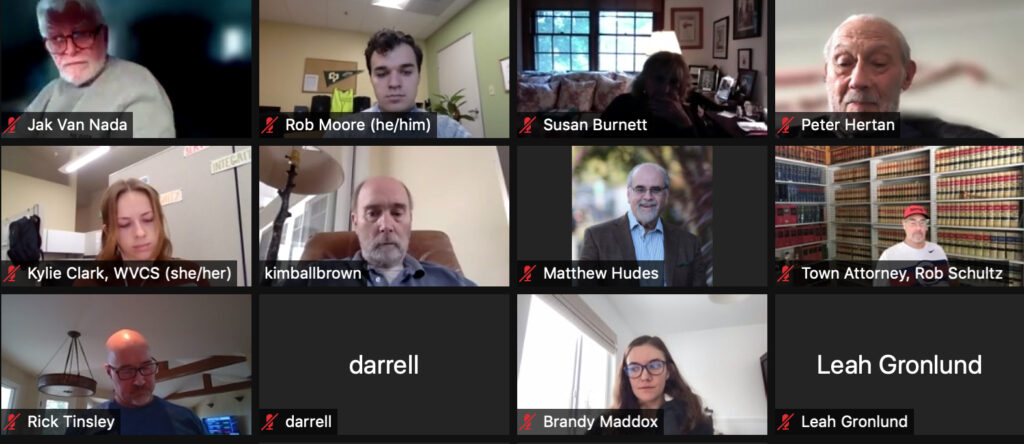 The survey has a margin of error of 4.9%.
The Community Alliance previously helped reduce the size of the Netflix project and pressured the Town to pay down $10 million in pension debt.
Peter Hertan, a Los Gatos-Saratoga Union High School District trustee in attendance, called the survey a "very valuable" insight into the thinking of residents on the proposed General Plan.
"There's a thing in statistics called 'hidden variables,'" he said, explaining the homeowner-renter divide that popped up in the housing status slide hints at the possibility of deeper contrasts in other data from the survey.
Hertan also suggested the General Plan needs to look specifically at the problem of homelessness in the community.
The survey found 77% of people were satisfied with overall safety in Los Gatos; 88% of people were satisfied with quality of life in the community.
However, just 48% of people said they were satisfied with the availability of housing, and 36% of people said they were satisfied with the cost of housing.
The only thing people were even most unhappy about was traffic—with 72% of people saying they're dissatisfied about it.
Of people who were familiar with the 2040 General Plan, 62% said they had an unfavorable opinion of it, while 33% of people said they had a favorable view of what they'd seen or heard.
When asked about other things that could part of the General Plan process—which currently aren't—87% of people said they'd support a through fiscal-impact analysis, 85% said it should have to be approved by voters and 67% want future multi-family housing built within walking distance of jobs, transit and retail. And when asked about the possibility of increasing the percentage of new below-market-rate housing, 10% more supported this idea than opposed it.
Councilmember Matthew Hudes also chimed in about the discrepancy between homeowners and non-homeowners.
"There's a very, very big difference between those groups," he said. "To me it points to a big challenge with affordable housing, not necessarily with high-cost housing."
Hudes said it's helpful to have data like this, considering Council will soon have to make decisions about the General Plan.
The Community Alliance is advocating for 1,167 below-market-rate housing units in the General Plan.
"The best opportunity to achieve the development capacity for affordable housing is to increase densities for mixed-use, and high-density residential land uses in targeted areas within a half-mile of existing infrastructure, retail services and transportation," its report reads.
One meeting attendee suggested the community should "drag our feet" when it comes to complying with state rules about building affordable housing.
Rob Moore, a Los Gatos resident, countered that if the community takes this approach, the State will likely pass more "bonkers" laws like SB9, which remove local control over housing decisions.