Opening Oct. 1, "Immersive: Los Gatos" is an aptly named venue offering year-round events at 15 North Santa Cruz Ave. Business partners Donovan Friedman and Alex Hult say the current plan is to host themed dinner shows Monday through Wednesday, pay homage to the live music legacy of the former neighborhood watering hole Mountain Charley's on Thursdays, and showcase late night club entertainment on the weekend.
"The goal is when people walk in, their jaws are gonna drop and go, 'Where am I right now? I've just been transported into a different dimension,'" says Friedman, an entrepreneur, event promoter and self-described "Director of Happiness." "We're tapping into something that nobody's doing down here right now. This immersive experience space, we're just at the infancy."
The building has a storied history of its own. Los Gatan Jim Farwell and business partner Jack McNamara founded Mountain Charley's in 1972 as a restaurant and saloon, before the late Mark Achilli ran the live music eatery. Entering this new chapter as Immersive: Los Gatos, the space now joins one of the latest "trends" that museums, venues and artists are capitalizing on as society precariously reopens during the Covid-19 pandemic.
The South Bay is gaining several new opportunities this fall: Santana Row's iChina, complete with a 360-degree virtual-reality private dinner room, "Beyond van Gogh" offers ticket-holders the opportunity to "step into" the movement of the Dutch painter's masterpieces and the Factory of the Sun cyberspace video installation by Hito Steyerl at the San José Museum of Art.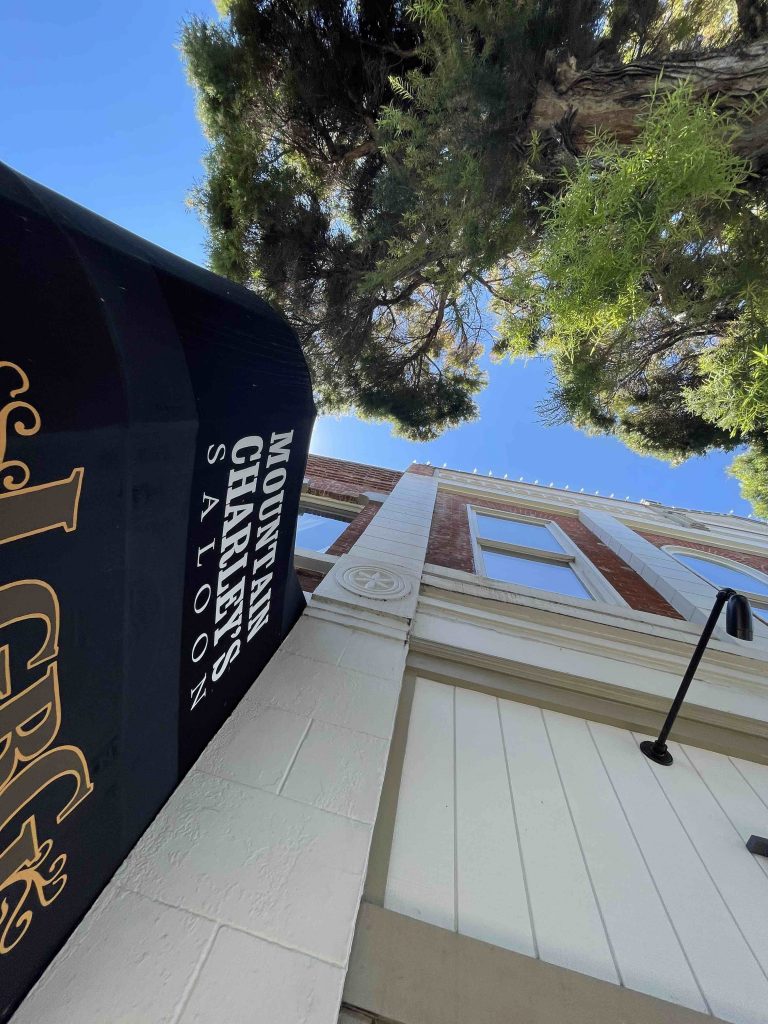 But Immersive is trying to break away from the pack, changing the concept of the space every six to 12 weeks, so there's always going to be a "new" grand opening to check out.
"I have the most grandiose ideas," Friedman says. "If we can pull off 50% of what I want to accomplish with this space on this first activation, people are going to be blown away."
The tech behind immersive experiences has been around for decades, but its recent resurgence has fueled criticism that the projects are "too Instagrammable," as opposed to more traditional venues. However, Friedman says his 20 years curating tactile-based environments across the Bay Area will help toe the line between hosting an otherworldly playground and a social media gimmick.
"Clearly, there's going to be countless photo opportunities for people to post on social media—it's such a critical part now in today's culture to incorporate that," Friedman says. "But there's so many more layers to what we're doing in this space."
Those layers will create a complete story, down to the food and cocktails.
Hult, a professional hockey player turned restaurateur, is holding out on specifics to maintain suspense, prospective guests should come thirsty, open to the unusual and with a fully charged phone battery. The cocktail and nosh will be as immersive as the shows—pleasing for the eye as well as the tongue—by balancing tricks with seasonal, farm-to-table ingredients.
"This is all so out of my comfort zone and very unique, but I love doing it," Hult says. "We're trying to not have any of the 'gimmicky' stuff that's just lame. Everything is 'immersified,' but it's still quality."
Hult brings a savvy for business, paperwork and staffing to the table, pulling from his experience managing four separate Flights restaurants, with several new venues coming down the pipeline. Without a kitchen onsite at Immersive, he says a key to their menu is future partnerships with neighboring grills, coffee shops and bakeries, including his own Flights kitchen.
The duo are confident the venue's facelift and immersive nightlife will live up to most expectations—despite pressure to impress patrons in the same location as the legendary Mountain Charley's.
"I don't think anyone has done anything remotely close to this—except Donovan," Hult says, deeming himself the "Director of Madness" to balance out his partner. "Right now, [the area] is very limited post-9pm, so I think this will be a huge add on and attract people from all over the place."
The goal is for the venue's staff and guests to organically grow together, offering experiences that pique everyone's interests—from South Bay locals to residents across the entire Bay Area peninsula. But will Immersive be able to attract regulars, or will it become more of a tourist destination? The business partners are waiting to see what happens.
"I'm almost nervous about being too busy, because I know there's going to be a huge demand when we launch this," Hult says, noting that more than 2,000 people have already signed up for Immersive's "sneak preview" event. "This is going to be a pretty crazy Halloween in Los Gatos."
For information, visit immersivelg.com.