Shootouts can be a nerve-wrecking deal for everyone involved, especially when it decides the Central Coast Section championship.
That's the predicament the Los Gatos High and St. Francis field hockey teams found themselves in after they played a scoreless 60 minutes of regulation and 20 minutes of overtime at Saratoga High on Nov. 12. Amid the tension, Wildcats goalie Katya Vrijen showed little emotion, even after she made some big-time stops.
The senior made four saves in leading the Wildcats to a 7-6 victory over two shootout rounds. Los Gatos extended its own record with a 17th—yes, 17th—CCS championship in its 21st title game appearance. Having just completed his 31st season, Henry Reyes has been the Los Gatos coach during this entire dynastic run, and he said in terms of sheer drama in a championship contest, this one topped them all.
"Without a doubt," he said. "When you play a good team like St. Francis, you hope you come out of the crazy side of it."
Vrijen delivered one of the best postgame player interviews in any sport in recent memory.
"It's unreal," Vrijen said. "It's not processing yet. It still doesn't feel real. But we're getting pizza now, at T-Bird's. It's T-Bird's every year, even when we lose. But this year we won so we won't be crying on our pizza."
The last time a CCS playoffs was contested in 2019, Los Gatos (16-1) did find itself uncharacteristically on the losing end in a title match, 1-0 to Mitty. However, it has been far and away the dominant program of the CCS, and it's not even close. Even though last Saturday's contest featured two evenly-matched teams—Los Gatos edged St. Francis by a goal in each of their two league games—the Wildcats somehow found a way to come out on top for a third time against a very tough squad.
Out of the Wildcats' 17 section titles, two have come via ties, most recently in 2018. However, CCS made an adjustment to its rules in the last off-season whereby the shootout would go on as long as possible until a winner was determined. In the first shootout round, Abby Lo, Jiwoo Hong, Natasha Evenden and Sam Elliott converted.
However, the Lancers had a golden chance to win it as it had the final shot of the round on its stick. But Vrijen made her first save in five attempts to get the team to the second shootout round. The teams got a break before the final round during which Reyes had a nice conversation with his standout goalie.
"He told me to stay on my feet and come out a little further to cut off the angle, but mostly he was just encouraging me and telling me I could do it," Vrijen said. "We love our coach. He yells a lot, but it's always love."
Vrijen made three saves in the final shootout round, including an incredible double pad leg save. Lo, Evenden and Elliott scored, the last of which set off a wild Los Gatos celebration. The Wildcats were prepared for the shootout after some intense practice time in that discipline two weeks ago.
"But this week we didn't practice the shootout because we didn't want me to knock over the starters," Vrijen said, referring to the fact goalies often collide with the field players while trying to prevent a score.
Los Gatos must have been jubilant to see the game get to a shootout, because the Lancers (15-3-1) dominated the two overtime sessions, producing eight short corners to the Wildcats' two.
This game had it all, including a premature St. Francis celebration when they got the ball into the Los Gatos cage four minutes into the first overtime. However, the referee ruled a no-goal, which came after four consecutive St. Francis short corners. Ultimately, Los Gatos survived the barrage of shots and shot corners in the two OT periods to get to the shootout.
In regulation, the teams took turns controlling the possession. St. Francis had its way in the first quarter before Los Gatos started to gain its rhythm in the second quarter and especially in the third and fourth periods.
"There wasn't anything to panic about in the first half," Reyes said. "They're a good team and they were doing everything they wanted to do and now it was time to change the strategy a tiny little bit to get the game in our favor."
Maddie Holloway did a fantastic job of running out defensively on short corners, Elliott and Madi McDonough were active all game making plays, and Rosalie Brockmann had a couple of terrific passes that led to near goals.
As Reyes made his way from the field to the parking lot afterward, he might as well been a mayor with an all-time high approval rating because he couldn't go more than a few yards before someone approached with a word of congratulations.
"We saw it all," Reyes said. "This game had everything. What else is there left to say?"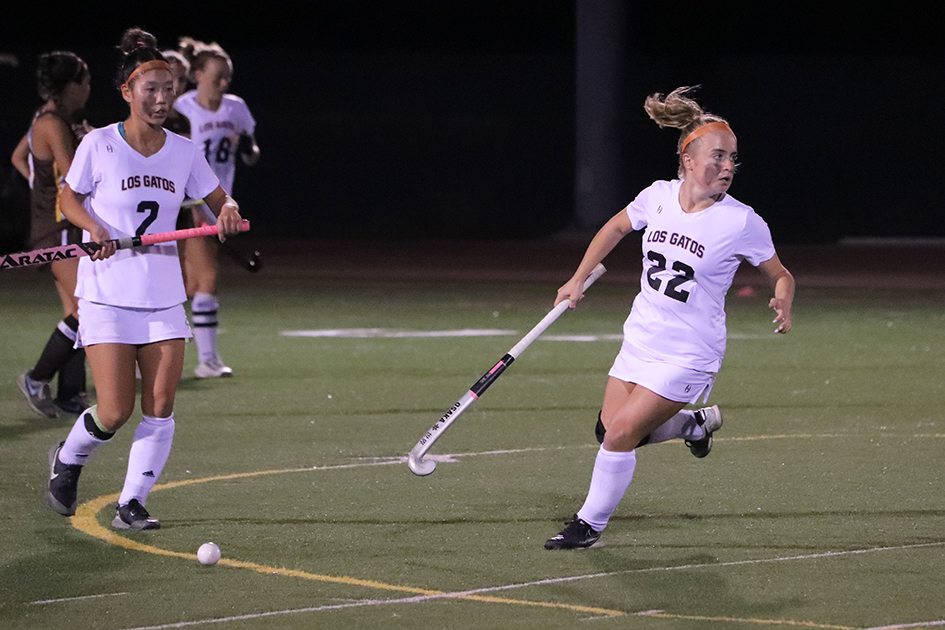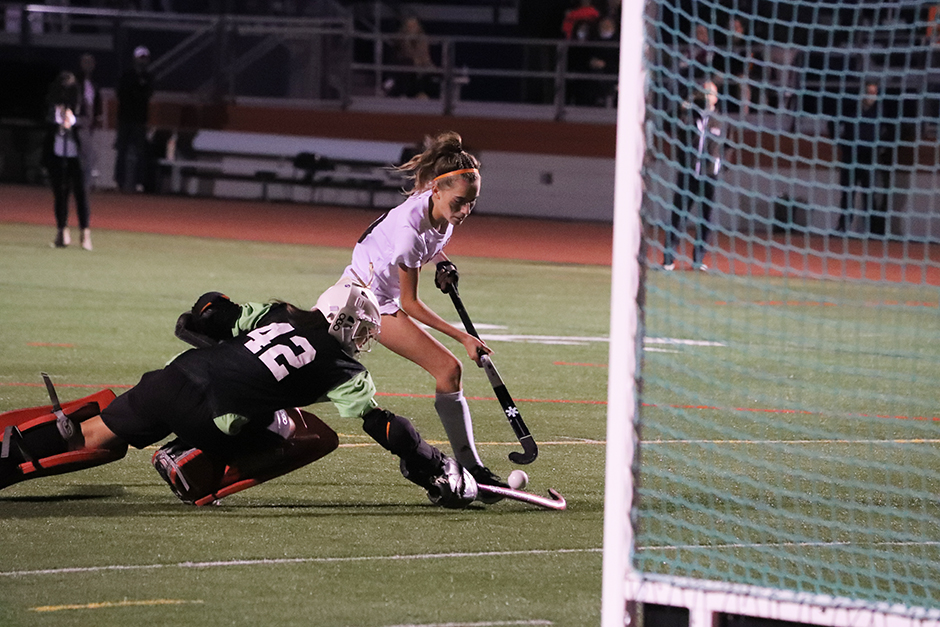 Sports editor Emanuel Lee can be reached at [email protected] and (831) 886-0471, ext. 3958.