As the St. Patrick's Day party unfolded around him at Town Plaza Park, March 17, Scott Travis, 7, of Saratoga was certainly having a blast.
He even let the Los Gatan in on his secret technique for the bean bag toss.
"I grab it—pretty much the back of it," he explained, then, "Three swings; you try to land it—at least on the board."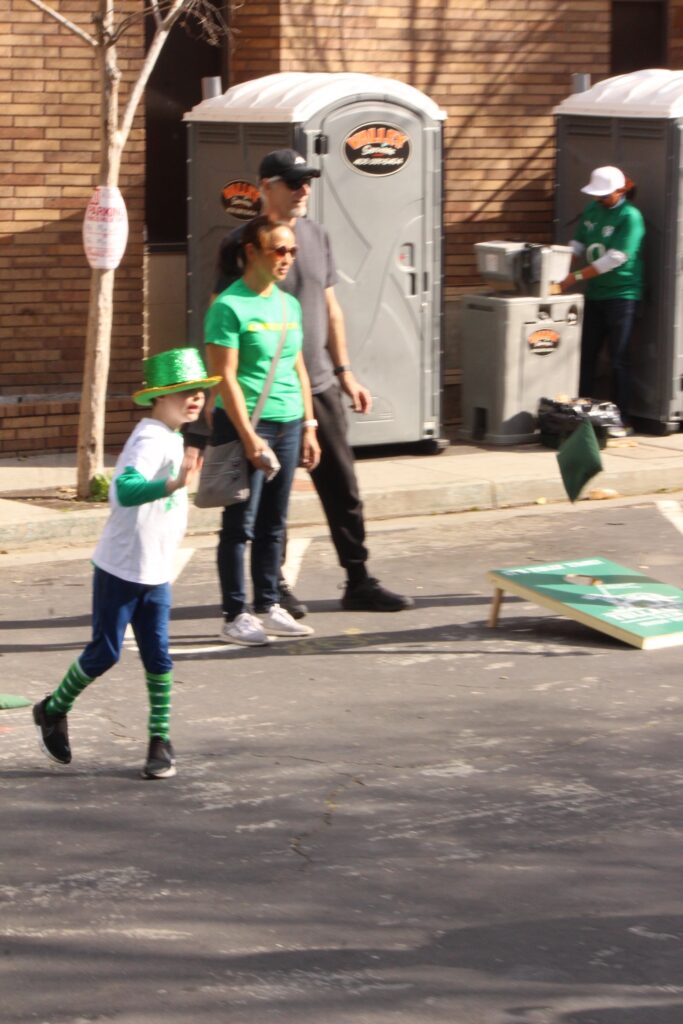 Although he admitted it hadn't been the easiest match.
"They have two players," Travis said. "One of them was really good."
He shouldn't be too embarrassed, though. After all, the other team included—along with a little girl—former San Jose Sharks draftee Alex Hult.
Travis's mom, Sarah, said they've been coming to St. Patrick's Day events in Los Gatos for years.
"We were C.B. Hannegan's people," she said, referring to the Bachman Avenue Irish pub that closed in 2017.
"They used to do a big St. Patrick's Day party every year."
Cristin Laccabue, 57, of Los Gatos had already been enjoying the event for a few hours by the time the Los Gatan caught up with her.
"It was a little quiet in the beginning," she said. "I was ready for the band to get going—and a little more shenanigans."
She said the food from Montebello Market was really tasty.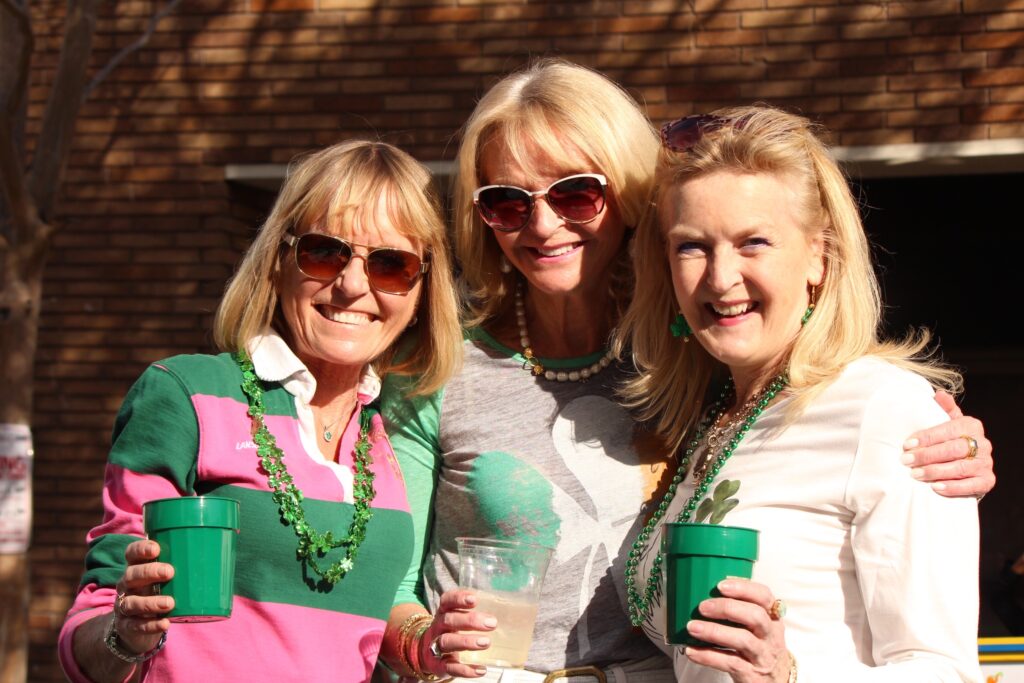 "Shepherd's pie and corned beef were the two favorites for me," she said from her perch next to her sister and two good friends.
Orla MacLean, 61, was in her element.
She grew up in Dublin, after all. That makes her what's called a "Jackeen," she explained.
"Used to describe someone from Dublin, typically used by muck savages from Cork with their grating, whining accents," is how Niall Byrne, an urbandictionary.com user described the "derogatory" term in 2008.
Though she was wearing green Friday, MacLean said back in Ireland she never would've worn the color for the celebration.
To prove her point, she whipped out a cellphone and brought up a photo her niece took earlier in the day, during the parade in Wicklow (an hour's drive south of Dublin) in "lashing rain," reminiscent of Los Gatos' 2022 Christmas parade.
"There's a nice wet Irish day," she said. "Do you see anyone wearing green?"
While green appeared absent, there was plenty of yellow—thanks to all the raincoats.
Saratoga resident Fiona Rodrigues, who is Scotch-Irish, said the best part about the Los Gatos event was the sense of togetherness.
"People come out and participate in the town that they live in," she said. "They support the community."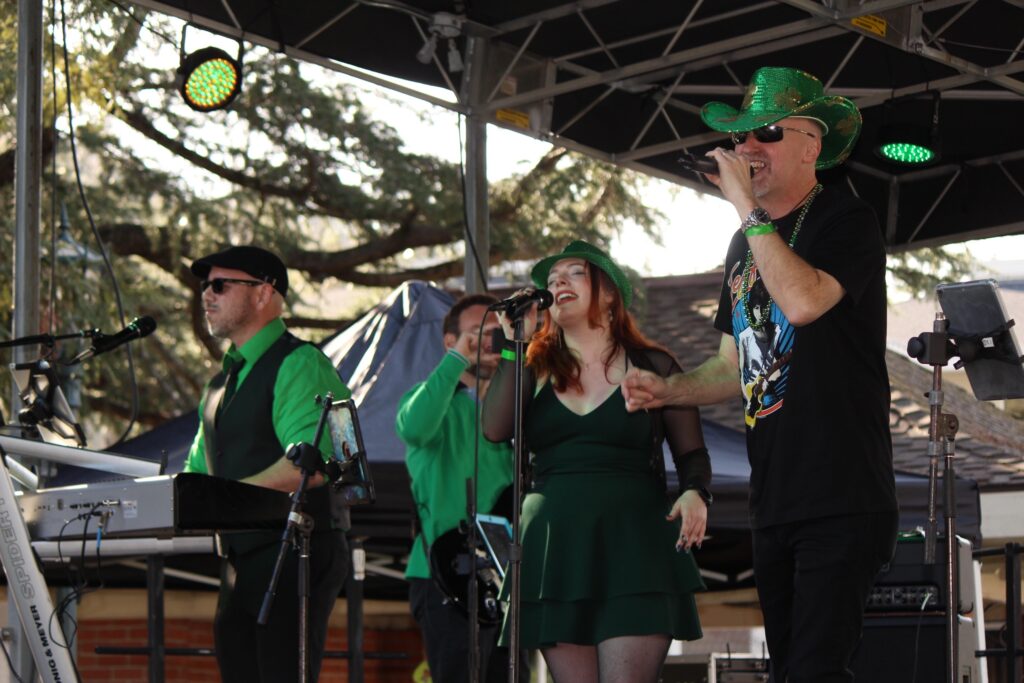 Ginny Murray, another Saratoga resident, said she and her husband Brad had found the event randomly.
"We didn't know it was going to be happening," she said. "We were just so happy we were downtown."
Brad said he gives the production a thumb's up.
The event featured the Cocktail Monkeys, Electric X and the Johnny Neri Band, who dished out rocking, funky tunes.
Pam Davis, one of the organizers, was impressed with the turnout, which she estimated at more than 700 people.
"We're trying to bring the St. Patrick's Day party to Los Gatos," she said. "People just want to get together. I love seeing the town come together."
Jim Foley, one of three partners behind Montebello, said it was about bringing a beloved tradition back to life.
"We just wanted to revive it in a new way," he said, calling the result, "awesome."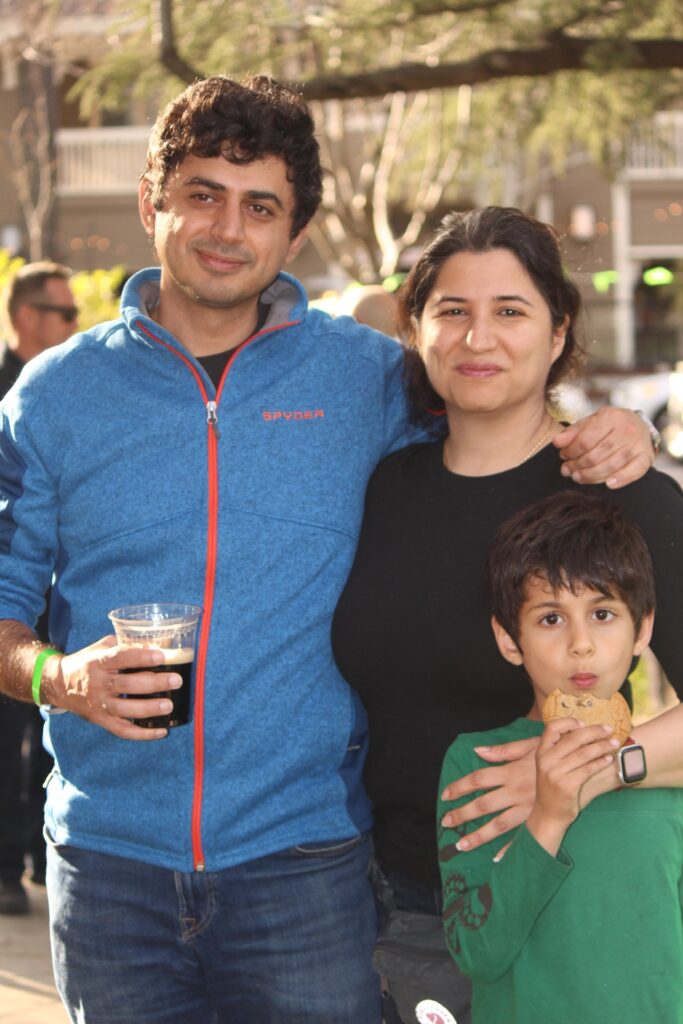 The 2023 edition was meant to echo the earlier parties thrown by his friends who operated C.B. Hannegan's.
"This is like a throwback of all the guys who used to come to St. Paddy's," he said.
One of those was Matt Ober, who assisted with C.B. Hannegan's St. Paddy's party setup.
"Everybody wants this back," he said. "Thanks to Chris Benson and John Hannegan for paving the way."
Tooraj Rajabioun, 39, had just arrived with his wife Katie and their 6-year-old son Kian and already they'd disappeared into the throng of revelers.
"They were over there dancing," he said. "I think they went to get something to eat."
Rajabioun said it was thrilling to be out at the Town Plaza Park taking in the Irish tradition, since they recently moved downtown from where they were living, near Pollard Road, so they could enjoy events like this.
"Being able to walk and get to a place where people dance, this is very unique in the South Bay," he said.
For Usha Parbhoo, a Los Gatos resident who previously lived in the Midwest, the event carried a deeper meaning.
"I always celebrate St. Patrick's Day—without fail," she said. "It's so festive and I'm Indian. And I love festivities."
She recalled how it had been quite the transition to move from South Africa to Ohio. Being invited to take part in Irish traditions helped make things easier.
"When I was young and moved to America, all the Irish people in Ohio made me a part of their celebration, and I'm very sentimental about bringing it forward," she said. "People incorporated me into so many things."