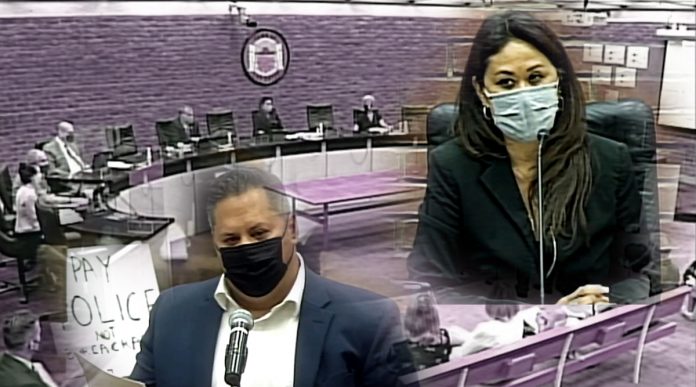 The wheels of town government came to a grinding halt Sept. 7 as an unruly audience that included anti-maskers, anti-vaxxers, police union representatives and public safety advocates shut down a Los Gatos Town Council meeting.
The descent into chaos is part of a pattern of increasingly shrill rhetoric that began last spring during public comment periods of virtual meetings and has spilled over into the physical realm as Los Gatos reopened the meetings to in-person attendance.
When Mayor Marico Sayoc called the meeting to order, she remarked on the volume of protesters in attendance, kicking things off by reading the signs and symbols policy.
It foreshadowed a major disruption that would occur a few minutes later.
"It's lovely to see signs," she said, adding that those attached to poles or sticks aren't permitted. "If you could just bring those back to the lobby, that would be great."
Under the policy, advocates can hold items broadcasting a particular viewpoint, as long as they aren't raised above shoulder level.
"While we love to have public participation, anything that is disruptive, demeaning, we will call a recess," she said. "We are here to listen to issues; we're here to listen to disagreements; we're not here to listen to insults."
The comments called back to what had occurred at the first in-person Council meeting since lockdown, Aug. 17, when Sayoc faced a barrage of personal attacks.
"This is a public crisis"

—Bryan Paul, president of the Los Gatos Police Officers Association
However, the pattern of disruptive behavior among audience members stemmed from a virtual council meeting on April 6, where District Attorney Jeff Rosen and others discussed reporting hate crimes. During the public comment period, many callers, most who identified as residents of Los Gatos, said they were being discriminated against because of their support of former President Donald Trump and opposition to mask and vaccine mandates.
During a recent interview with the Los Gatan, Sayoc brought up the surprising nature of the outbursts.
On Sept. 7, Sayoc also noted wearing a mask, properly, was also a requirement at in-person public meetings during the pandemic.
"We consider 'wearing a mask' having your mask above your nose," she said. "If you do not listen to the verbal warning, we will ask the police to escort you out."
It was not 10 minutes in, when Sayoc had to ask one of the attendees to silence their phone, and reiterated the "shoulder-level" sign rule.
Things remained peaceful for the next 10 minutes, even as Town Manager Laurel Prevetti went over some of the challenges facing the Los Gatos-Monte Sereno Police Department—including the resignation, less than a week earlier, of the chief, Peter Decena.
"We have a great police department," she said. "As many of you have heard, we are in the process of a leadership transition at the top, and I want to just assure everyone that as we go through this transition, our commitment to quality service is unwavering."
That includes the dispatch service, she added, anticipating furor just around the corner.
"We are putting plans into motion to make sure that we have the support that our dispatch center deserves," she said, pointing to two different agenda items meant to address community concerns about policing. "We are absolutely committed to our community values of compassion, and really making sure that all residents and businesses get the items that they need."
Council had already received an onslaught of correspondence from area residents, via onclickpolitics.com, a firm which advertises its services as "Lobbying Software" to help "Win Tough Legislative Battles."
The nearly identical messages came in from people such as Campbell resident Amy Scruggs, Santa Clara resident Annika Koltermann, San Diego resident Danielle Moye, Cupertino resident Veronica Nourse and San Jose resident Erin Reed.
By the time Bryan Paul, the president of the Los Gatos Police Officers' Association, stepped up to the plate during the public comment period, Vice Mayor Rob Rennie had already shared an anecdote about calling the dispatch service on a shopping trip to REI and successfully getting a fallen tree removed.
The council had just approved its consent agenda, which featured a 7% pay raise for dispatcher temps, bringing it in line with the Town Employees' Association (TEA) bargaining unit rate.
Paul echoed the sentiment shared by Town staff in that raise recommendation, which noted its "staffing model is not sustainable" and puts workers "at risk for burn-out, illness, and safety issues due to lack of rest." But, his language was stronger.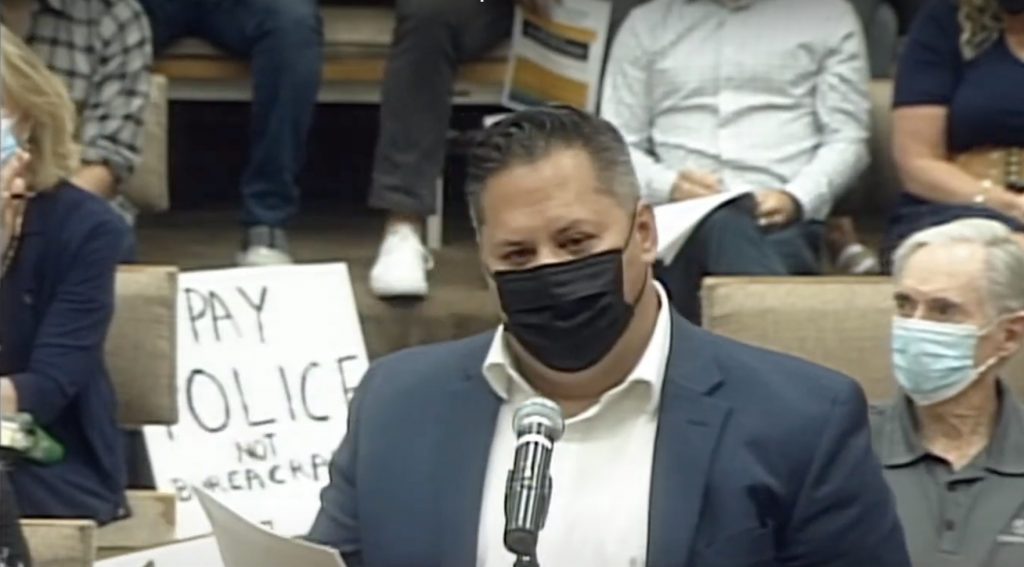 "This is a public crisis," he said. "This is a planned operational cost savings by the Town administration."
He referenced the $839,000 the Town saved in fiscal 2019-20 because of police officer, police record specialist and dispatcher vacancies.
The three full-timers left at the dispatch center are all looking for other jobs, he said.
In 2020, contract negotiations between the Town and the dispatchers' union broke down after they were offered a 0% pay raise, he said.
Paul said he wants to see a 9% raise for dispatchers, at minimum.
"The town has taken the position that Covid has caused a loss of revenue, however, the Congress has given you $7.2 million in (American Rescue Plan Act) funds," he said. "Adding injury to insult, Town Manager Prevetti got a $12,500 raise in 2020, and a $5,000—"
At this point the jeers from the audience became so loud he was drowned out, with one person crying, "…worthless!"
As Paul was about to comment on the measures before Council, that evening, his time ran out and Sayoc cut him off.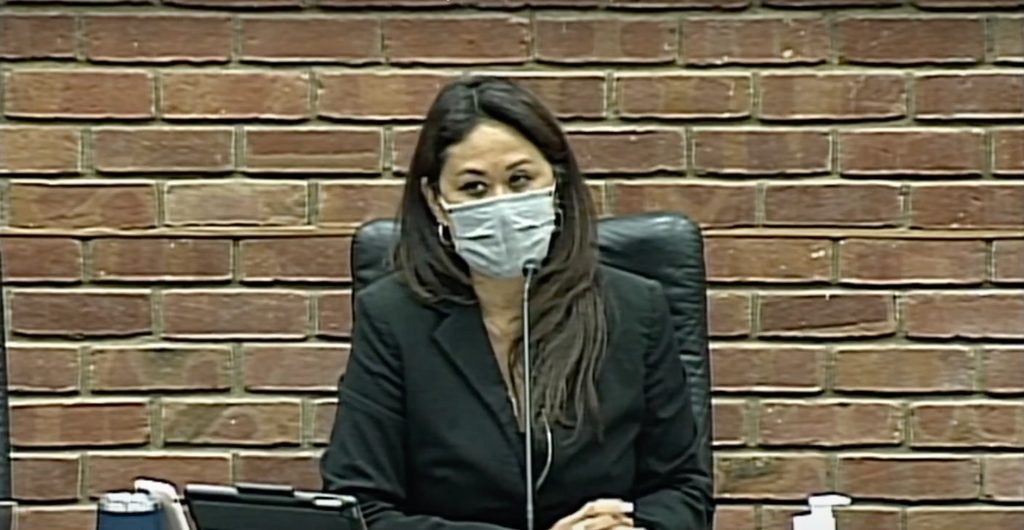 "I'm sorry Officer Paul but I'm making sure that everyone has an opportunity to speak today, and that includes you," she said.
While Paul remained composed, the audience became unruly.
"I yield my time to him," one shouted, as their volume increased.
"We yield time!" another chimed in. Clapping resounded.
"I think it's unanimous, mayor," Paul tried.
That's not how the mayor saw it, since Town rules don't allow the ceding of time to others.
"Officer Paul, this is my meeting," Sayoc said. "I gave you three minutes, and I'm asking you to allow other people now to speak."
"Mayor, we're asking you, please," he pleaded.
"You guys work for us!" a woman yelled.
"I've asked you to remove that sign," the mayor firmly chided one protester.
"This isn't Russia! This is America!" is what came next.
"We're going to give him the floor! He doesn't need a microphone!" a woman shouted.
With that, the mayor called a recess, just 25 minutes into the meeting. However, a contingent of vocal audience members continued shouting at city officials.
After some time, the room eventually cleared with no further incident. When the council reconvened an hour later, the public was allowed to participate over Zoom but was prohibited from returning to the chambers.