With Covid-19 positivity rates surging nationwide due to the Omicron variant, it was only a matter of time before one or more of the Los Gatos High winter sports teams faced a situation in which they would lose games and practices due to Covid protocols.
That it happened to the Wildcats girls basketball squad didn't make it any easier to stomach for coach Sara Quilici and her players. The team found out Jan. 2 that seven players had tested positive for the virus, sidelining all practices and the two scheduled league games that were on tap for this week and possibly into next week as well.
Off to a hot 10-1 start, Los Gatos was scheduled to play its Santa Clara Valley League De Anza Division opener against Wilcox on Wednesday before competing against Palo Alto on Friday. Those games have now been ruled no contests.
"It's a major bummer. I feel bad for the other teams we were supposed to play, but I'm sure a lot of other teams are going through this," said Quilici, who tested negative. "From what I'm hearing, a lot of winter sports games will be postponed or cancelled moving forward (in the coming weeks)."
Quilici said the team was encouraged to take rapid antigen tests before returning to school this week. The positive results came back on Jan. 2 and she added that everyone on the team went to take the more reliably accurate PCR test a day later. The Covid PCR test is considered the gold standard of testing.
"At this point practice is cancelled and we're waiting for everyone's results to come back," Quilici said. "We're all fully vaccinated so it's really unfortunate. If we continue to have no symptoms, we can resume practices at some point hopefully soon."
The Covid outbreak came just days after the Wildcats beat Lynbrook 39-27 to win the John Araujo Memorial Holiday Tournament at Del Mar High on Dec. 30. Sophomore Belle Bramer continued her magnificent play, finishing with 17 points and 14 rebounds.
In three games, Bramer totaled 60 points and 34 rebounds to capture tournament MVP honors. Bramer has been terrific pretty much all season and a big reason for that comes down to her talent and determination.
"I love Belle so much," Quilici said. "I kind of watch in awe a lot of times. We don't run a lot of sets for her and she finds ways to make things happen. She's never not working and she makes it look so easy. She has really good instincts and works so hard all the time. She always gives that extra effort which makes her fun to play with."
Freshman sensation Nicole Steiner also had a tremendous performance against Lynbrook, totaling 10 points and 20 rebounds. Quilici said Steiner actually broke the team's single-game record for rebounds when she hauled in 25 against Evergreen Valley on Dec. 11.
"Nicole is a great player and she's really figuring out the varsity game," Quilici said. "She had eight steals (against Mount Eden) and she was working hard for those steals. She's fun to watch and doesn't quite understand her potential and capability yet, but we're working on it. She's just an exceptional athlete."
Quilici said the team's victory over Lynbrook was "ugly," though there's a certain satisfaction in being able to win in different ways. The Wildcats, who were playing their third game in as many days, have certainly looked impressive at many points this season, but the Lynbrook game wasn't one of their masterpieces by any stretch of the imagination.
"It was nitty-gritty and it's nice to win those ugly games," Quilici said. "From what it looked like both teams had low (shooting) numbers and were very tired. Everyone looked heavy and slow and there was no flow to the game whatsoever, but it's definitely better to win those games than lose them. it was not our best performance at all and the girls knew that, too."
Junior Casey Brennan has also been a vital cog in the team's success, and she earned a place on the all tournament team. Brennan, who scored some key baskets and produced stellar defensive plays, makes sound decisions and excels in nearly every phase of the game. However long the Wildcats are sidelined, Quilici knows this is just a slight detour as they march on toward their goal of winning league and section titles.
"I'm excited to see what happens the rest of the season," Quilici said. "I think this is unfortunate, but we're not the only team that will be facing this adversity. There's nothing we can do about it and it's out of our control, so dwelling on it won't do us any good. So we'll move forward and make the best of it."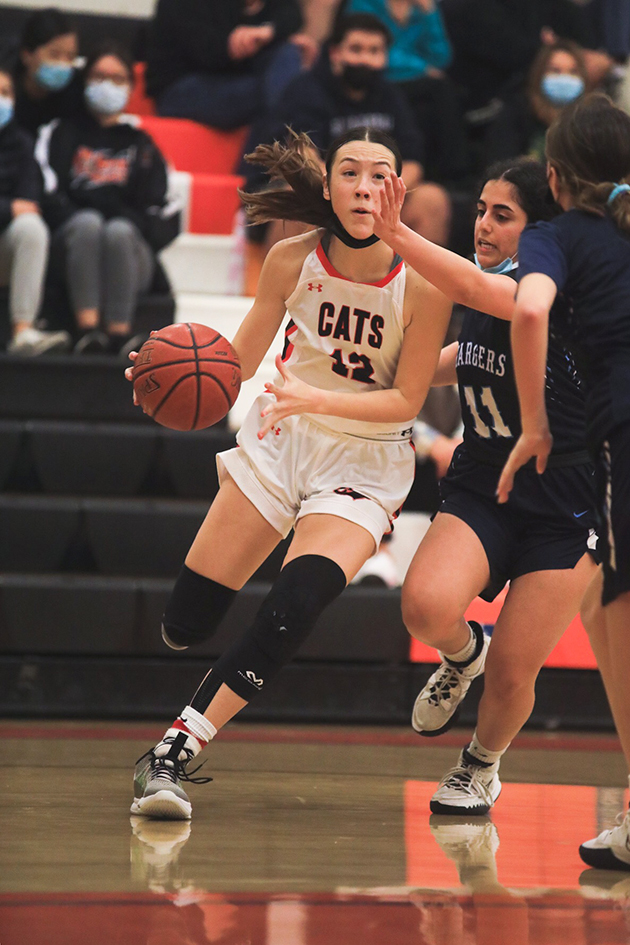 Sports editor Emanuel Lee can be reached at [email protected] and (831) 886-0471, ext. 3958.