November is Pancreatic Cancer Awareness Month, and Los Gatos community members have played key roles in getting the word out about the disease, helping secure critical funding for lifesaving research in the process.
Eighty-two-year-old Diane Borrison, a 15-year survivor, says pancreatic cancer is one of the deadliest of all, and it can be difficult to detect.
"The symptoms are very vague and people don't recognize them," said the San Jose resident who lived for years in Los Gatos. "I know when I lost a few pounds I went, 'Yay!'"
The disease can cause back pain, indigestion and yellowing of the skin and eyes.
"There's no cure, really," she said. "It's so deadly."
And yet, she adds, there is hope for people who are diagnosed with pancreatic cancer.
"There's a lot of advances that have been made," she said.
Not only did Borrison make it through chemotherapy, she also became quite active in raising pancreatic cancer's profile, as a volunteer with the Pancreatic Cancer Action Network (PanCAN).
That included multiple trips to Capitol Hill to get federal elected officials on board with the fight against the disease.
"I've been to Washington D.C. many times to advocate for pancreatic research," she said. "Eighty percent of cancer research is paid for by the federal government."
Anna Eshoo, who represents California's 18th district in Congress, even asked her to come to the State of the Union address in 2019, when Donald Trump was president.
"It's just such an honor to have been invited to begin with," Borrison said. "You know why I love her so much? She has made a huge difference."
Los Gatos resident Georgina Van Horn, 79, has been to Washington D.C. multiple times with Borrison, even rooming with her one time.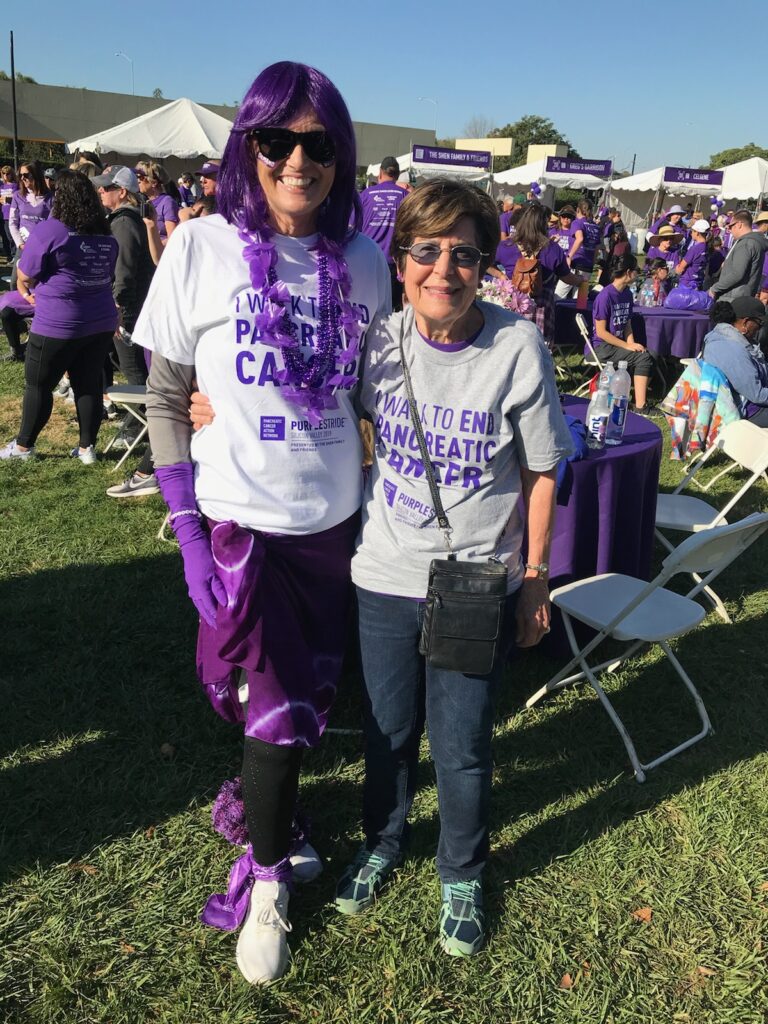 "We're the purple people," she said of the garb they don to make an impression on lawmakers. "It isn't just sending an email, or making a phone call to our representative."
Borrison is relentless, according to Van Horn.
"She's incredible," Van Horn said. "She knows a lot more people there than I do."
On one such trip, the two South Bay residents got to meet with one of House Speaker Nancy Pelosi's assistants in her office in the Capitol building, leading up to Independence Day.
"We got to go out to one of the little balconies, and we could see them setting up for the 4th (of July festivities)," she said. "That was such an incredible experience."
Scientists still don't really know what causes the disease, however, smoking, diabetes, obesity and a family history of genetic syndromes are considered risk factors.
According to the Mayo Clinic, pancreatic cancer begins in the tissues of the pancreas—a part of the abdomen behind the lower part of the stomach that deploys enzymes to help with digestion and helps manage blood sugar.
Most commonly, a cancerous growth will begin in cells that line ducts carrying these enzymes to where they're needed, elsewhere in the body.
Treatment options depend on how far the cancer has spread, and doctors may order surgery, chemotherapy or radiation therapy.
Experts recommend quitting smoking, maintaining a healthy weight and improving diet as ways to help prevent the disease.
Borrison's daughter, Robin Hedden, 53, grew up in Los Gatos and went to Saratoga High School. She says it was devastating when her mother got pancreatic cancer, but says the family faced it head-on.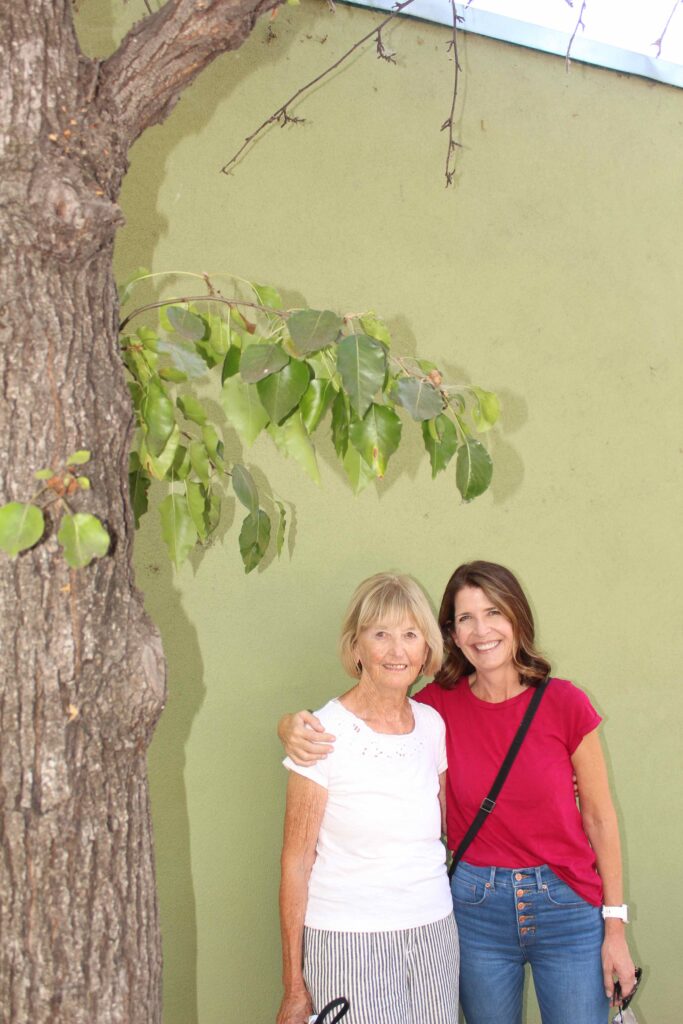 "We didn't think she'd survive five years," Hedden said. "It was really horrible."
That first summer of battling the disease was really confusing, she recalls.
The first doctor Diane went to didn't think it was possible to operate on the cancer, Hedden explains.
"It was a shock," she said, adding she's glad Diane went for a second opinion. "She was really smart."
Borrison was lucky to be so close to Dr. George Fisher, the oncologist who treated Steve Jobs and Patrick Swayze, Hedden added.
And Borrison says Jeffrey Norton, chief of surgical oncology at the hospital, was able to deftly maneuver around her organs to remove the cancerous growth.
Hedden's niece Bridget Borrison, 29, who lives in Campbell but grew up in Los Gatos, says she's proud of how her grandmother made such a big difference through advocacy.
"It's just cool to see somebody fighting for what they believe in," she said. "And at such a high level, too."
She was still very young when Borrison was facing the worst of pancreatic cancer, but it still made a big impact on her.
Over the past several years, her grandma has helped make a giant shift in the world of cancer research.
Most recently, in the 2021 budget, Congress increased the Department of Defense's Pancreatic Cancer Research Program's budget by $9 million—from $6 million to $15 million.
Van Horn says, a few years back, pancreatic cancer advocates were able to get President Barack Obama to pass the Recalcitrant Cancer Research Act, which targeted the deadliest forms of cancer (including pancreatic). Rep. Eshoo was a lead sponsor.
Van Horn says she's just happy to be able to volunteer her time in memory of the loved ones she's lost over the years to pancreatic cancer.
The first to fall was her father, back in 1974, after she'd moved from San Francisco to the South Bay as a young adult. Very little was known about the disease at that time.
He died after six weeks.
Three decades later, her cousin Vivian Cereghino, a Marin County resident, died in just eight months after being diagnosed with pancreatic cancer. Cereghino had just turned 60.
That prompted Van Horn to become a volunteer. She was tasked with going to doctors' offices to spread awareness about PanCAN.
"We have a department called patient services and there are trained staff members there who can answer so many questions about pancreatic cancer," she said. "We have one of the most updated databases about clinical trials."
Since then, Sandra Petroni, her cousin by marriage in Italy, died at 72—four months after a pancreatic cancer diagnosis.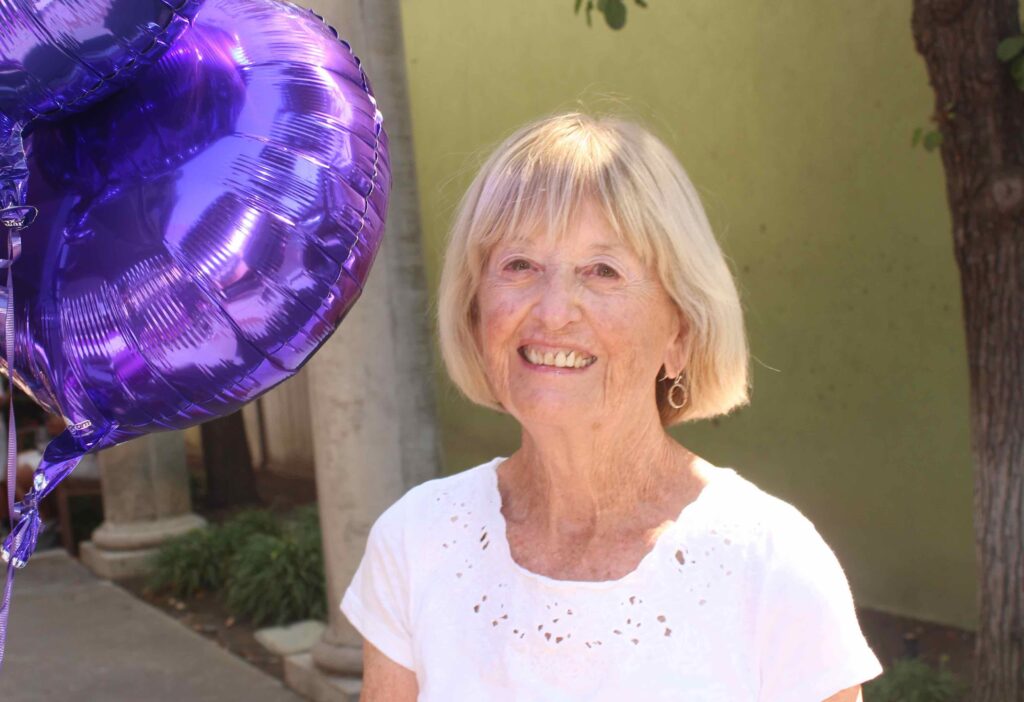 And in the last couple of years, Van Horn has lost two close friends to the disease.
Lori Paloinetti, a Santa Clara Unified School District director, got pancreatic cancer in her 50s.
"She was a darling, darling gal," she said, remembering how Paloinetti would get fired up about their fundraisers. "She'd come with a purple wig and purple gloves."
She's thankful Paloinetti was able to live with the disease for three-and-a-half years before dying.
"She had a great sense of humor," she said, adding she's also recently lost 79-year-old Sherry Herrgott of Sunnyvale to the disease.
But even though pancreatic cancer has taken many lives, more and more are surviving each year.
"One of the goals of PanCAN is to wage hope," Van Horn said. "We never know the outcome—and PanCAN is there for them, to offer them whatever assistance they need."
Nov. 18 is World Pancreatic Cancer Awareness Day. PurpleStride Silicon Valley, normally hosted in November, will be held on April 30, 2022 in Discovery Meadow downtown San Jose. For information, visit PanCAN.org.