On Feb. 4, around the corner from weapons manufacturer Lockheed Martin's Sunnyvale campus, as contractors put the finishing touches on a blocky beige dual-hotel complex nearby, and directly across from Chinese search engine Baidu's Silicon Valley HQ, a group of 13 firefighters were about to be minted.
In one of their final moments at the academy—now prepared to protect South Bay residents in their darkest hours—they gazed at a black-and-white photo of firefighters in days gone by and joked that one of their instructors looked like the man in the framed print leaning against an ancient firefighting contraption.
It was a moment of levity to savor, ahead of a well-deserved, but serious, graduation ceremony—as the future lifeblood of the Santa Clara County Fire Department, Sunnyvale Department of Public Safety and Gilroy Fire Department were dispatched into the wider world.
It was the second such event that day Phan Ngo, Sunnyvale DPS's chief, attended, since two future firefighters completed their Alameda County Sheriff's Office training hours earlier, he told the Los Gatan. Sunnyvale's public safety officers are trained to respond to fire, police and ambulance matters, so those recruits will now begin the grueling, nerve-testing 16-week training challenge these grads just completed, he explained.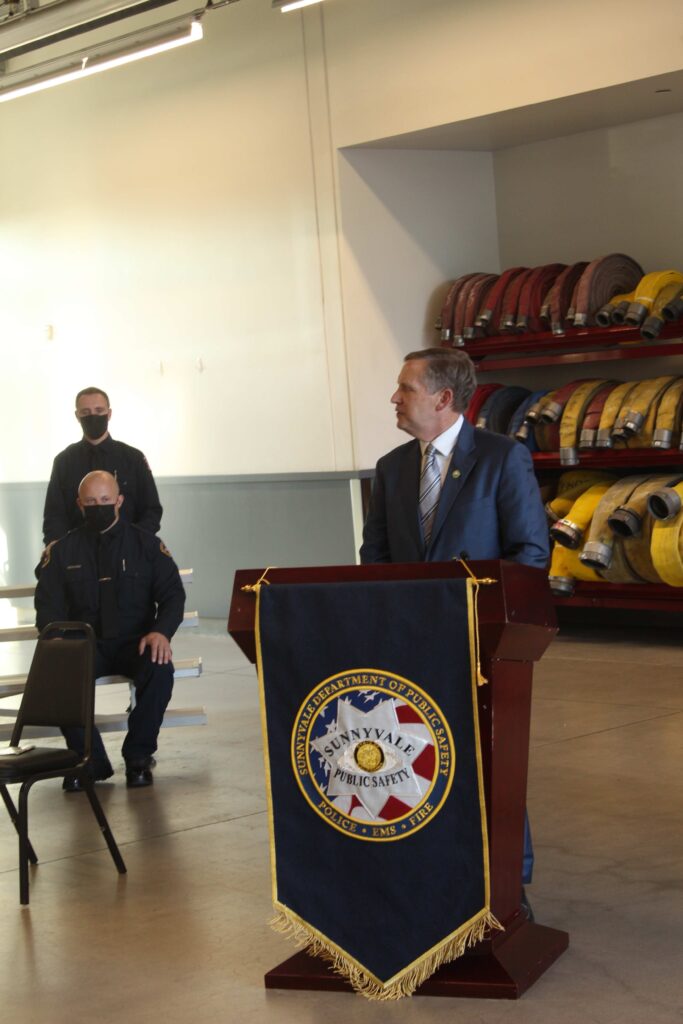 In his remarks, Sunnyvale Mayor Larry Klein thanked the instructors who guided these future firefighters through the seemingly-endless rigors, then turned to the graduating class of 2021-22 to thank them for undergoing the difficult trials.
"It has not been easy I'm sure," he said. "Cherish this day.
"It really is an important milestone in your life."
After all, their talents have immense value to the Bay Area locales they will look after, he continued.
"Public safety probably has the most direct contact with our residents," he said. "Ultimately you are the main point of contact of how people feel about their community."
While the training may have proved demanding, the work is just beginning, Klein said of the students who will now be expected to run into burning buildings when everyone else is running out.
"To the graduates of the joint fire academy—be careful out there," he said.
Chief Ngo stepped up to the podium and assessed the situation in the engine bay, as graduates sat motionless on bleachers in rapt attention.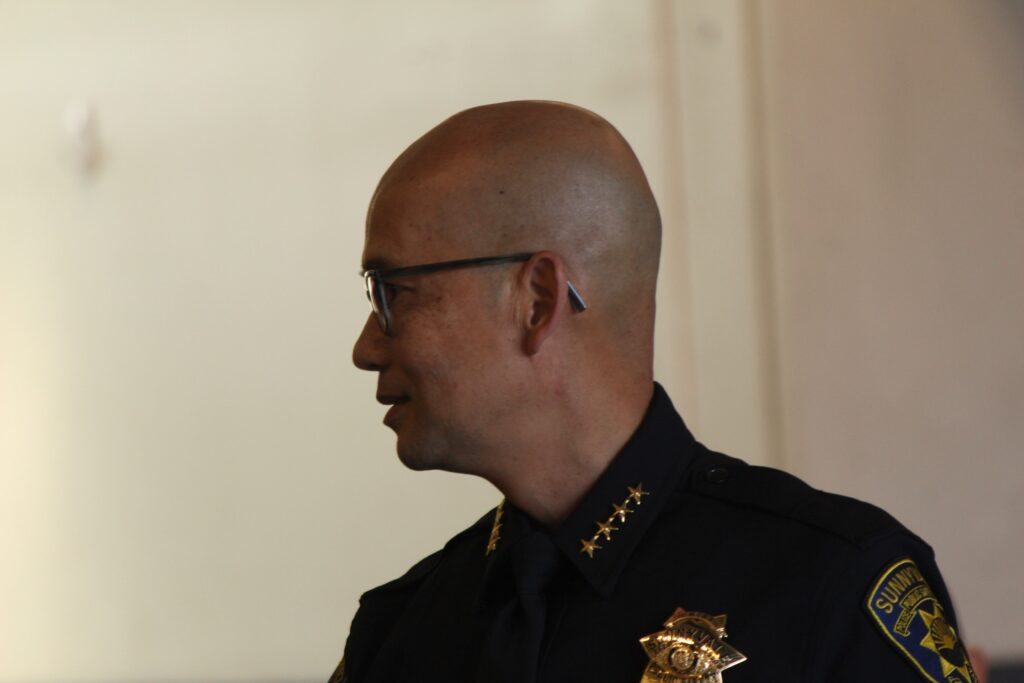 "Are you guys happy?" he began.
"Yes sir!" came the collective response.
"Are you guys excited?" Ngo went on.
"Yes sir!" once again.
"Because you guys look really serious," he said, lightening the mood considerably.
Welcoming a new team to the firefighting game is one of the biggest honors a chief can have, he said.
"What we do is unique; what we do has great value to the communities we serve," he said. "Just go out there, and just do it."
Appearing by video-link, Acting SCCFD Chief Brian Glass reminded the students that even though they were about to be split up to different departments, they're all playing on the same team. Firefighting isn't exactly an easy job, but it is worth it, he opined.
"The toll can be immense," he said. "The reward is unmatched."
That could mean missing special family occasions or rendering assistance to those who don't appreciate their contributions, but putting your life on the line to save another is the one of the greatest gifts you can give, he added.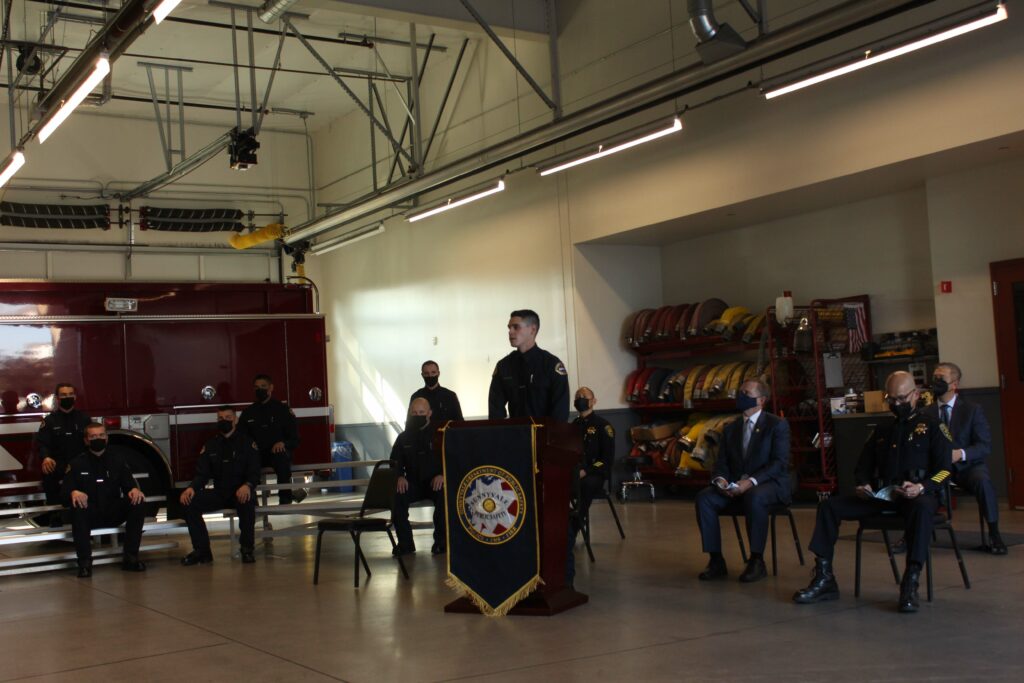 Speaking on behalf of the graduating class, Brad Barberi recalled how a trip to a Saratoga fire station hooked him into a life of dousing flames.
"It wasn't the fire engines or the tools that made me want to do the job," he said. "It was the enthusiasm the firefighters had for the job. They showed me this is truly one of the best jobs in the world."
For the first time in his life he felt like he was standing where he belonged.
"This was the career I desired," he said. "I was not going to let anything get in the way of that."
The trainees were treated to a video that captured highlights from their several-month professional quest. Students dash into a scenario reaching upwards of 1,000 degrees Fahrenheit; they maneuver through heavy smoke; they deploy a stretcher on a mountainside.
The novice Santa Clara County firefighters will cycle through different stations to continue skilling-up.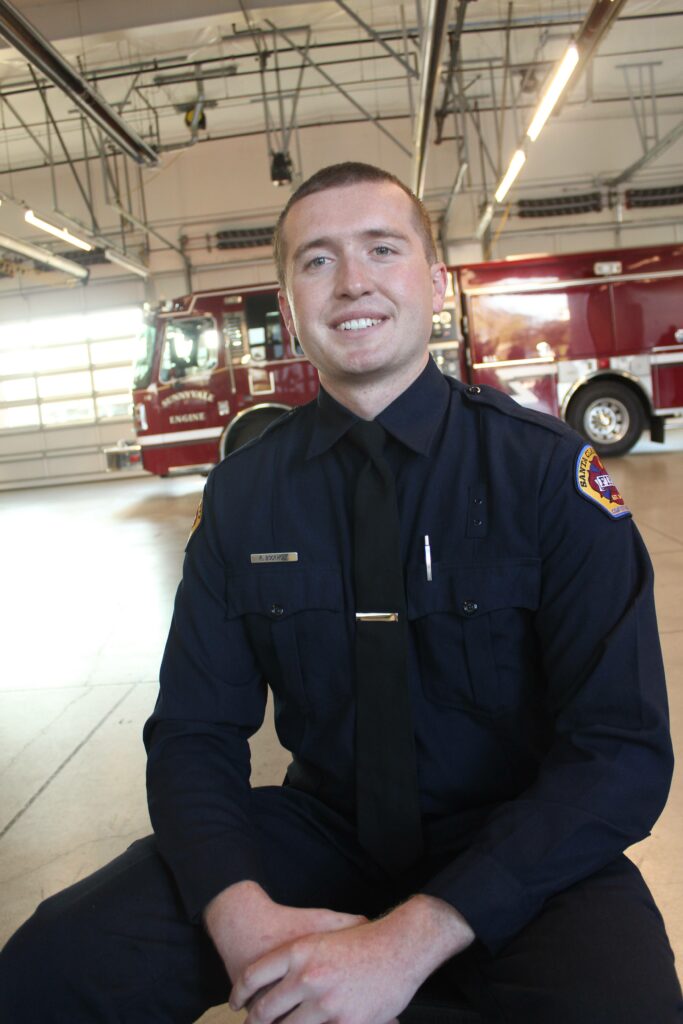 After the ceremony, as coffee mugs with a specially-designed Class of 2021-22 logo were being gifted to superiors, Ryan Bockholt, 24—who's headed to the Shannon Fire Station in Los Gatos—took a moment to describe how the aftermath of a skateboarding accident set him on this path.
He remembers being in the emergency room and hearing a radio report of another rescue. A victim nearly drowned.
"They were doing CPR and they got pulses back after defibrillation," he said, adding emergency responders were assisting the patient right outside the room where he was being treated. "I saw the team of firefighters and paramedics with this person who was dead in the bottom of a swimming pool. They brought him back to life."
Bockholt says the most exciting moment of his training was the "confidence course" where students had to navigate a maze of hazards in full gear with their mask blacked out.
The Foster City native credits his mom, his sister, his brother and his dad for supporting him along his path.
"I'm excited," he said. "I'm honored to be in the position to serve the community of Los Gatos."
Wyatt Hansen, 26, will first join the Redwood Fire Station on Madrone Drive.
Having grown up in San Jose, he understands the special place this particular Santa Cruz Mountains outpost has in the psyche of South Bay residents.
"I've driven Highway 17 pretty much my entire life," he said. "Being able to serve that community—and be at that station—is something I'm looking forward to."