About 30 Santa Cruz Mountain residents made their way to downtown San Jose on Sept. 9 and bunched up on the concrete steps of the Pacific Gas & Electric office at 111 Almaden Blvd.
They held signs that read "UN PLUG PGE / NOT US" and "HONK IF YOU DON'T TRUST PGE," while chanting "Plug us in!" and "Power to the Mountains!" to express disenchantment with what they consider Third World-like conditions they've endured in recent summer days due to power outages.
They also took note of the gas and electric utility's spotty communications. "If there was a fire, we wouldn't know to evacuate," said Ian Young, who lives in the 95033 zip code, an allusion to communications towers that rely on electricity. "They need to upgrade the infrastructure."
PG&E says it recently increased the sensitivity of monitoring equipment that interrupts power to reduce the risk of a wildfire caused by the electrical distribution system.
While the utility was cleared of responsibility in the 2017 Tubbs Fire that killed 22 people in Sonoma and Napa counties, last year it pleaded guilty to 84 counts of involuntary manslaughter for sparking the Camp Fire that destroyed Paradise in 2018.
Meanwhile, a KQED investigation found its Fire Victim Trust generated $51 million in overhead costs in its first year, while paying out just $7 million to victims.
The Dixie Fire—which recently released transcripts suggest began when a rotting tree fell on a PG&E line—has scorched 927,320 acres and was just 59% contained as the Los Gatos residents rallied in San Jose.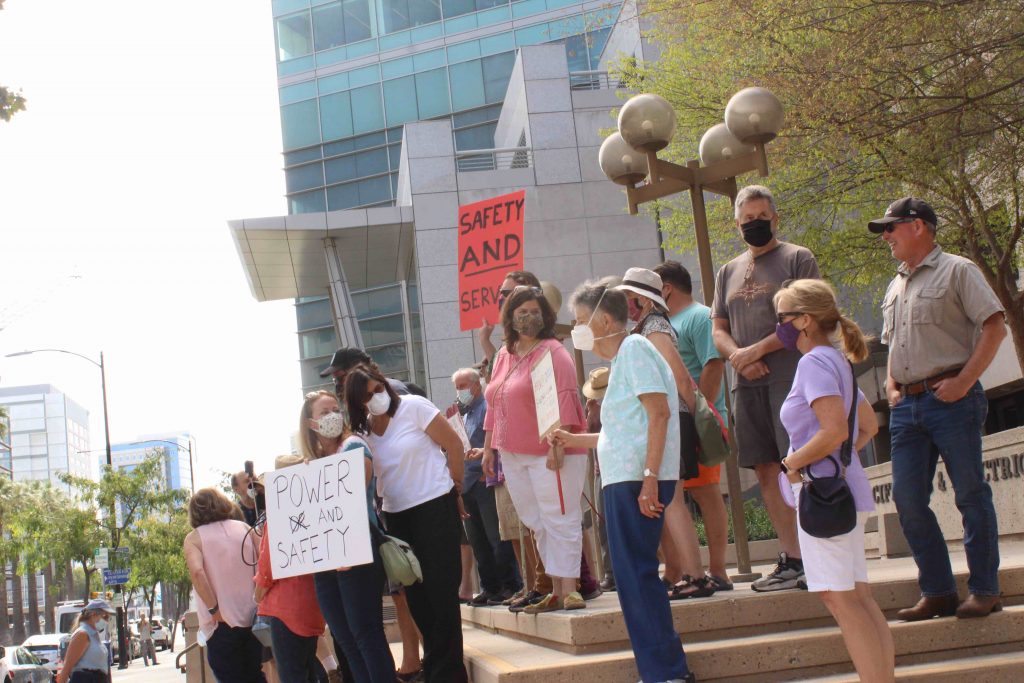 The 95033 zip code stretches from the Loma Prieta Mountain in the southeast, through Castle Rock State Park and up to Black Mountain in the northwest.
One of its 70-year-old inhabitants, Peggy Lillis, says she likes "camping," but not necessarily in her own home during a blackout.
"These are happening without wind and without fire," she said from below PG&E's eight-story building, wondering if outages will get worse if the forests are set ablaze or shaken by windstorms. "It's a drag."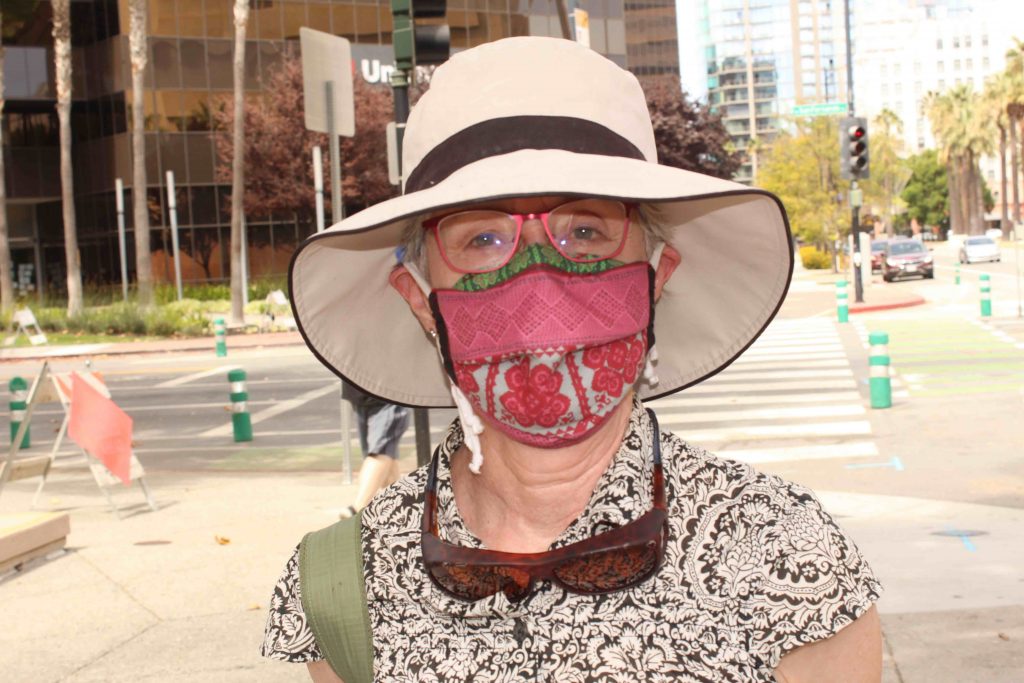 Her neighbor, Miriam Watson, 51, is the moderator of a freecycle group for the zip code, and says there's been plenty of generator swapping going on there these days.
"I just think it says a lot about our community," she said. "It's pretty amazing."
The power outages have caused her to look at her whole life differently, she says.
"I look forward to waking up with the power on," she said, recalling the added stress she faces as a parent when the electricity is unavailable. "I basically unload the dirty dishwasher and wash with a little trickle of water."
She says there needs to be a massive change of approach from PG&E, and describes spending hours on the phone with their customer service department.
"I don't think anything's going to get better," she said, adding, "I feel like if I don't stand up, I'd be complicit."
She laughs at how she now rushes to start the dishwasher after dinner if the power is on, fearing another disruption, as if she were living in an impoverished land.
"We need a sea change," she said. "It's not clear to me how we accomplish that with PG&E. It feels like a behemoth giant that we can't penetrate."
PG&E spokesperson Mayra Tostado told Los Gatan they are aware of how "challenging" the blackouts have been for Los Gatos and Santa Cruz Mountains residents, but noted "fast trip" settings on power lines are in place to reduce the chance their equipment could start a wildfire.
"While we have made the overall system safer, we are taking action in the coming days to update the settings, which will allow better coordination between these protection devices and fine-tune the sensitivity of each device," Tostado said. "These changes should start to reduce the size of the outages, and therefore allow for quicker restoration when they occur."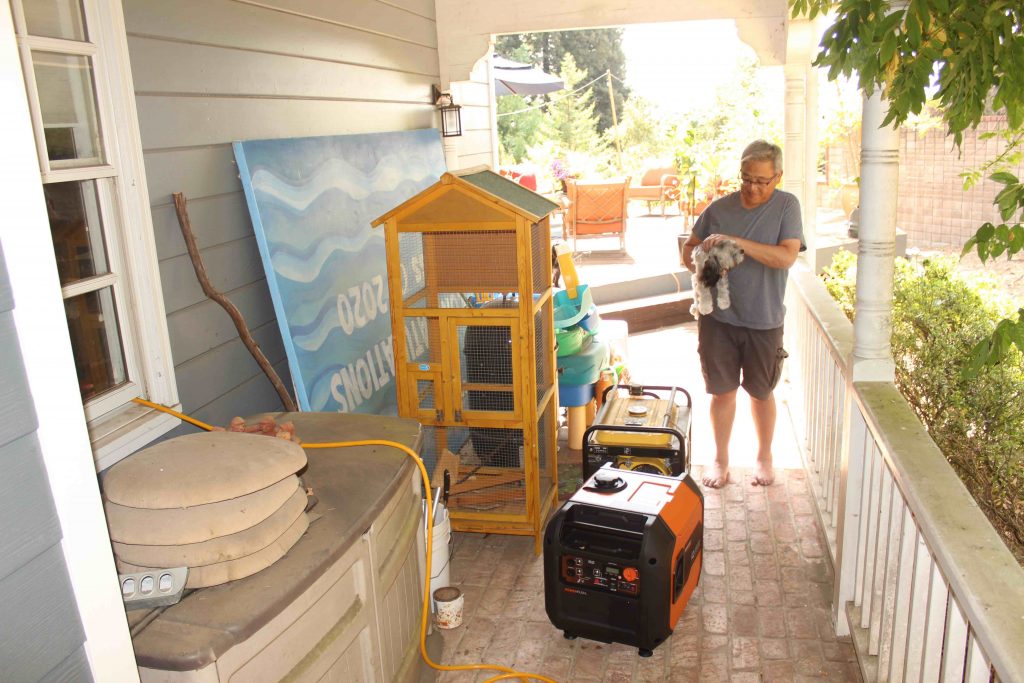 Back at home, Watson's husband Robert Fong, 56, fired up his old generator. It rattled and rumbled, as it pumped out 3500 Watts of power so "dirty" Fong says it could damage his electronics.
"It's really noisy," he said. "It affects our sleeping."
Two weeks ago, he splurged on a brand new one, a sleek Generac iQ3500, that positively purrs.
Before Costco could supply it, their family went through two more outages, including one on Labor Day.
According to PG&E, they had an outage that day that started at 8:36am and ended at 10:43am, affecting 768 customers. The electricity went down because a squirrel chewed through some electric equipment along Madrona Way in Los Gatos, Tostado said.
Just as they were restoring power, a transformer failed, around 10:32am, leaving 768 customers in the dark until around 1pm the next day.
PG&E says it's only had one Los Gatos-area outage since then—from 9:39pm Sept. 9 to just before 1pm the following day.
Fong says the most frustrating thing has been PG&E's lack of communication.
"It's the uncertainty," he said. "There would be no real explanation for what happened."
Just before 2pm, about a mile as the crow flies, across Burns Creek, two PG&E workers said they were "reprogramming" a main recloser that sits at the summit between Santa Cruz and Santa Clara counties.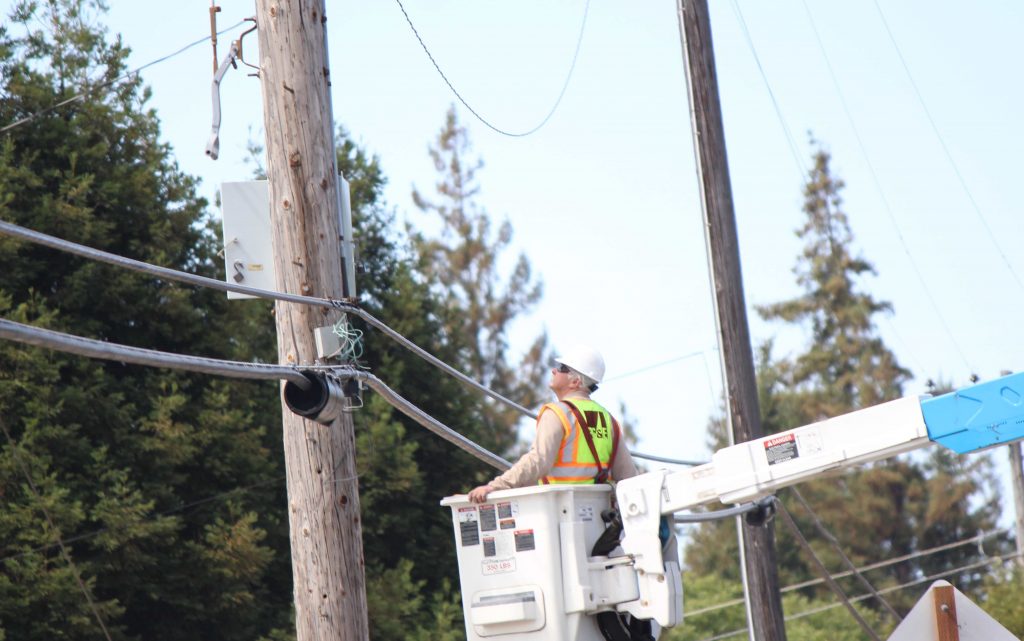 Reclosers are high voltage circuit breakers that react to problems like short circuits, lightning, power surges or objects coming in contact with power lines.
Santa Cruz Mountains residents have zeroed in on the device. They believe PG&E is operating a single recloser at a time when they should be using at least 14 more. PG&E did not respond to questions about the specifics of their recloser network.
Eric Horton, who lives at the top of Zayante Road, led protesters from the hills down to the valley's flatlands.
"You're all here because you don't accept the status quo," he yelled into a bullhorn. "You know we're getting screwed!"
In an interview with Los Gatan, Horton said PG&E needs to take action now to fix things for the future.
"It's important to maintain some emotional balance in this," he said. "But at the same time, we're pissed off."
He said he recently received a message from a woman who fell down in the dark during the Labor Day outage and told him she experienced head trauma.
"PG&E's saying they're doing it for our safety," he said. "All they're doing is shifting the liability from themselves to us."
After all, making power lines so touchy they switch off and cause hundreds of people to fire up gasoline-chugging generators isn't exactly an effective way to guard against wildfire, he added.
"Wells are powered by electricity," he said. "If Cal Fire comes and needs to tap into our system, they can't, because there's no pressure."
The company refuses to meet with the residents, according to Horton.
"We are not going to sit by and let them drag their feet," he said. "We're not going to give them a pass."
Bud Everts, Lake Canyon Mutual Water Company's treatment plant operator, said he's been discussing the PG&E power outage problems with Santa Clara County fire officials.
"It is the only source of water for the entire canyon," he said, noting their 125,000 gallons of storage has dropped as much as 20% during blackouts. "Every time we start to top off our tanks the power goes out."
That's significant, because they actually rely on this system for fighting fires, he said, adding they faced eight separate outages since the beginning of August.
Everts says, despite supplying 56 homes in Los Gatos, he has to rely on the same opaque messages as everyone else to find out if his community will have access to clean drinking water.
"There's a real lack of communication," he said. "I don't get special notification."
Ian Young, 51, is a technical writer who's supposed to be working from home because of Covid-19 protocols.
Turns out, that's hard to do when the power is out.
"I have to hang out at internet cafes," he said. "I'm spending a lot of time driving up and down the hill."
He predicts if PG&E doesn't make big changes soon, it will come back to bite them.
"This is going to keep happening," he said. "Pay now or pay later."