The County department that's been threatening a Santa Cruz Mountains resident with thousands of dollars in fines and possible civil or criminal prosecution has been dealing with serious backlog problems, according to a 2019 memo obtained by the Los Gatan.
Sidney French, 69, who lives in the Call of the Wild area, says the Department of Planning and Development refuses to make time to help her sort out confusing paperwork issues that have led her to lose her homeowners insurance and prevented her from repairing her home from CZU Lightning Complex storm damage.
The County says French committed eight violations and will be on the hook for $3,500 per day in fines if she doesn't correct them.
Two of the infractions claim her home was "rebuilt," although multiple neighbors—and a previous owner—say the house was originally constructed early last century.
The County claims it's met with French on multiple occasions to solve the problems she says risk putting her out on the street.
But according to a Sept. 10, 2019 email obtained by the Los Gatan, it's the County that's been drowning in a bureaucratic mess. It's unclear how the situation has improved or worsened during the pandemic.
The message sent to supervisors by County Director of Planning and Development Jacqueline Onciano, who'd just taken the reins after serving as chief planner for Monterey County, says she'd arrived to find a department swamped by major issues.
"As you know from your constituents' complaints, Planning and Development has been experiencing an increasing number of complaints regarding the processing times for Building Plan Check and Grading Permit reviews and Land Use Entitlements," she wrote. "With respect to Planning, we found that approximately 220 Building Plan Checks had not been reviewed by all reviewing agencies/departments, and the review time was taking between 4-6 months before review began."
Onciano told supervisors while they'd already been able to improve things at the Permit Center, the overall department was still falling behind.
"The problem was how the department was organized," Onciano wrote. "There was one planner reviewing the majority of plan checks for what appears to be the last 2+ years, and that same planner was assigned to the Permit Center Counter daily."
Since then, plan check duties had been distributed amongst all planners, and the department was able to stop paying for Saturday overtime shifts—though it was still dedicating two days a week to reviewing plans, Onciano wrote.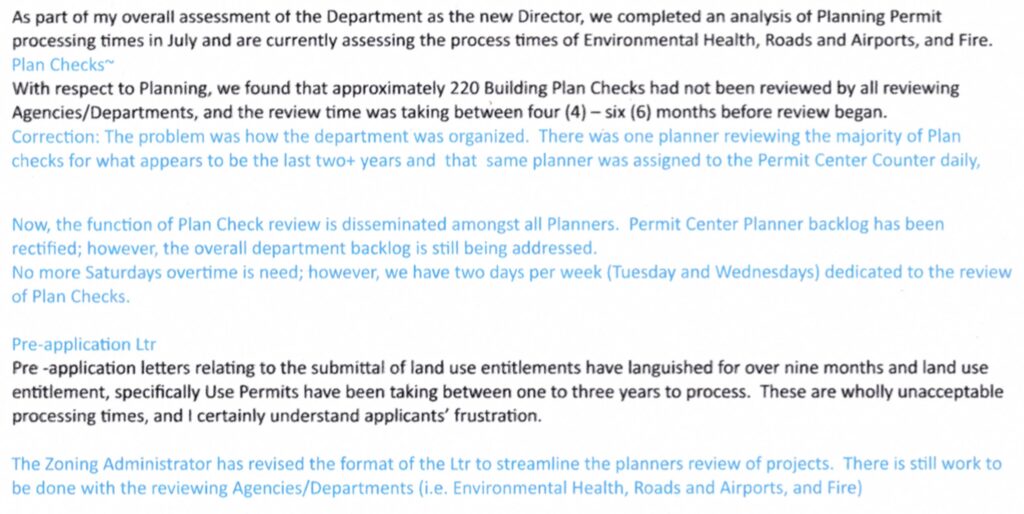 When the new director arrived, she found the planning department suffering from serious backlog problems. (snapshot of part of Onciano's 2019 memo)
She highlighted serious problems with so-called Land Use Entitlements—which she explained include things such as Architecture & Site Approvals and Use Permits.
"Pre-application letters relating to the submittal of Land Use Entitlements have languished for over nine months," she said, adding Use Permits were taking up to three years to process. "These are wholly unacceptable processing times, and I certainly understand applicants' frustration."
Onciano reported that the zoning administrator had improved the pre-application process to streamline things, but said there was still a ways to go when it came to Environmental Health, Roads and Airports, and the Fire Department.
"These problems did not emerge overnight, but rather have been building for some time," she said in the 2019 memo, adding the four-hour paid overtime shifts had helped reduce the backlog by 20%. "We are developing and implementing a review system that will allow us to achieve and maintain a departmental standard of a 4-6-week review period."
Onciano said she was aiming to process pre-application letters within four weeks, and predicted she could get that done by spring 2020.
Plus, the County had tapped third-parties to help address the backlog and was trying to hire additional staff, she added.
"I am also reviewing individual staff's workload and working to instill a culture of performance and excellence," she said. "The achievement and maintenance of the Department standards for processing permits and land entitlements will be an ongoing focus for me."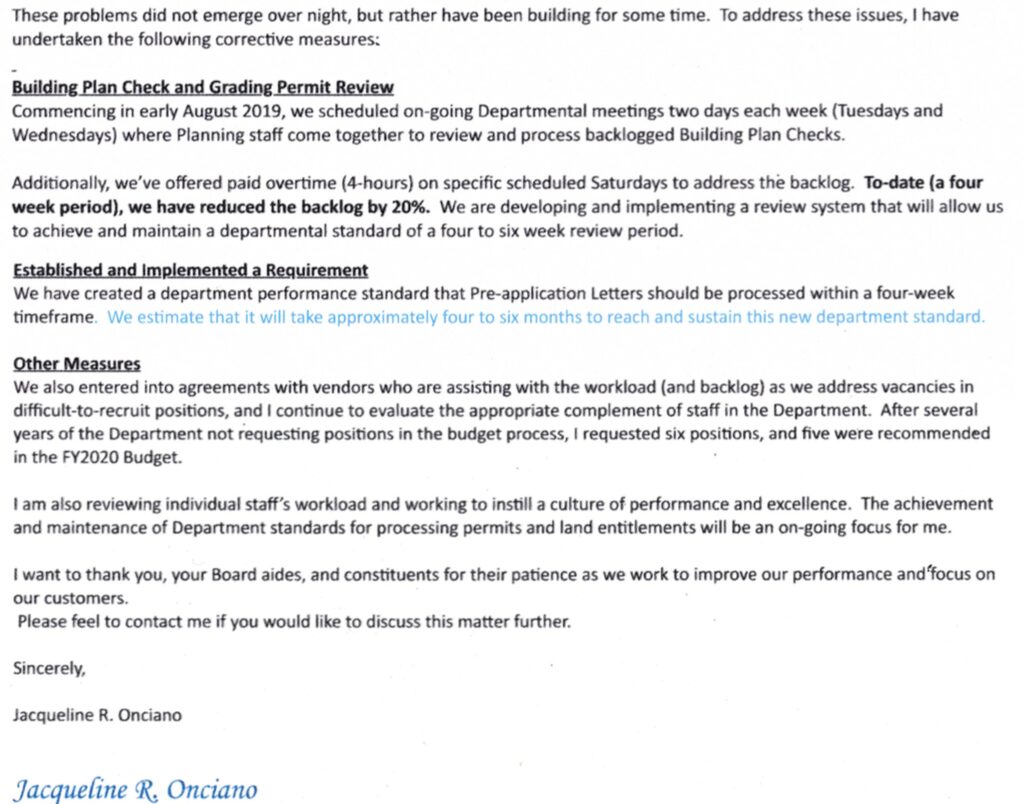 "These problems did not emerge overnight, but rather have been building for some time." (partial snapshot of 2019 memo)
In a response to questions about the memo, Onciano said things have continued to get better in her department since she sent it.
"I, in consultation with the Department of Planning and Development Management team, have made changes in the organizational structure of the department that have improved our permit process in the approximately three years following September 2019," she said in an emailed statement Wednesday.
She directed questions about French to Code Enforcement Program Manager James Stephens.
French says she can't even get to the application stage for work on her house until the County addresses its historical errors.
She adds Onciano was originally scheduled to meet with her about the document issues, but says she ultimately didn't attend a hearing held in May this year.
Santa Clara County previously told the Los Gatan that French "met with County Department of Planning and Development staff on several occasions to discuss the violations on her property and has provided additional information to us on six additional occasions. Each time, staff has provided her with the documentation and information she needs to resolve this matter."
The department head is one of the few people who could help sort out the mess she's been dealing with, French contends.
"She could have directed them to take care of this," she said. "They're still pursuing me like I am a public nuisance."
And no one seems to be able to tell her if there's a code enforcement appeals process she could pursue, and if so, how to access this tribunal, she added.
"I can't even figure out how I get to it," French said. "I'm being told I have to go to Superior Court instead."
*Main Photo: Sidney French is shown outside her home on Mineral Springs Way. The home is in need of repairs following storm damage, but French is unable to work on it due to various permit issues with the County. (Drew Penner / Los Gatan)