Community members got a sense of where the Town thinks residential development should sprout in the coming years, during an online meeting March 31.
The digital forum gave residents an overview of how the "Housing Element" section of the General Plan will come together, and revealed the locations staff have highlighted as appropriate places for housing.
Under the mandatory process, Los Gatos is required to plan for 1,993 new units of housing overall for the next eight years, and many of these are required to be in the price range of lower-income Californians.
"We will be selecting sites where new housing will go," said Ande Flower, principal planner at EMC Planning Group. "It's important to note that the Town does not build the housing."
According to an informal poll taken during the meeting, nearly a quarter of participants were attending a public meeting for the first time, although just over one-third said they regularly contribute to such civic rendezvous.
"This is a visionary, yet detailed, policy document," Flower said. "It's only one chapter of the general plan."
If the Town doesn't manage to get its Housing Element approved by authorities, it could lose out on needed funding, open itself up to lawsuits or even lose control of local development decisions, Flower noted.
"We want to help bring the town to a place of compliance with the state," he said. "Today, what we're focused on is sites inventory."
Lee Robinson of Be the Diversity and Kristin Masters of Santa Cruz Nonviolent Communication gave attendees a breakdown of the difference between "equity" and "equality," with a two-panel slide that depicted three people standing on boxes, trying to watch a ball game.
These concepts, she explained, relate directly to the way the Town is pursuing housing options.
"Who has access to the neighborhood, to the community, and who doesn't," Robinson said. "We're thinking about who needs what, and that we're providing for those needs."
Their next poll asked, "How much do you trust that your voice will be heard in this Housing Element process?"
While 23% of respondents said they have full trust, 42% said they have some concerns, 26% said they have significant concerns, and 9% said they didn't have any trust in the process at all.
"That gets in my feelings," Robinson said, reflecting on the "trust" aspect, before moving on to cover why the Town needs to plan for more housing. "We all want to be safe. We all want to be seen."
When asked if people had concerns about density, 13 people raised their virtual hand.
"Thank you for letting us know one little snippet of what's true for you," Masters said.
Flower commended the participants for their input.
"We're all in this together," he said. "Now we're going to talk about the nuts and bolts of the sites inventory."
The areas targeted by Los Gatos are: Downtown District, North Santa Cruz Avenue District, Los Gatos Lodge District, Los Gatos Boulevard District, North 40 District, Lark Avenue District, Winchester Boulevard District, Pollard Road District, Union Avenue District, and Harwood Road District.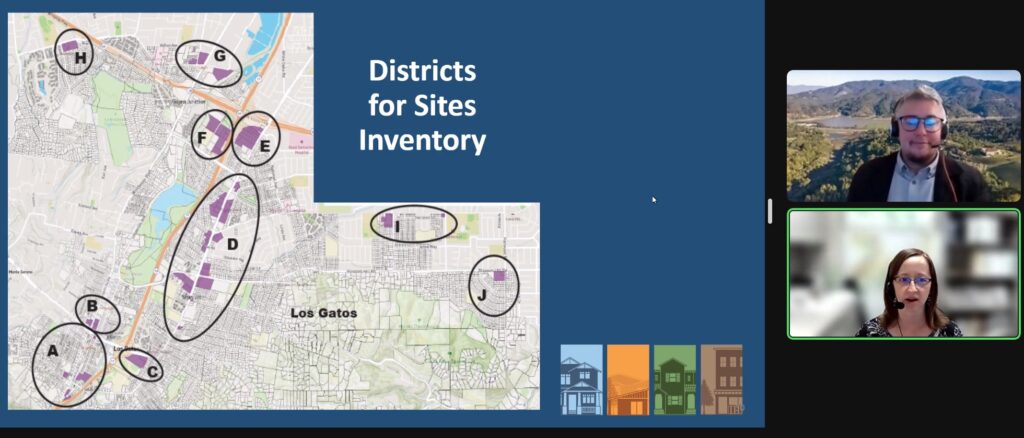 The Downtown District features seven sites, including the post office site whose owner is mulling a mixed-use project. There are 28 sites in the Los Gatos Boulevard area. The North 40 District focuses on the 20 acres remaining in the North 40 specific plan. Winchester Boulevard District features four sites, including the Vasona Station Shopping Center. The Rinconada Shopping Center could be a future site of housing in the Pollard Road District, staff said.
The complete list is available at engagelosgatoshousing.com.
An attendee named Kristine asked in the chat box if the vacant property at Knowles and Capri drives could be considered for affordable housing.
Lauren Hoerr of EMC Planning replied, saying this site has been included in the Winchester District.
Multiple participants in the question and answer section of the forum said it will be important, when planning for the Pollard Road District, for staff to work with neighboring jurisdictions—in particular Campbell school officials—since the area is at the confluence of Los Gatos, Saratoga, Monte Sereno and Campbell.
Attendee Susan Burnett asked how many bedrooms the housing the Town is planning for will have.
"How big are they supposed to be?" she said. "I'm trying to figure out how many people we're talking about eventually."
Community Development Director Joel Paulson said, at the moment, Los Gatos' ability to control this is limited.
"The Town doesn't regulate number of bedrooms," he said. "We would hope it would be a variety of different housing types."
Staff said they'll now be reaching out to property owners to gauge interest in development opportunities, but said they hadn't already sent out the notifications.