As General Plan Update Advisory Committee (GPAC) Chair Melanie Hanssen got a peek—along with other Housing Element Advisory Board (HEAB) members—at the two digital tools Los Gatos will use to propose its contribution to combatting California's housing crisis, she forecast a hearty community back-and-forth on the horizon.
Invoking the specter of the North 40 project approval, which saw blocky, nu-tech townhomes start to rise along Highway 17 and resulted in few affordable units planned, she predicted Feb. 17 homeowners might just start to come around to the benefits of density.
"I have a hypothesis, that even though people are terrified about having any development in low-density residential, that if they start thinking about 4 or 5 or 6 North 40s, they might feel like, 'Maybe we should spread it around a little bit more,'" she said, asking about what working with one public engagement tool may entail. "Will there be an opportunity for people using the Balancing Act to take buckets—like ADUs or SB9—and increase those to help get to the RHNA?"
Translation: Is it possible to play around with this fancy software in a way that projects whether or not expected accessory dwelling unit (ADU) production and lot-splits will help Los Gatos to reach the lofty goal of inviting 1,993 new units, as required in the upcoming eight-year Regional Housing Needs Allocation cycle?
"For those two specifically, it's a little challenging," said Joel Paulson, the Town's community development director. "We are confident, currently, that we're going to be able to say that we're going to produce 200 ADUs in the next eight-year cycle."
'once we put the sites on a list, does that mean that the town then changes zoning for those sites?'

—Ryan Rosenberg, a public representative, becomes acquainted with new planning software
Los Gatos is still waiting for clarity from Sacramento about how many of these planners are allowed to count, he added.
But on the other hand, Paulson suggested, if the Housing Element is able to unlock 1,993 potential home sites within Balancing Act before the California Department of Housing and Community Development (HCD) has figured out its rule, those newly-created housing programs (ADUs and SB9 lots) might come into play as the "buffer" Los Gatos is required to set up.
"They're dealing with the entire state, so they're often a little cautious on being willing to make those statements," he said, referring to how HCD is mulling what it should say on the matter. "So, we start at the 1,993, and it might be that that number is actually more than the buffer that's necessary."
This was just one question in the open salvo of a required development process that some analysts predict will change the nature of Los Gatos in significant ways.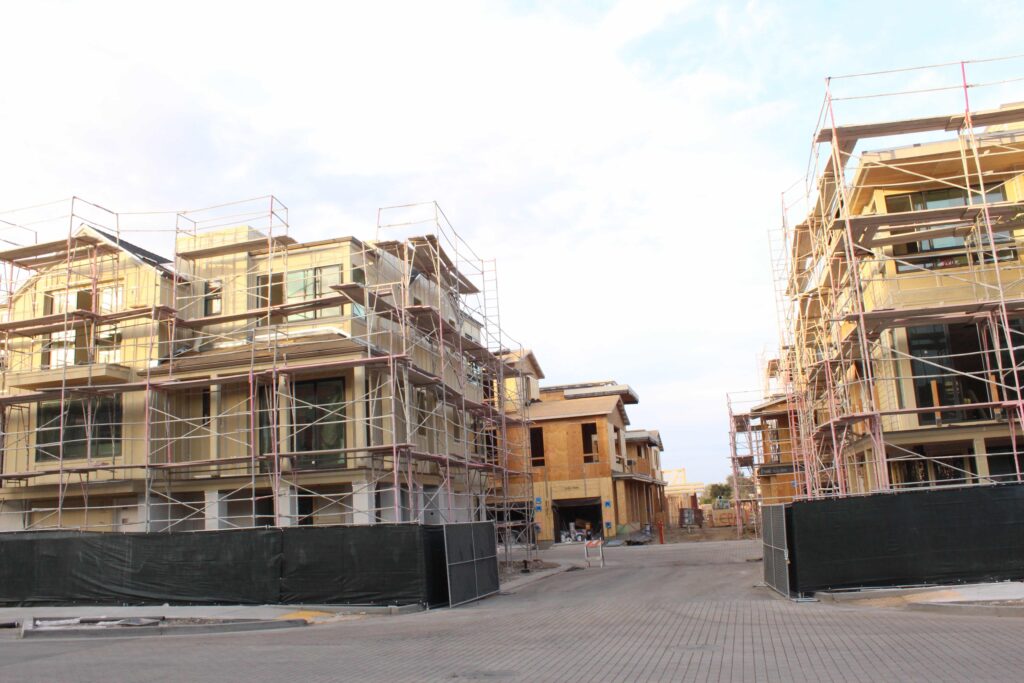 California brought in the Housing Element law back in 1969, as a way to make sure local governments were adequately designing ways for community members to live within the borders of their municipalities.
Speaking during the public comment portion of Los Gatos' Housing Element meeting, Planning Commissioner Kylie Clark, wearing her West Valley Community Services hat, offered to put commissioners in touch with low-income residents.
"We see first-hand the importance of equitable housing in our community," she said. "Naturally, we also see the importance of the Housing Element. We truly are at a critical point in our town's history."
In fact, the service provider will host a Zoom session March 2 from 6-7:30pm titled "Envisioning an Inclusive Los Gatos Housing Element 101," she added, noting the panel will feature two of its clients and a housing developer, as well as Ande Flower, one of the consultants Los Gatos is relying on.
At the Feb. 17 meeting, Flower, who is the principal planner for EMC Planning Group, began to give the Housing Element members a virtual walk-through of the programs they'll be using.
"We like to work with emoticons, because it helps us gauge immediately whether somebody is unhappy—or very happy—about a site being included on the list," he said, explaining how part of his job will be to collect and organize comments from the public. "In our experience, people almost always take the time to let us know why they're feeling that way about a particular site."
Ryan Rosenberg, who was appointed to HEAB as a representative of the public, said he wanted to understand what happens when identifying a housing site through the software.
"I understand you mentioned, like, 500 parcels, and we're going to go through them, and we'll get lots of input from the Town and the community," he said. "Once we put the sites on a list, does that mean that the Town then changes zoning for those sites? What does it actually mean to put the parcels on the list? What actually happens with those?"
The short answer, from staff: It's complicated.
But Hanssen, who previously served on HEAB alongside Vice Mayor Maria Ristow (also on this round's board), came back with more of a nuts-and-bolts reality-check.
Her message for Rosenberg: Get ready to roll up your sleeves, because it's not going to be as simple as placing parcels on a list and letting tech do the rest.
"The lion's share of the work that we did was exactly in looking at different sites, figuring out if the criteria were appropriate," she said. "It was really months and months of going through the sites and whether or not they were appropriate or not. Whether or not it was reasonable that they might redevelop, and so on and so forth. So, that's the work that we will be doing."
Los Gatos expects to hold a community meeting about its housing goals in late March, with an eye toward a full-throated housing inventory analysis in April.
The Town has to have its RHNA plan ready by Jan. 31, 2023.