In the 2021 season, the Los Gatos High girls volleyball team had what has become the norm for the program: a league championship and deep playoff run.
Expect more of the same this season, Wildcats coach Brynja Thompson said, but with an added bonus.
"People can expect a lot of the same level of play, but we're going to raise that level in a couple of areas," she said. "We'll be much more dynamic in some areas that we were not in the (recent) past, and we'll add some level of play that I think is going to be real, real difficult for other teams to deal with. I know the girls are already excited about that."
The Wildcats, who open the season against Salinas on Aug. 29, return three starters off a team that advanced to the CIF NorCal Regional semifinals last season and won the Santa Clara Valley League De Anza Division championship.
They've also added several talented newcomers who played on the junior varsity team last year. Hannah Slover, Nicole Steiner and Allison Black are the returning starters and poised to be even more potent than they were a year ago.
Slover, a 6-foot-1 senior and UC Santa Barbara-commit, possesses tremendous all-around skills and plays with an unselfish attitude that permeates the team.
"Hannah is going to do so many amazing things for this group, both off point scoring and off the court leadership-wise," Thompson said. "She is so trusted and valued by not only me but her peers, and treats her teammates exactly the way you want to be treated. Her skill level is not only going to carry our team, but in a lot of ways how she responds to her teammates is going to do wonders."
Steiner, a sophomore middle and outside hitter, was a difference-maker in 2021 with her blocking and ability to finish points. A three-sport standout, Steiner continues to ascend.
"Nicole continues to climb upward in every sense as a student, friend, a teammate and a player," Thompson said. "The sky's the limit for this athletic machine. She is one of our foundations on the floor and it will be extremely fun to watch her this year."
Black, a junior middle blocker, averaged three blocks per set last year which is "absolutely unheard of," Thompson said. Black has also improved her play from a year ago, meaning she has the ability to dominate the net at times with her ability to terminate the ball and stuff opposing attacks.
"I can only imagine what type of offense and net defense our team will put together with her helping to lead the way," Thompson said.
A handful of players who weren't starters last season but received playing time have improved and will take on a larger responsibility this year, including junior setter Sydney Morey, Molly Vanderbosch and Mia Halsey. Key newcomers from the junior varsity team include Kate Vanderbosch and Maya Walker.
The Wildcats will be in great hands—literally—as they have plenty of players who can play setter. Slover, who won the high jump in the CIF State Track and Field Championships in the first week of June, did some setting last season and possesses tremendous ball control.
Slover and Halsey can play any position on the court, giving Thompson the ability to mix and match and utilize different combinations.
"We'll be more dynamic this year and more flexible as to who can play what position," Thompson said. "All of our attackers can play different areas and have the ability to hit anywhere which is something that teams don't always have."
Thompson said Morey "is a very special player to this program," highlighting Morey's willingness to challenge herself to elevate her game.
"Sydney is more of a beach volleyball player than she is an indoor player—those are her words, not mine—and on the beach you don't use your hands and don't set very often, and here in the indoor game we're asking her to do exactly what she doesn't do in the outdoor game," Thompson said. "But she is versatile enough to do several different skills and not skip a beat."
Los Gatos opens the season with a non-league contest against Salinas on Aug. 29 before a huge opportunity to take down state power Mitty on the 31st.
"We're loaded and pumped up for the season," Thompson said.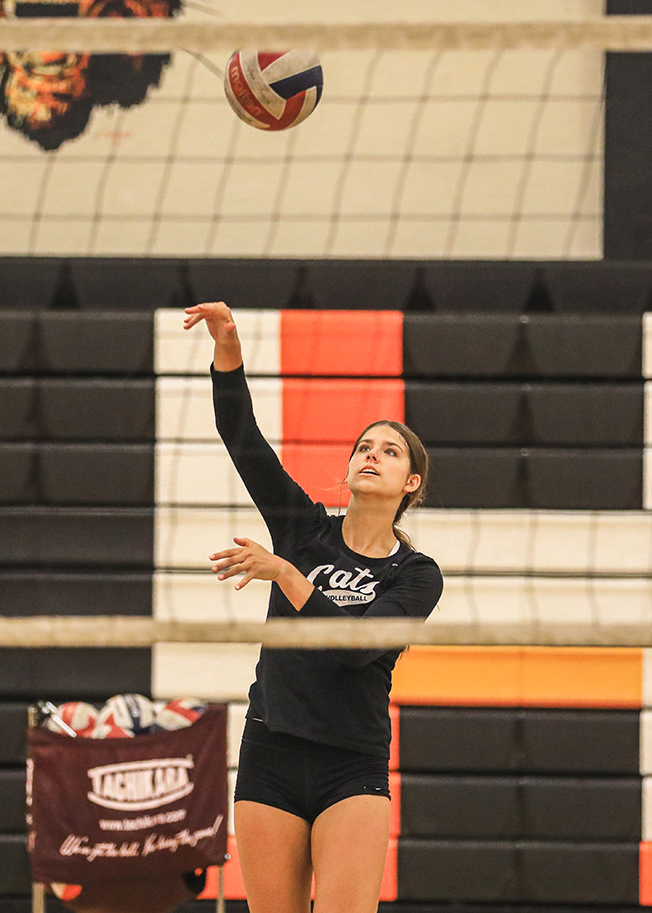 Sports editor Emanuel Lee can be reached at [email protected]