Few boys cross country teams have a storied history such as Los Gatos High.
From 1980 to 2014, the Wildcats won 10 Central Coast Section championships, had five runner-up finishes and five individual champions, including two—Matthew Petrillo and Chris Foster—who were repeat champions.
So, the Wildcats' latest team title—besting the Division II field Nov. 12 at Crystal Springs in Belmont—was special because it was their first in eight years and put them back into the upper echelon. The victory earned Los Gatos an automatic berth into the CIF State Championships on Nov. 26 at Woodward Park in Fresno.
On the girls side, Sophie Tau and Shea Elmore qualified for state as individuals as the team finished fourth in a stacked field, easily the toughest out of the five CCS divisions. The boys team had a low score of 114 points to edge St. Francis by 12 positions.
"It was crazy because at the beginning of the season we all saw the team in D-II and thought maybe we had an outside shot getting third or fourth and making state," said Jack Fan, who was the Wildcats' No. 2 runner and placed 15th in a personal-record (PR) of 16 minutes, 18.8 seconds. "But we saw how everyone was progressing really nicely and everything kind of came together near the end of the season. We all worked together to make it happen and it's a really great feeling."
What made the Wildcats' win all the more impressive is they trailed St. Francis at the 2-mile split, albeit ever so slightly. Aydon Stefanopoulos continued his tremendous season with a fourth-place individual finish, in 15:34.6, which is a blazing 5:16-mile pace.
Then came Fan, junior Jensen Bidmead (22nd in 16:30.3), senior Keaton Wong (30th in 16:41.8) and senior Noah Hale (57h in 17:14.5) to round out the top five scoring runners. Senior Will Jenkins (66th in 17:29.3) and sophomore Ben Klarich (84th in 17:52.3) completed the seven man team.
Having run Crystal Springs several times, Fan had his race strategy dialed in and then executed it, sticking with the second group of runners off the lead pack before sprinting for the final 800 meters of the course, which is pancake flat.
Fan knew he was running well but all he cared about was helping the team qualify to state.
"I didn't see my time," he said. "I was just focusing mostly on the scoreboard and trying to figure out if we made it to state as a team. I didn't have a big PR; it was more about how I did to help the team."
Speaking of helping the team, that's exactly what the ascending Bidmead has done, particularly the last month. Bidmead hit a massive PR at Crystal in the SCVAL De Anza Division Finals on Nov. 1, then shaved his all-time best another 16 seconds in the CCS Championships.
"It's been great to see him progress throughout the season," Fan said. "You see him in workouts and now he's finally able to show how fast he can run during a race. He really helped push us over St. Francis and be able to win D-II."
A year ago, a knee injury prevented Fan from having his best season. Fully healthy this time around, Fan has been consistent and reliable in posting fast times throughout the season.
"Last year I had the knee injury until halfway into the racing season," Fan said. "I came and tried my best to do what I could to help us compete, but ultimately I wasn't at full strength last season. So it's been nice to run being fully healthy and not having to worry about being injured."
Fan has been running with Jenkins and Wong since they were in the sixth grade, and he's known Hale for a while, too. Fan insists that during his middle school competition days, at times he didn't crack the top seven scoring runners.
"It's been really cool to be on this journey together and see how far we've all come since the sixth grade," he said.
The turning point of Fan's career, he said, came during his sophomore year when two former Los Gatos High standouts who were serving as assistant coaches connected with Fan and pushed him both mentally and physically. Now, Fan is looking forward to State.
"I'm just trying to make the most of the moment now," he said.
Meanwhile, Tau and Elmore are making return trips to State, having competed there last year with their teammates. Tau has performed admirably all season, and she finished sixth in 18:06.8. Not a PR, but a fast time nonetheless.
Elmore took 13th in a season-best time of 18:39.8. A trio of sophomores rounded out the team's scoring, meaning the team should be poised to make another run at state next year. Addison Lundstrom (29th in 19:49.1), Sarina Salzer-Swartz (32nd in 20:18.2) and Erika Snell (35th in 20:22.9) were the team's 3-4-5 scoring runners.
Juniors Abigail Zolla and Kate Herron placed 38th and 47th, respectively. Los Gatos' total team time of 1 hour, 37.17 seconds was sixth overall among all five divisions. However, the Wildcats won't be headed to State because they were in the stacked Division II field, which had the three top teams in the CCS this year in Los Altos, Palo Alto and St. Francis.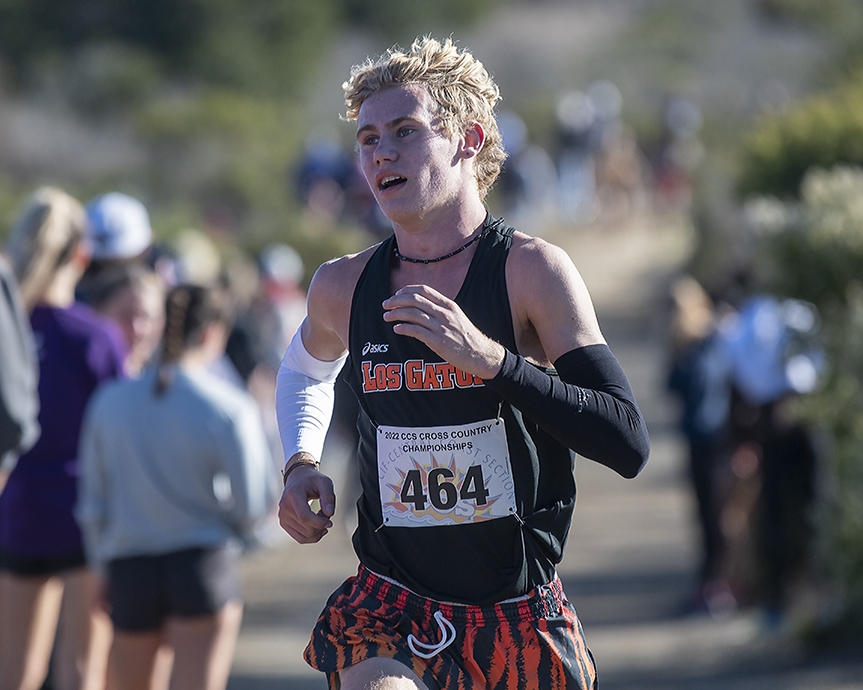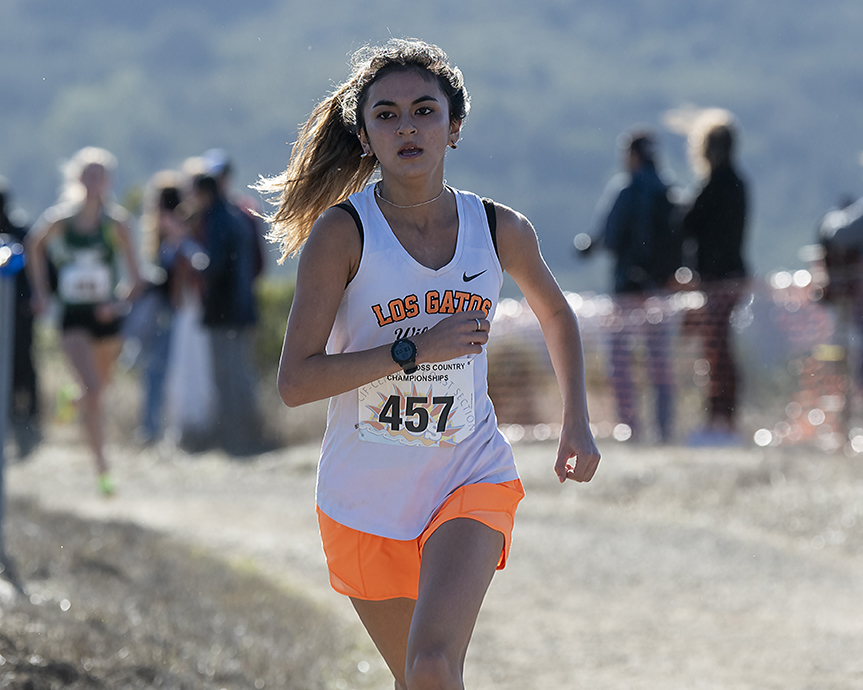 Sports editor Emanuel Lee can be reached at [email protected]