When Campbell resident Yulia Shuvkashvili, 32, heard about the April 8 protest in Los Angeles against Nurlan Saburov, a Kazakhstani comedian with ties to a TV channel run by Russian government-owned Gazprom, she figured she'd stage a Bay Area reprise.
So on Monday night, along with dozens of other demonstrators, she headed up to the Scottish Rite Masonic Center in San Francisco, where they waved signs with graphic imagery and shouted "Shame!" at people heading into the event.
"We think this is a very important message we're sending," Shuvkashvili said. "Nurlan has huge influence on Russian youth."
Bloodied toy dolls lay strewn on the ground. Two young men set a washing machine near the building's steps as an ironic symbol.
Shuvkashvili said she hopes their sidewalk theatrics will create enough of a stir on Russian social media to break through Vladimir Putin's digital firewall.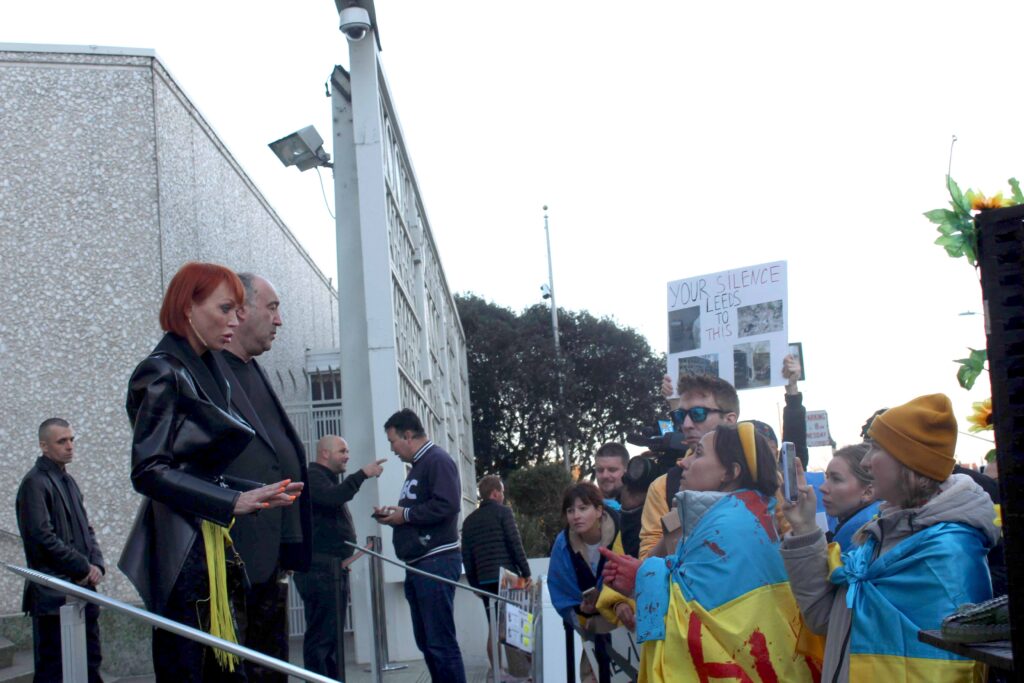 Following a protest of Saburov's performance at the Edmonds Center for the Arts in Seattle the previous day, the Edmonds Beacon shared these words it said came from the tour promoter:
"Our company, The Reunion Parties, based out of Los Angeles, has been organizing concerts and events for the last 20 years. We've brought artists and acts from all over the world: Ukraine, Kazakhstan, Russia, Uzbekistan and more. Our organization has never been affiliated with politics, and our mission is organizing events and shows. Several members of our team (including myself) are originally from Ukraine, and have family and friends there. We have personally been mentally and emotionally affected by this conflict, as have many others."
The promoter said it doesn't support the war in "the Ukraine"—using the term officially discouraged by the country—and pledged to use a portion of the proceeds from the tour to help humanitarian organizations in the country.
Organizers assert Saburov is "just a comedian" who is a citizen of Kazakhstan who pays taxes in Kazakhstan, doesn't have a Russian passport and isn't political.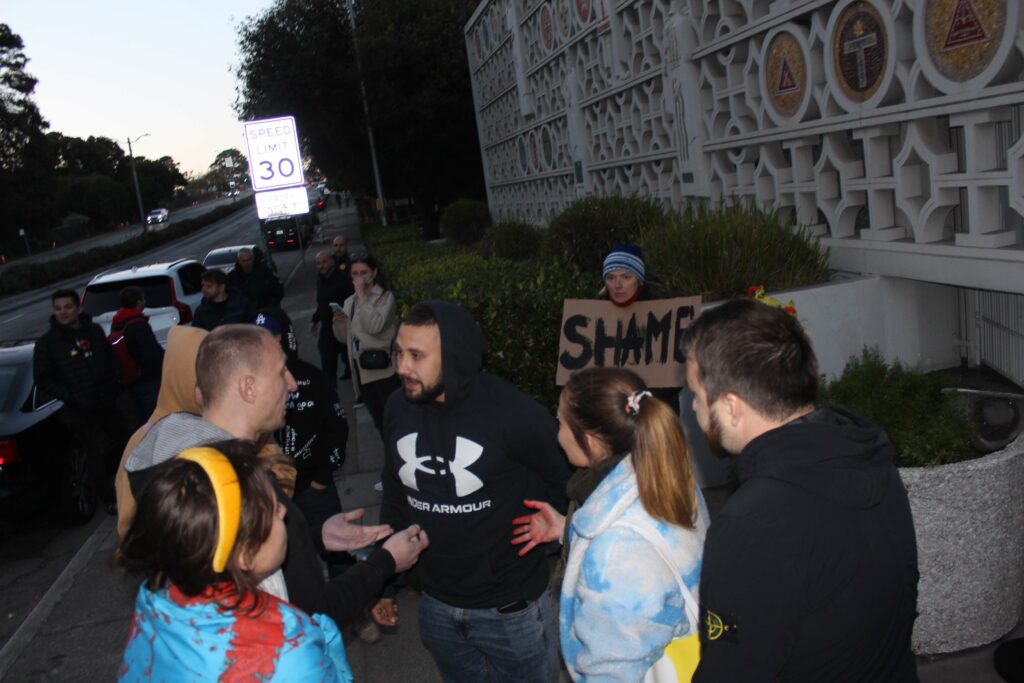 But Shuvkashvili, who works as a program manager for a technology company in Cupertino, sees it differently. She thinks because he's benefited from ties to Putin's oligarchy, he has a duty to speak out.
Before launching the protest she says she tried to reach out to Saburov, through various avenues, to see if he'd be willing to release a statement about the war, so Russians can learn the truth.
"Millions of them don't realize the horror that Ukrainian kids experience every day," she said.
When asked about the Russian invasion directly during his LA gig, Saburov reportedly avoided the question and claimed he was afraid of what would happen to his family if he did talk about the reality.
Santa Clara resident Olexiy Burov, 25, said cultural events like this can be important battlegrounds in fighting misinformation.
"I do not support this comedian," he said, charging Saburov is wasting an opportunity to use his influence for good. "In our world he's in a position of power."
For some at the protest, the message hit close to him.
Oksana Kozhemiakina, 47, was stuck in Kyiv for two weeks at the beginning of the war before she fled to the Bay Area.
"There was bombing," she said, her words translated by a fellow protester. "You can't sleep with all the sirens."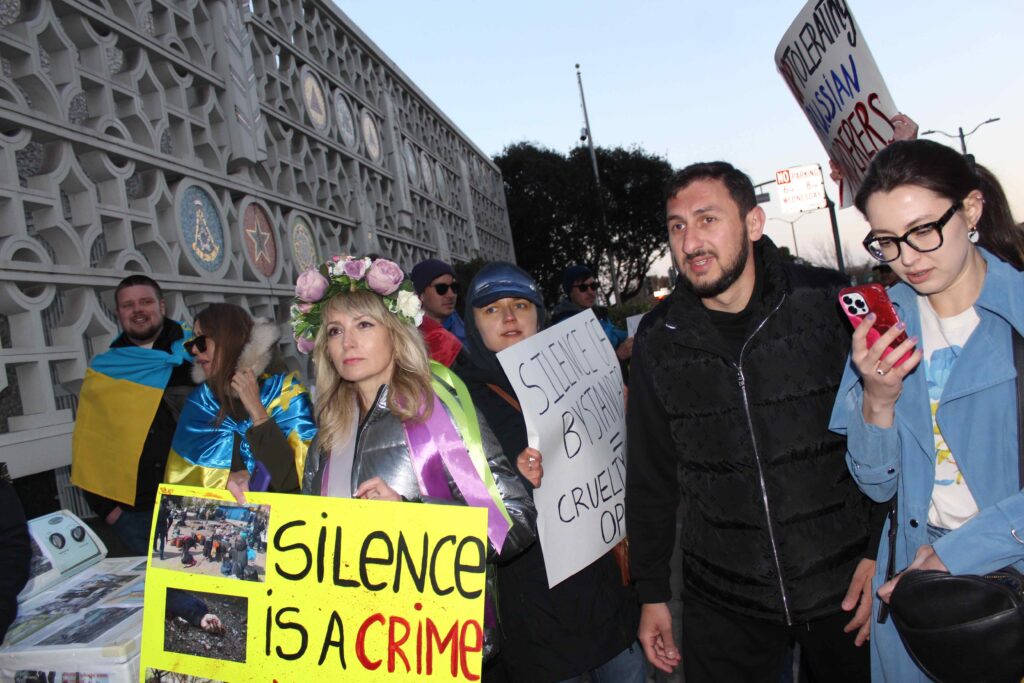 Even now, when she hears a loud bang, she's brought right back to those harrowing days under Russian bombardment.
"It's like a book or a movie," she said. "It's haunting, this feeling of death."
To her, Saburov needs to be held to account for his popularity, which is thanks to a Russian state-owned enterprise.
"All the money goes to war," she said. "They support war with their silence."
Intriguingly, in an interview with a Russian media outlet, Saburov said while sometimes he'll say jokes that shock people, he also wants his words to convey important messages.
In the interview, he also spoke about how pivotal Gazprom Media-owned Russian TV channel TNT was in launching his career.
The Association of Performing Arts Professionals' CEO Lisa Richards Toney said in a recent statement, posted to its website, the arts should serve as a connector, not a divider.
"We stand in support of artists and arts workers of Ukraine who, like thousands of their fellow citizens, have been lost to the violence," she said. "APAP also stands in support of the artists, arts workers and citizens of Russia who have spoken out, faced censorship, taken to the streets, risked arrest and endured brutality."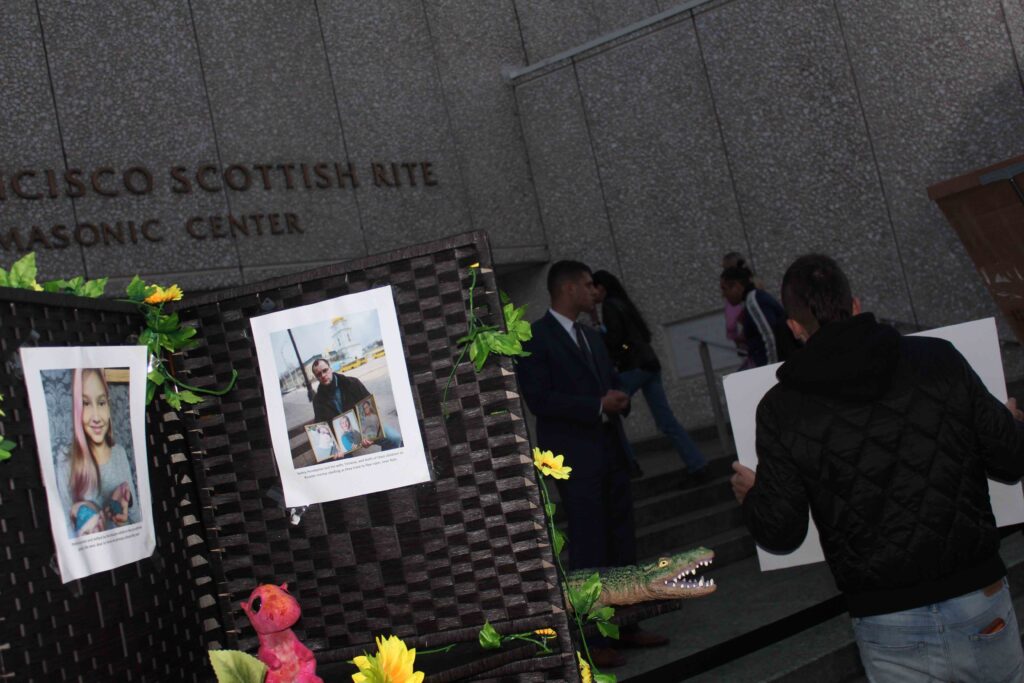 Vlad Ilchenko, a 32-year-old who lives in San Francisco but is from Kyiv, said he heard about the Bay Area protest through Facebook and Telegram.
"When you are silent, you are supporting Putin and his cronies," he said, adding Saburov could make a huge difference when it comes to educating Russian youth about the invasion.
One of the most concerning things about the event, protest organizers said, was how hard the promoters worked against them.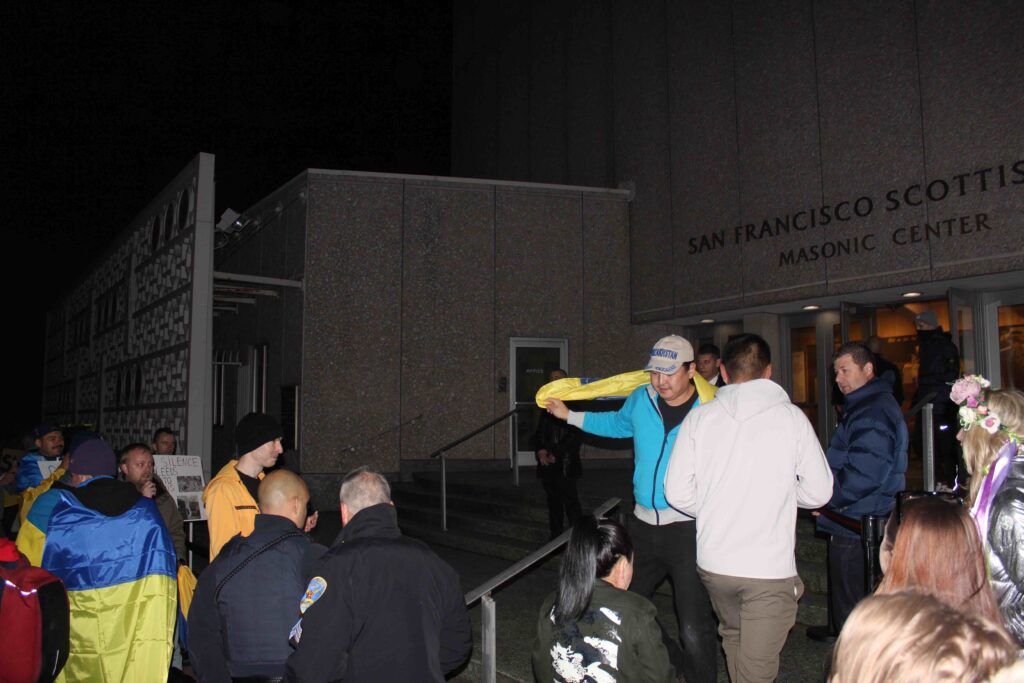 The Los Gatan spoke with three people who said they purchased tickets to the show but were ejected from the gig without doing anything wrong. They claim the promoters were trying to stifle free speech and were discriminating against them for their pro-Ukrainian stance.
Livermore resident, Almas Kenges, 35, who is from Kazakhstan, didn't dispute that he was planning on bringing up the war if he got the chance during the show. But he says someone must've overheard him talking about his plan, because he was sent packing before he even had a chance to do anything.
"I tried to talk to Nurlan, but I failed," he said. "I have a real shame, because he's my nation."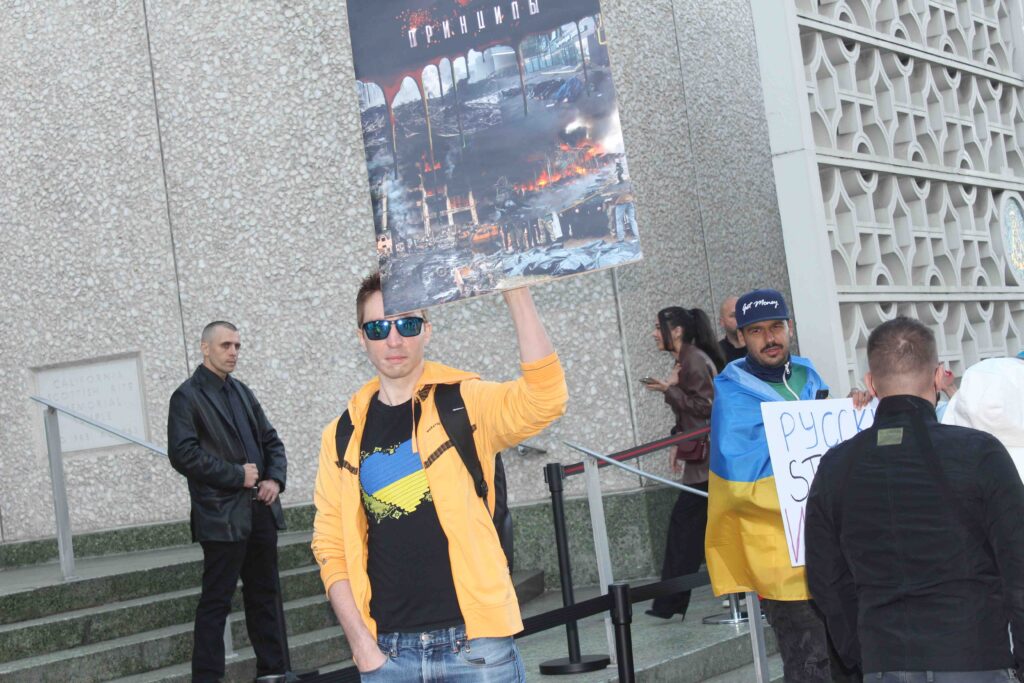 San Jose resident Anna Shevehenko was also kicked out.
She says someone infiltrated the Ukrainian organization Nova Ukraine and reported on protest plans to event organizers.
"She pretends that she's supporting Ukraine," she said of the volunteer she claims ratted them out. "She gave up all of us…I hope we're not getting back to USSR."
In an information war like this, it's hard to project what the ultimate impact could be of an evening protest like this. After all, in the age of viral posts, sometimes all it takes is a single TikTok to spark a digital wildfire.
So, while it appeared organizers were using preemptive tactics to quell dissent, and some of the comedian's fans seemed to revel in the controversy, there were small victories—like sporadic conversations when some attendees did stop to speak with demonstrators.
Unlike the heated exchanges with many show goers, in one instance, a tall man in a black jacket and a fresh pair of sneakers spoke calmly to the adversarial crowd.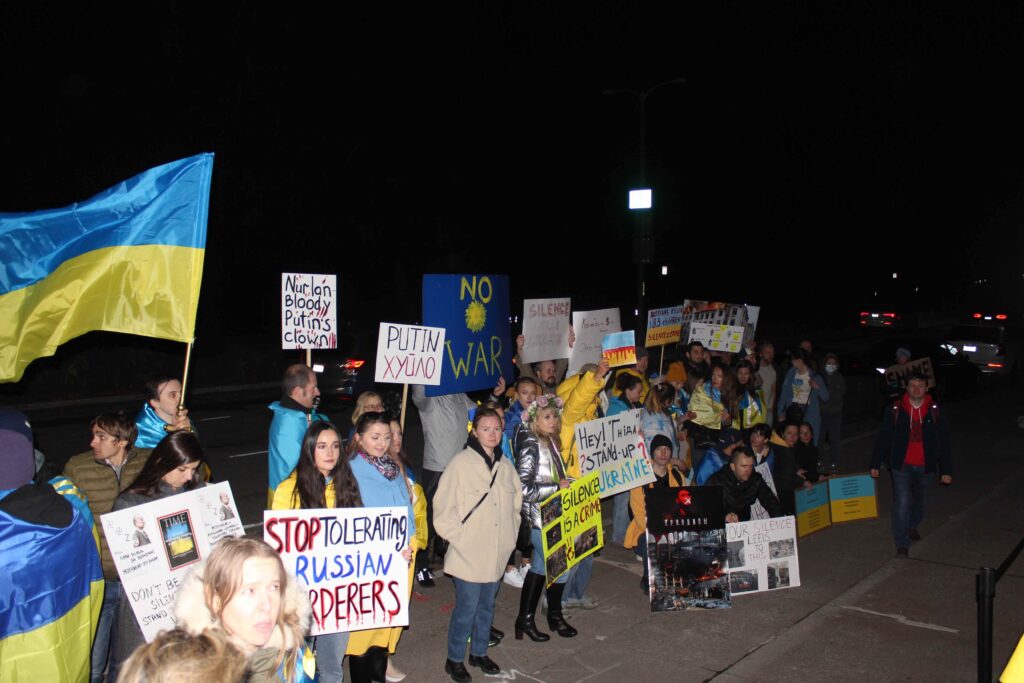 The Redwood City resident, who only gave his name as Baiastan, said he agreed with activists about Saburov's reliance on the Kremlin-controlled gas giant, given the stand-up's link to their TV channel.
And he agreed Saburov has influence throughout the Russian-speaking world.
But he also said he doubts protesters' message would be able to cut through.
Plus, he said he believes Saburov when he says he's afraid something could happen to his family if he speaks out.
By the end of the night, Shuvkashvili reported at least three people had demanded refunds.
Video posted to Facebook the following day showed a protester wearing a dress, covered in fake blood, interrupting Saburov's performance.
"Speak up; don't be silent; people are dying in Ukraine," she shouted, according to Shuvkashvili.
He responded in a mocking tone, as security led the activist away.
"Saburov asked her if she's on her period," Shuvkashvili said.
—Updated Wednesday at 1:17pm.