Los Gatos submitted its draft Housing Element plan, which sets out how the Town plans to grow the number of residential units in the community, to State officials Oct. 14.
While the Housing Element approach to urban planning has been with California for decades, only recently has Sacramento started turning the screws to make sure affluent, homogeneous communities like Beverly Hills, Redondo Beach, Huntington Beach, Scotts Valley and Los Gatos actually build the housing they're supposed to.
The State wants to make sure people of all racial backgrounds can thrive in the state—including having a place to live that doesn't break the bank—and in some cases that now includes taking action to help reverse concerning trends.
For example, as noted in Los Gatos' draft Housing Element, Bay Area cities continue to be more segregated than other areas of California.
A 2018 UC Berkeley publication titled "Racial Segregation in the San Francisco Bay Area," describes Los Gatos as being among the "most segregated, heavily white cities in the county" with Santa Clara County containing "no truly integrated city."
And racial segregation between neighborhoods in Los Gatos actually increased between 2010 and 2020, the draft Housing Element reports, although the situation did improve in the above-moderate-income category.
However, many local residents vehemently oppose efforts to densify the town. Some suggest the Town's approach to housing will simply pave the way for more upscale units, not affordable housing.
The HEAB held 11 meetings over Zoom between October 2021 and the end of September 2022. This was in addition to additional community meetings and study sessions—not to mention the countless times the issue became an inflection point at Planning Commission and Council.
The Town says a mix of housing types in the community would create more opportunities for everyone.
Los Gatos' recent history shows very different outcomes for people who've owned homes, versus those who've been renters.
Since 2010 home prices here have doubled on average, with the largest proportion of homes now worth more than $2 million.
Meanwhile, rents in Los Gatos increased 61% from 2009 to 2019, meaning you'd have to make $90,960 a year to rent a typical apartment without a cost burden.
Many jobs currently advertised on Indeed.com for the Los Gatos area pay around $20 an hour—less than half of what you'd need to make to afford to live in the community.
The Draft Housing Element identifies a series of vacant, partially-vacant or underutilized sites it believes will be sufficient to accommodate Los Gatos' Regional Housing Needs Allocation (that's the residential-production figure the Housing Element is supposed to help the community reach: Los Gatos is required to plan for 1,993 units and has decided to include a 15% buffer on top of that).
The sites written up in the Housing Element are not a prescription of what will be built, nor are they an exact prediction. Plus, the California Department of Housing and Community Development may come back at Los Gatos and say it hasn't included enough—or not enough of a particular type—when its officials go through the document.
Land identified for possible residential development in the Downtown Area include 50 Park Ave. and 61 Montebello Way—a triangular-shaped wooded parcel in an area of very-high fire risk—the post office at 101 S. Santa Cruz Ave., and the Hercules Draft House and Cantina property at 165 Los Gatos-Saratoga Road.
Just across Highway 17, the Los Gatos Lodge site (50 Los Gatos-Saratoga Road) has been selected as a place where upwards of 317 units of housing could sprout.
In the Los Gatos Boulevard area, the Ace Hardware at 15,300 Los Gatos Blvd. could accommodate 58 residential units, Town staff says.
After hoisting himself and his wheelchair into his Honda Odyssey minivan, on a Tuesday shopping outing there, Mike Shaner, 65, said he hopes the Housing Element won't mean the business will be forced out.
"I've lived in this neighborhood for over 25 years," he said. "I really like the convenience of this store."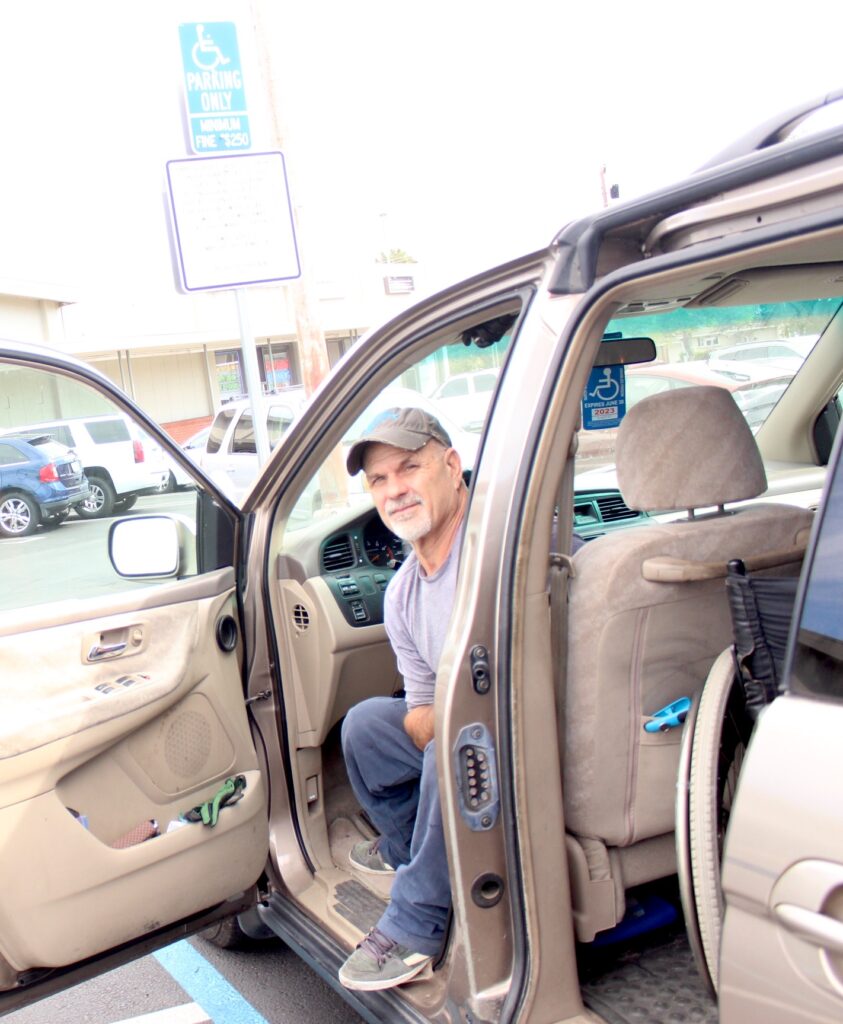 But he says he can see how housing might fit on the lot; and he says he'd be OK with new housing on the property, too—as long as Ace gets to stay.
"I wouldn't have a problem with that," he said. "This place is huge."
For the Los Gatan reader, who has lived in a wheelchair for 46 years, it's a good thing the Housing Element specifically sets out how future residential development must proceed with accessibility in mind.
"The disabled population, in general, is an underserved population," he said, pointing to the heightened challenges in Los Gatos. "It's a very expensive place."
Along the west side of Los Gatos Boulevard, south of Garden Lane, planners figure 103 housing units could be built between three addresses (15349, 15367 and 15405).
Over on the east side of Garden Lane, the Housing Element Advisory board sees the possibility for 39 units to go in at 15425 Los Gatos Blvd.
The draft element suggests 23 homes could be developed at the Affordable Treasures party supply location, at the northwest corner of Los Gatos Boulevard and Farley Lane—although the current building would have to be demolished.
The other addresses included in the inventory along the boulevard are 16203 (possible 28 units) and 16492 (possible 11 units).
Phase II of the North 40 could become home to 582 new residential units over seven different parcels, according to the official analysis.
The Lark Avenue area has been selected for several sites: the east side of Oka Road north of Lark (151 possible units), Oka Lane west of Oka Road north of Lark (26 possible units), and the Caltrans Right-of-Way south and west of the Highway 17/85 interchange (88 possible units—Los Gatos has yet to ask for Caltrans' input).
In the Winchester Boulevard area, 110 Knowles Drive (north and west of the aforementioned interchange) was identified for a possible 264 homes, with 206 Knowles Drive described as a site where 87 units could go.
The 440 Los Gatos Almaden Road property was the sole site included from the Union Avenue area of town and could feature 14 housing units.
Likewise, the Valero site at 14000 Blossom Hill Road was the single entry from the Harwood Road part of town, with the possibility for 12 housing units identified.
The Alberto Way area bookends the Sites Inventory List, with planners suggesting 54 residences could be built at 401-409 Alberto Way.