A late start to the spring sports season hasn't stopped Nicole Steiner from doing some amazing things in track and field.
The Los Gatos High freshman sensation enters the week with the Central Coast Section's second best throw in the shot put at 37 feet, 2 inches, which she delivered in the CCS Top 8 Meet on April 22 at Los Gatos High. It was a huge personal-record (PR) after she unleashed throws of 33-6 and 33-11 in her first two meets of the season.
The most impressive part of Steiner's achievement? She started the spring season late because the basketball season ran long due to the Los Gatos girls hoops team winning a CCS title and a game in NorCals. Additionally, the only time the 6-footer is able to practice her throws are during warm-ups, because she's playing two sports during the same season, which is an incredible feat in itself.
Steiner is the starting center fielder on the Los Gatos junior varsity softball team, and she also has practice three times a week with her club volleyball team, Vision 15 gold, which recently knocked off the No. 1 team in the nation.
It's a good thing Steiner loves being on the go, because during the spring season she doesn't have much time for a breather. On her PR throw, Steiner actually had to wait a while because she was in the second heat, or girls who came in ranked with marks below the first-heat competitors.
During warm-ups, the grandfather of Allison Black—one of Steiner's friends—showed up and offered a bit of advice.
"He did track in college and gave me some pointers, and I think that's what helped me get a few more feet on my throw, which I really appreciated," Steiner said. "He saw me throwing it and noticed I wasn't jumping at the end of it, I was stopping. So he told me to jump and turn so I can keep my momentum going because when I stop, I'm not getting all my energy out. It allowed me to push as hard as I could and get all of it on my throw. I practiced what he said and got that extra three, four feet."
When Steiner saw the spherical ball land past the 35 feet marker, she knew she had delivered a strong throw.
"They get out the measuring tape and tell you within a minute of your throw, and when they said my mark, I was definitely surprised," she said. "Happy but surprised."
Before this season, Steiner hadn't competed in track and field since she was a sixth-grader at Fisher Middle School, where she broke the sixth-grade record in the triple jump, shot put and discus—the latter mark topped the seventh- and eighth-grade records as well.
Steiner credits Los Gatos throws coach Kent Cappen for helping her with the technical aspects of the shot put.
"He gives me some pointers on how to throw and a couple of other things to keep in mind," she said.
Steiner's recent performance will make her reevaluate things at the end of the season. Given she's hitting huge marks on limited practice time, Steiner has started wondering what the possibilities are for her in the shot put or discus—another event she competes in—if she dropped something in favor of track and field during the spring season.
"Maybe I drop softball and focus on track and field next year," she said. "Going into the season, I didn't realize how close I am to going so far."
Indeed, should Steiner end up placing in the top three at the CCS Championships, she would advance to the CIF State Championships. Regardless of what happens the rest of the way, Steiner has proven why she's one of the best pure athletes at Los Gatos High.
Playing softball has been no small feat considering she competed in baseball with the boys growing up, distinguishing herself by making the Los Gatos Little League Majors All-Star team four years ago.
"I like being back in the sport, the (Los Gatos) team and coaches are so nice and great, and it's made for a great experience," Steiner said.
Even though track and field tends to be more of an individual sport, Steiner loves the team aspect of it as well.
"The track community is strong," she said. "I'll throw the shot put and see my sister (Katie) in the high jump or look at the track and see some of my other teammates running and cheer them on. They'll do the same for me. You get to do your thing, but it's fun cheering for others."
Katie, a sophomore, also does two sports during the spring season: swimming and track and field. In fact, on the day of the Top 8 Meet, Los Gatos was hosting a swim meet. Katie competed in that before heading to the track where she finished sixth in the high jump with a mark of 4 feet, 9 1/2 inches.
Nicole Steiner wasn't the only Los Gatos athlete who won at the Top 8 Meet. Hannah Slover won the high jump with a mark of 5-6, two inches off her PR of 5-8. She's currently tied with Aptos' Elizabeth Churchill for the top mark in the section.
Wil Brennan blazed his way to victory in the 400-meter run, nailing a PR of 49.51 seconds, the No. 2 time in the section. He also was a part of the victorious 4×400 relay team that included Levi Romero, Brady Kamali and Luke PIttock. The quartet finished in 3:23.97 to lower their PR and CCS-best time. Emma Curran delivered a nice run in the 400, taking third place in 59.72.
All of the aforementioned athletes are primed for strong performances in the upcoming league and section meets. Steiner recently experienced one of her biggest thrills outside of high school for her club team Vision, which knocked off nemesis Absolute in the Cal Expo Power League tournament in San Mateo April 9-10.
"That felt so good," she said. "We've played them multiple times this year and last year, but have lost to them almost every time. We finally beat them and were so hyped and it was just insane beating them because they always taunt us through the net and have such terrible sportsmanship. Whether we win or lose, you always talk to the opponents afterward and say good job. But whenever they beat us, they don't say anything. So yeah, it was a great feeling beating them."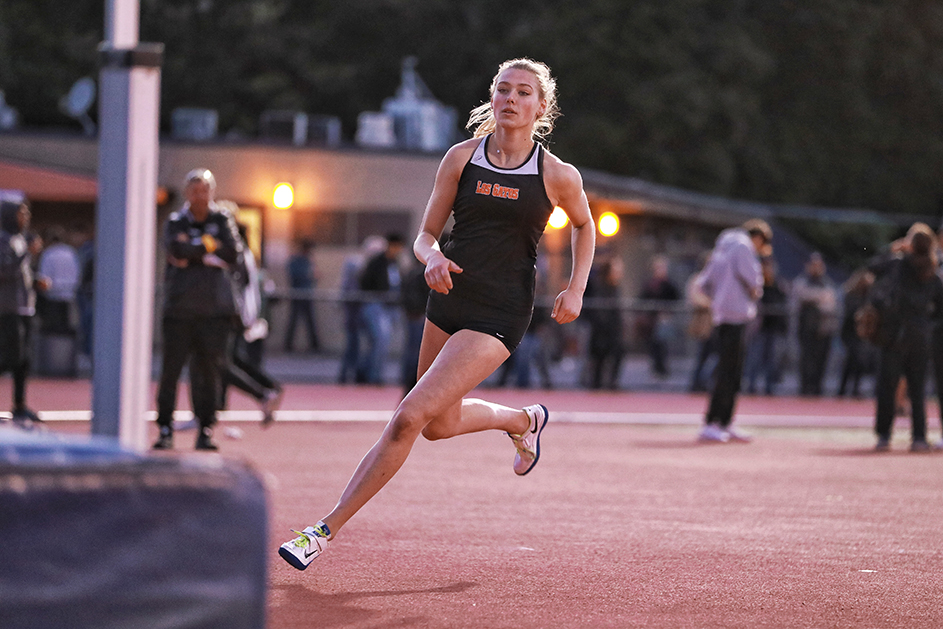 Sports editor Emanuel Lee can be reached at [email protected]