The posh La Rinconada Country Club was the site of a dress-up meet-and-greet with Los Gatos' new top cop, who recently marked 100 days in the role. The public safety-focused gathering was put on by the Los Gatos-Monte Sereno Police Foundation.
Attendees were given a glimpse of what's been going on behind-the-scenes, as Chief Jamie Field announced a renewed commitment to "community policing," through the roll-out of several programs to build relationships with local residents.
The $75-125 event included an appearance by Kenzo, the personal dog of one of the police officers that's related by blood to two emotional support canines the department is training up.
They also got a look at a virtual reality system purchased by the foundation.
According to Field, the department has already started using this video game-style device, which helped prepare officers to deescalate a mental health crisis earlier in the week.
"They took the time," she said. "They came up with a plan."
Police Foundation Meet the Chief Event
Field described the situation as an all-day incident where the suspect put on multiple layers of clothing. That meant there was a risk Tasers may not have worked and it could have been difficult to grab onto the individual.
Officers were earlier put through a similar imaginary scenario on the VR device to build confidence and knowledge, she added.
"Get those reps in before they occur," she said, adding the person who was facing the mental health crisis is now facing criminal charges. "Some of that is a result of the virtual reality system."
Field also touted the department's "Coffee with a Cop" and "Walk with a Cop" initiatives that have been launched to increase trust with locals.
And she shared that Gary and J.J. are names of the dogs soon to be on the front lines—not to sniff out drugs, but as part of a "Therapy Canine" program. The goal, she said, is to promote wellness in the department and to assist in responding to calls where people are going through trauma.
The department will run its first Community Police Academy in the fall for Los Gatos and Monte Sereno residents, Field added, noting LGMSPD continues to support Special Olympians.
Dignitaries such as Monte Sereno Mayor Pro-Tempore Bryan Mekechuk and Los Gatos Mayor Rob Rennie attended.
Field also announced she had just upped Corporal Harold Hoyt to sergeant.
He got the call the prior afternoon, he told the Los Gatan.
"I need you to meet me in 30 minutes," Field said, recalled Hoyt, who previously worked for the San Jose Police Department.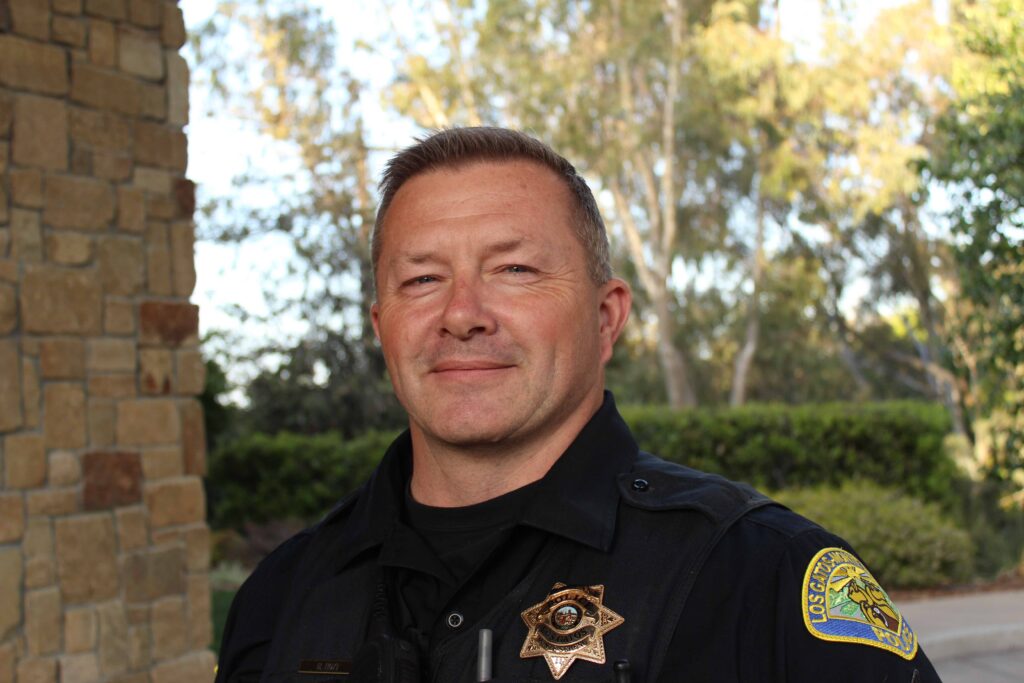 His colleague, Acting Capt. Derek Moye, said Hoyt is deserving of the promotion, which takes effect May 1.
"He's worked hard," Moye said, adding Hoyt is relentless in following up on leads. "He doesn't stop until it gets solved."
Moye says he's supportive of Field's emphasis on community policing, and notes part of how this is playing out at LGMSPD is through laying the groundwork with fresh recruits.
"We have a lot of new officers," he said, adding Field is leading her team in a direction they've already been heading. "We've been doing community policing for awhile."
Photographer Natalie Ladd said she enjoyed the chance to mingle at the social.
"It was really nice," she said. "I saw a lot of people that I know…like, good people."
In an interview with the Los Gatan, Chief Field said she can scarcely believe she's already been running the department for more than 100 days.
"It went by very quickly," she said, adding she's been busy building the capacity of the force. "I'm very passionate and committed to the department."