On Friday morning, Rebecca Dmytryk, CEO of Humane Wildlife Control, got sad news from Santa Cruz County officials.
A cougar had been reported dead in the Santa Cruz Mountains near a creek, and they wondered if she could look into it.
"I'm dealing with a dead mountain lion," she told the Los Gatan, as she relayed the information to the California Department of Fish and Wildlife because it's a protected species. "It was observed Wednesday afternoon."
While it was unclear what had killed the apex predator, Dmytryk said the vast majority of dead mountain lions test positive for poisonous chemicals.
So, these days, she's committed to educating the public about the harmful nature of substances—like rodenticide—to prevent the unnecessary deaths of forest dwellers.
"I've been rescuing wildlife for over 40 years," said Dmytryk, who is also the president of the Humane Wildlife Control Association trade association. "I can't tell you how many bobcats have almost died in my arms."
Todd Stosuy, field services manager with the Santa Cruz County Animal Shelter, said he reached out to Dmytryk to handle the cougar case.
"When we can have a partner like (Dmytryk) assist us in these wild animal calls, it really helps us focus on the domestic animals," he said, noting they currently have two open positions at their office. "We are extremely short staffed here at the animal shelter."
Dmytryk says much of the public is unaware of how deadly rodent-control chemicals can be for cougars.
"This is the new DDT," she said. "If animals that were contaminated with rat poison were glowing, there would be incredible outcry from the public."
'I think of the desperation the mother raccoon felt when she couldn't get to her babies'

—Rebecca Dmytryk, CEO of Humane Wildlife Control
Dmytryk, who is based in Elkhorn Slough but works in Santa Clara, Santa Cruz and Monterey counties, practices a style of pest control where traps are set and rodents are caught—and then released—alive.
"The animals aren't the problem," she said. "Their presence is a symptom."
Humans tend to move into a landscape and create an ecosystem that artificially attracts wild creatures, Dmytryk explains.
"It's our fault," she said. "The good news is because the conflicts begin with our behavior, they can end with our behavior."
Patrick Foy, a captain with Fish and Wildlife, said two wildlife officers spoke with the original reporting party and searched for a dead mountain lion.
Because they ultimately couldn't locate a carcass, he couldn't say whether this was a vehicle-strike, poaching or poisoning incident, but he confirmed rodenticide is a huge killer of big cats.
Dmytryk tells clients that just putting out popular protein-flavored poison packages won't solve the rat problem anyways, calling it a kind of dependency fostered by the traditional pest control industry.
"They want to get people hooked on these drugs, because they know it doesn't work," she said. "They're attracting the animals—rats, mice, ground squirrels—to the property."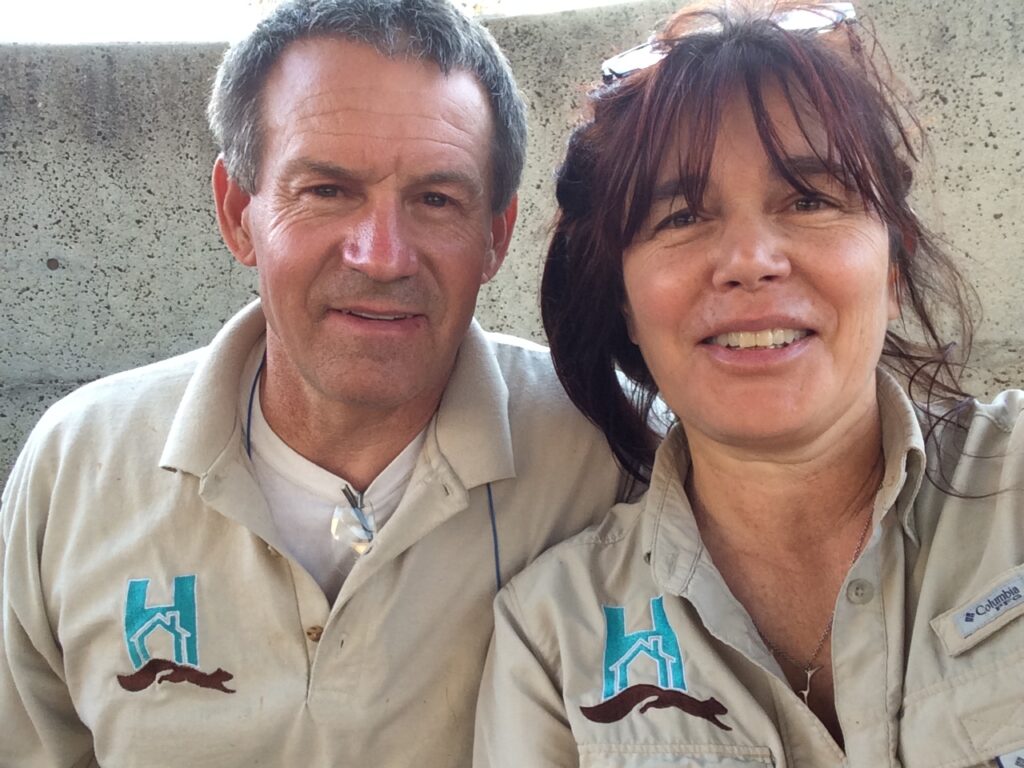 Los Gatos Animal Emergency
On the morning of May 24, Dmytryk noticed someone in Los Gatos had posted on social media about an animal emergency.
The resident had closed a broken ventilation opening to their attic, after noticing a raccoon exiting through the hole. But the woman didn't know there was at least one raccoon baby still stuck inside.
And as a result, the frantic mother raccoon decided to burrow towards her offspring.
"She bored through plywood," Dmytryk said. "I think of the desperation the mother raccoon felt when she couldn't get to her babies—so much so that she tore through a roof."
Unfortunately, the desperate creature got stuck halfway in, when its feet lost traction.
Dmytryk says in the elevating temperatures, the furry mammal could suffer a type of heat-stress called exertional myopathy.
"I desperately tried to get ahold of the owner," she said. "I said, 'You can't delay. I'm an hour away. This animal doesn't have an hour.'"
Luckily, a nearby work crew was able to help expand the opening and free the lactating mother raccoon in time.
The resident left the unintended-entryway open and set up a surveillance camera.
It captured footage of the raccoon leaving with a baby in its mouth, the next day.
"I'm grateful this turned out the way it did," Dmytryk said. "It could have been much worse."
It's important for homeowners to keep in mind that we're part of a larger ecosystem, Dmytryk says.
"We can absolutely live harmoniously with wildlife in rural areas," she said. "We need to be good tenants. And we need to have tolerance for the other inhabitants."