Matt Babcock touches the electrostatically-applied powder coating on the aluminum of the mountain lion, showing off the bends of the sculpture he created for Los Gatos' newest entrance sign.
The Seattle artist drew on cubism and calligraphy, he said, explaining he didn't want the piece at Lark Avenue and Highway 17 to conceal how it was assembled.
"Here are the welds where I've joined these three pieces together," he said, during the unveiling Tuesday morning. "I bent them all to the specified angle."
It's the second in a series of five town markers the Los Gatos Arts and Culture Commission hopes to place around the community.
Tom Spilsbury, one of the commissioners, said he's pleased with Babcock's production.
"I think it's high-tech," said Spilsbury, who's lived in Los Gatos since 1962. "I love it."
The commission recently won a .5% public art contribution requirement for many new developments, and is lobbying for a stable source of funding from the Town.
LGACC chair Maureen Cuppon-Javey says this would provide an important long-term aesthetic benefit to the community.
"There hasn't been a dedicated budget," she said, adding they'd still seek additional private donations.
The road to the second sign reveal started back in 2014, when the project made it to the drawing board.
"We wanted to be art-forward," Cuppon-Javey said. "Then we had the job of identifying locations to place the work."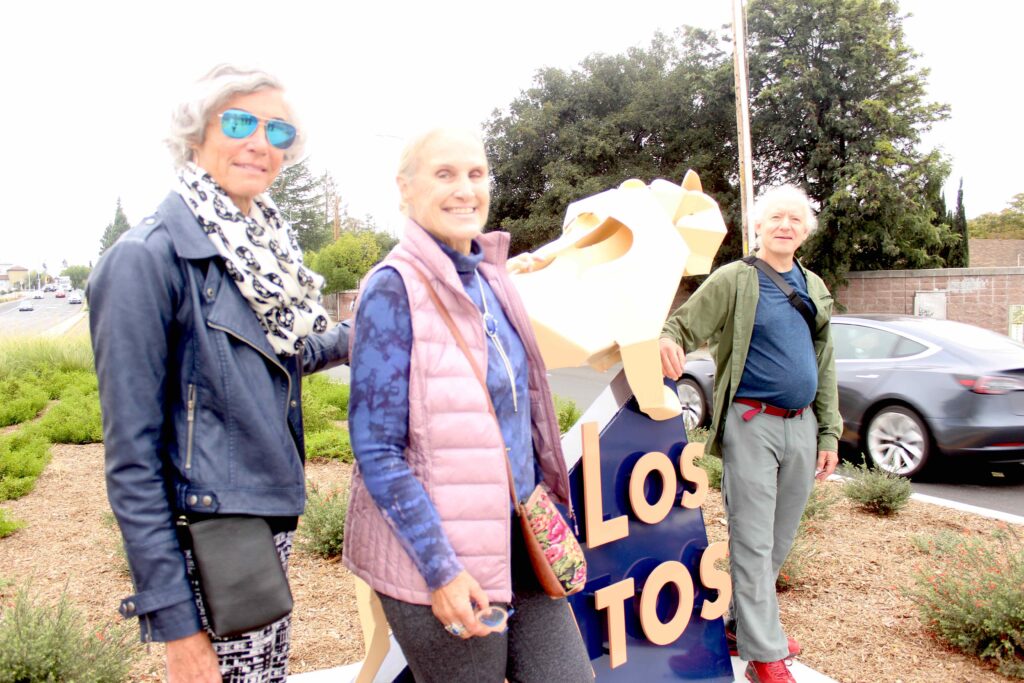 The Town set aside $30,000 for the sign drive, with $5,000 given to three finalists to develop proposals.
When Babcock presented, commissioners fell in love with the design and he clinched the bid, Cuppon-Javey remembers, "easily."
The first sculpture with the polygonal feline shape arrived on Saratoga-Los Gatos Road in May 2021 to rave reviews.
The concept was executed so successfully, the commission—which had considered using different designs for each sign—decided to embrace Babcock's art for round two.
It was overcast as Babcock posed with community members in front of the piece.
His dad and stepmom had joined, all the way from Michigan, too.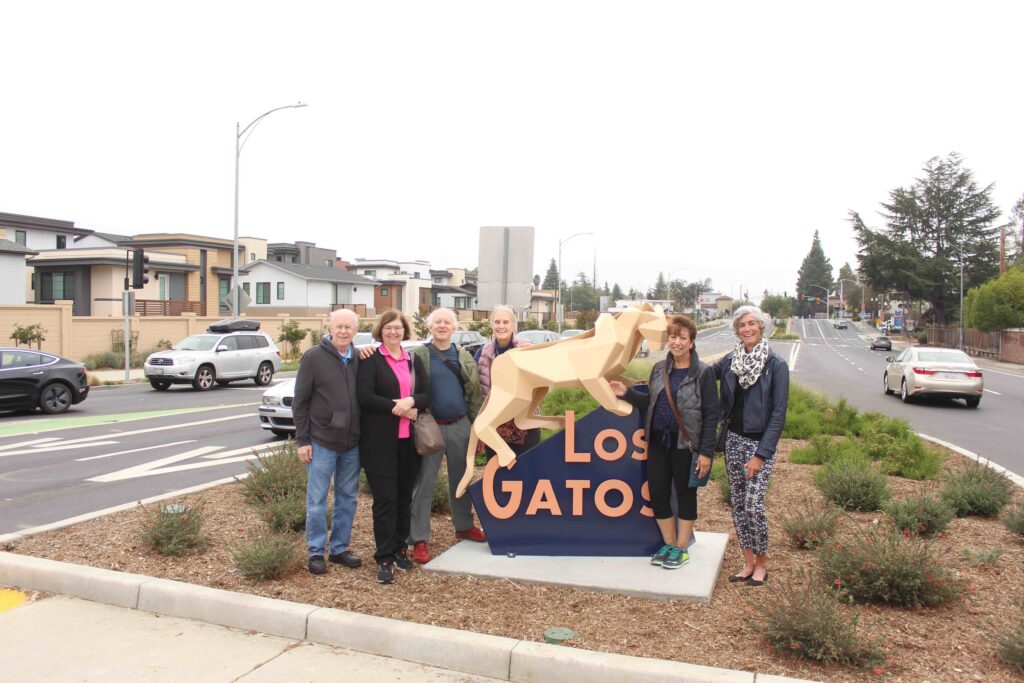 He spent a lot of time modifying the typeface with just the right kerning, he said, adding he was trying to strike a balance between reminiscing on 1950s America, and our new technological reality.
While Babcock says he's aware of the popularity of "low poly" artwork today, he says that wasn't something that directly inspired the cougar.
Instead, he drew on a 3D calligraphy approach, noting he thought a lot about the elegant simplicity of ancient Japanese and Chinese penmanship.
"It's so economical," he said.
Babcock says the mountain lion he designed, while industrial in nature, was based around a "flow" of just four "brush strokes."
But he doesn't discount the digital comparisons.
"It does have a kind of technological feel to it," he said. "I like my works to show how they're built."