Los Gatos Planning Commissioners voted not to support a developer's proposal to rebuild the Los Gatos Meadows seniors complex at 110 Wood Road as exclusive residences for the most affluent.
At their regularly-scheduled Jan. 13 meeting, they unanimously gave the thumbs-down to a project that could rise higher than the current tallest building in town, a Netflix office.
"It felt to me like it was really a very thin slice of the population that it would be benefitting," Commissioner Kylie Clark said. "And it's something that a lot of us will see every single day."
The Covia Communities project, presented by developer Rockwood Pacific, can still move forward to Council in its current form. The plans, as-is, would result in fewer units than the original facility, but on a similar footprint.
Los Gatos Meadows operated from 1971-2019, but was closed due to safety concerns. The facility was found "to pose a significant risk" to residents, with an "elevated risk of fire starting within existing structures."
Project Planner Sean Mullin reported that environmental impacts could be mitigated, and noted that while the land is in a hilly terrain, it's technically not in a "hillside" zone, meaning more stringent design guidelines don't apply.
The developer wants to tear down the old buildings and build a new "full-service" community for seniors with 174 residences.
In order to accomplish this vision, 192 trees would have to go, say planners—including eight large "protected" trees.
The applicant also sought a grading permit, to create retaining walls and to put in a new "ring road" for emergency vehicles.
Its architect designed a ground floor level with eight separate "villas," rising three-to-five stories.
On the main floor there would be 17 "care units," a dining room, offices, a fitness center and a swimming pool.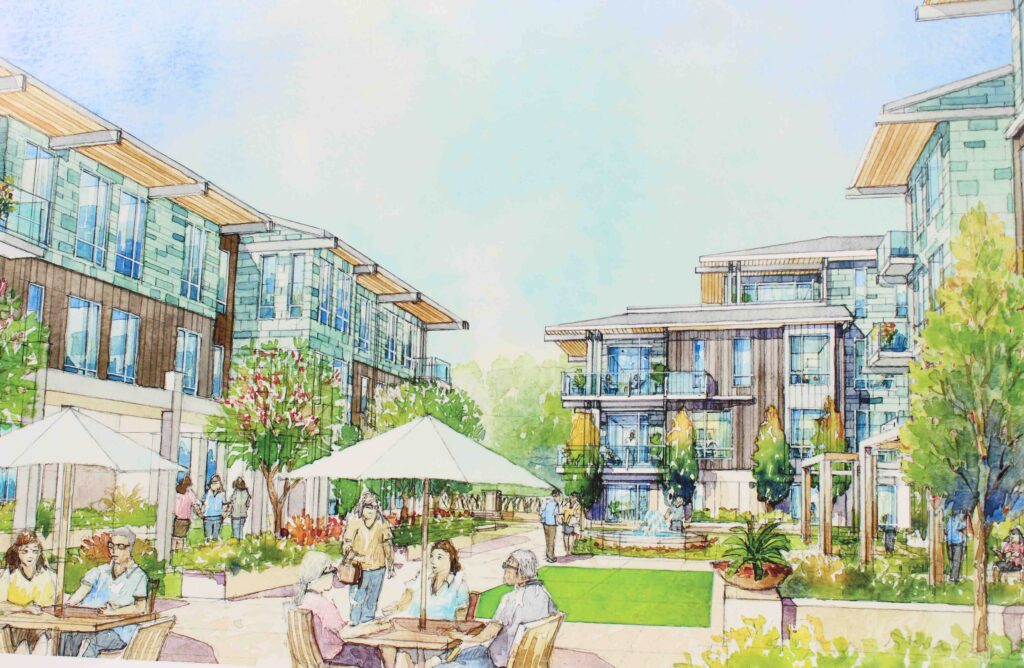 There'd be two levels of indoor parking below, and a communal terrace above.
Commissioners noted it's been awhile since they'd received a proposal for a planned development and commented that new housing is sorely needed in Los Gatos.
Frank Rockwood, the applicant, said the complex would be bigger overall than the building standing on the property now, due to larger square footage.
"While there are pros and cons in accommodating housing needs in any particular location in town, our project team strongly believes that this location is particularly well-suited for a market rate senior community of the scale presented tonight," he said. "Our plan includes an on-demand, self-driving vehicle system that will enable our residents and our staff to conveniently get to and from many resources proximate to our community, without the use of their cars."
Covia held 10 open houses, and concluded the size of the facility is appropriate.
"We have tried to place and balance massing in a manner that, while clearly impacting some of our neighbors in the broader community…balances competing objectives and concerns," he said. "Please know that we are endeavoring to build and operate an exemplary senior community that will be a resource to the seniors of Los Gatos, as well as—I truly believe, on balance—a beneficial change for our neighbors in the wider community."
Commissioners keyed in on this particular phrasing, getting the developer to confirm that it hadn't planned amenities for people who aren't residents, or guests of residents.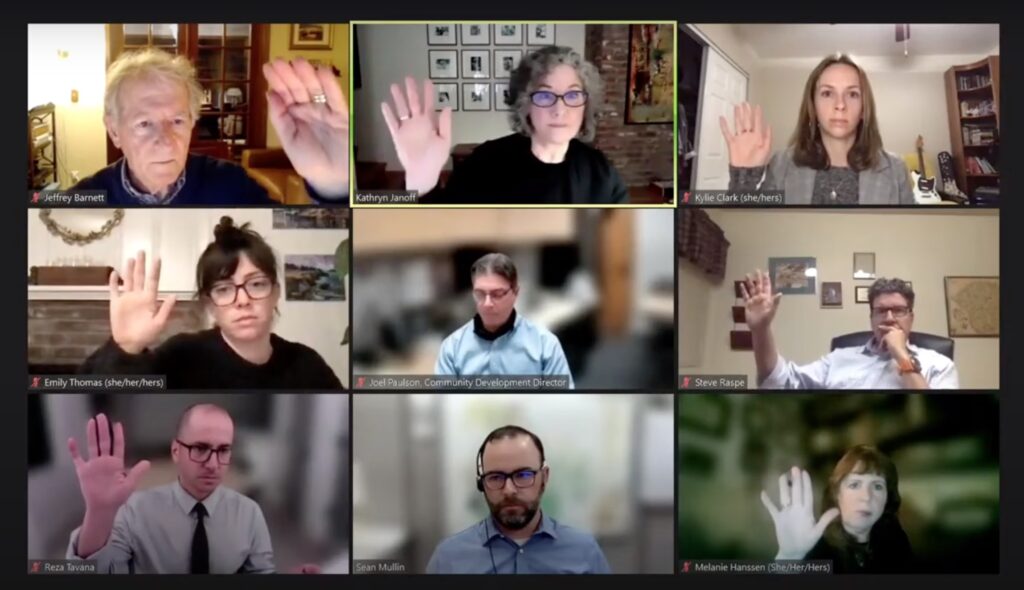 Melanie Hanssen, who would be named Planning Commission chair later that evening, noted Covia had brought the project before the Conceptual Development Advisory Committee voluntarily. She asked Rockwood if there will be any units designated as "affordable" in the proposal.
Rockwood said Covia does have "a rather significant affordable housing division," but has never offered "below-market units" or "affordable market units" in any of its so-called Continuing Care Retirement Communities.
In fact, the Planning Commission isn't even allowed to require them to make cheaper units available—provided they stick to this particular housing type—he underlined.
"Please note, as we've indicated on Page 2 of our justification letter, that state law specifically prohibits the imposition of rent regulations on CCRCs," he said. "We believe the State law applies to our project."
Staff later confirmed it agrees with the developer's assessment of the legal landscape.
Rockwood said Covia was balancing feedback about the building height with comments about not reducing housing stock any more than necessary or expanding the general perimeter.
Clark pressed him on the affordability question.
"I know it's not something that anyone can require of you, but it's definitely been a really big community concern lately, and definitely in the town of Los Gatos, this is something that we're working on," she said. "Would you be open to putting any BMR units in this build?"
Rockwood said because CCRCs provide a high level of service to residents by definition, it would be hard to offer this to people who aren't relatively wealthy.
"Unfortunately, it's very, very challenging," he said, noting the nonprofit doesn't offer a lower tier service-level for residents. "It's not something that Covia has ever done, and they—quite frankly—don't think it would work in a CCRC environment."
Other issues raised during the meeting included the amount of dirt to be hauled away for the parking garage and the number of trees to be eliminated from the property.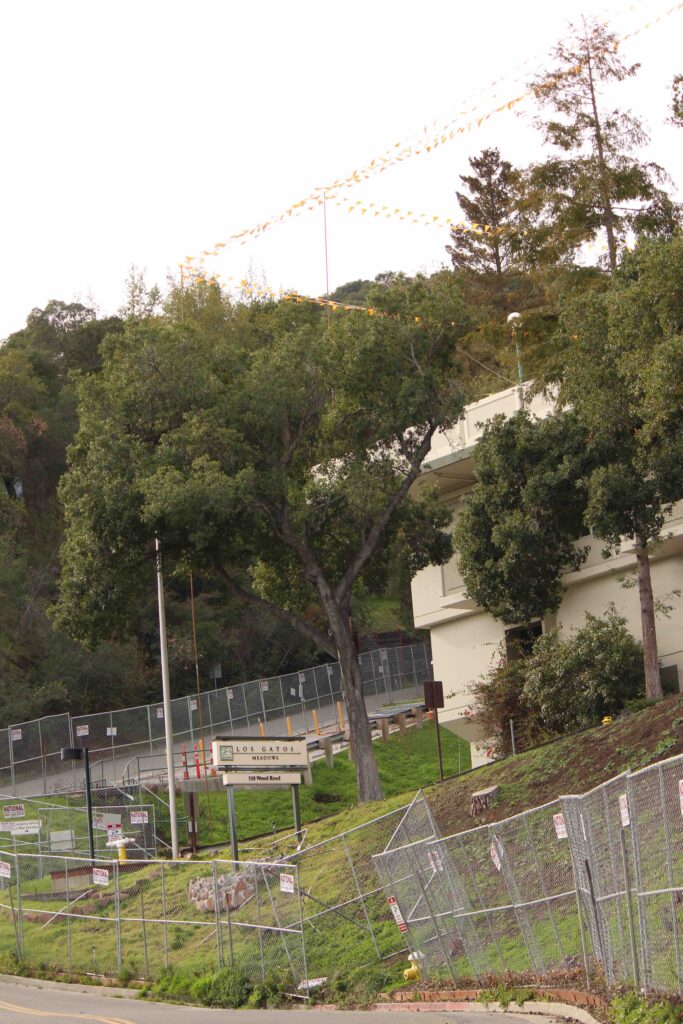 Chair Kathryn Janoff explained she recently investigated senior facilities in the area on behalf of her mother, noting there are a variety of business models the company could have pursued.
"The Meadows was sorely missed when it was closed," she said, adding she was alarmed by the proposed penthouses. "It feels very much like luxury, exclusive housing. And I understand that it's a senior model, and it does provide care, but it provides that at high expense to the residents of Los Gatos."
Janoff asked the developer if it might be interested in tweaking things, but a company official said it would rather see the project move on to Council even without commissioners' blessing.
"Am I hearing you correctly that you would not be willing to take a continuance to respond back to the Planning Commission?" Janoff asked.
"That's correct," said Covia rep Laura Worthington-Forbes.
"I think they want to take their chances with the Town Council," Hanssen commented.
Clark said it was "concerning" the company wasn't willing to even make an attempt at providing some affordable housing.
"The reality is, you can—even if you're not required to, and you might not profit from it—you can choose to incorporate some affordable units, just so that more of the community can be welcomed," she said. "And I also wanted to point out that 120 staff would be hired. And we're already seeing people commuting from, like, Stockton, in order to work here, because of the housing shortage."
Fewer two-bedroom units would've been one way to reduce the height, she suggested.
"It is in the hillsides, and would be the tallest building in town," she said, adding she doesn't feel like it benefits the broader community. "Who knows how many Los Gatos residents can afford to live here, or would get admitted…Overall, it feels like more luxury housing isn't exactly what we need."
Commissioner Emily Thomas said as a member of the Housing Element group that's supposed to work toward state-imposed housing goals, she couldn't support Covia's proposal, either.
"It's not the type of housing that we're looking to develop in Los Gatos," she said, adding she was disappointed to see how many trees would have to be removed, too. "I really tried to come into this with an open mind, and hoped that I was missing something. The information I received tonight was not making me feel any better about it complying with the General Plan."