The Little League Baseball All Star tournament season has arrived and Los Gatos is poised to have another strong showing results-wise while emphasizing its mission to develop fundamental baseball skills while positively reinforcing lessons in teamwork, respect and sportsmanship.
Last year's 11U team took third place in the Northern California Divisional tournament, and many of those same players aged up to play on this year's 12U team. Los Gatos Little League (LGLL) had a huge player turnout this year, fielding nine teams in Triple-A.
That's in contrast to most other Little League cities/organizations which field four to five Triple-A teams for the regular-season.
"It's a great sign for Los Gatos Little League baseball," said Chris Denevi, the manager for this year's 10-and-under All Star team.
The roster of the 12U team includes Connor Boese, Lucas Bottoms, Grant Browder, Ryan Carlisle, Cruz Catipon, Colton Kalin, Skyler Levine, T.J. Lombardi, Kyle Matar, Timmy McNeil, Brixton Mentz-Bonnifield, Jimmy Mort and Drew Oppenheimer. The team is managed by C.T. Kalin with assistant coaches Elliot Carlisle and Tom McNeil.
The 11U roster includes Frankie Czyz, Ryder Davis, T.R. Engelman, Cody Fischer, Austin Fondiller, Randy Hanson, Kyle Mogensen, Drew Parrinello, Sam Rahimi, Carson Reynolds, Oliver Weideling, Luke Willerer and Hunter Zeid. The team is managed by Chris Mogensen with assistant coaches Romy Zeid and Tom Willerer.
The 10U roster includes Parker Bertsch, Magnus Bottoms, Evan Choe, Noah Denevi, Josh Doctorow, Carter Dunstan, Ethan Fainer, Chase Hawley, Mason Lucq, Colton Madden, Grady O'Brien, Beau Shyba and Titus Williams. The team is managed by Chris Denevi with assistant coaches Mark O'Brien, Doug Madden and Sean Lucq.
The 9U team roster includes Oliver Chang, Jeremy Chiala, Daiden Christian, Mickey Denevi, Josh Granum, Grant Howard, Brody Kellenberger, Barrett Laubach, Charlie Nielsen, Tommy Rabitz, Logan Williams and Zachary Youkilis. The team is managed by Brian Chiala with assistant coaches Russell Laubach, Kevin Youkilis and Justin Christian.
The 9U and 10U teams start District 12 tournament play on Saturday, while the 11U and 12U squads start next week week. For the 12U team, it opens up District play against Quito-Saratoga June 16 at 5:30pm at Union Little League Field. The 11U squad plays Cambrian Park June 15 at 5:30pm at Branham Hills Little League Field.
Los Gatos' 10U team has four pool play contests and must finish in the top two to advance to the semifinal round at Quito-Saratoga Little League Field. The 9U team has a similar road as it plays four North Pool games, with the top two from each pool qualifying for the semifinals at San Jose American and Willow Glen Little Leagues.
Everyone from the players to the coaches to the parents look forward to the All Star season. C.T. Kalin can't wait to see how the 12U team plays together.
"It's a very special group of kids," he said. "They're very hard working and all of them have impeccable character."
Fellow manager Chris Mogensen expressed similar sentiments: "It's neat to see how driven the players are and how they want to become their best in the sport. I think it's a privilege leading this team with coaches Romie Zeid and Tom Willerer helping out. This is an incredibly talented group and they're working hard everyday in practice."
Through June 7, the 11U team had scrimmaged two other All Star teams, displaying strong fundamentals in the process. A deep pitching corps is a necessity to advance in All Star tournament play because of pitch count totals and the innings pitched rule, along with the amount of games a team has to play within a relatively close time frame.
To that end, Mogensen said he's got five quality arms including Fondiller, Willerer, Engelman, Davis and his son, Kyle Mogensen.
"All five are good and we've had great pitching in the couple of scrimmages we've had," Chris Mogensen said.
Chris Denevi had a heartwarming father-son(s) moment in the Triple-A championship game between the Marlins and Giants on May 24. The Denevi-coached Marlins edged the Giants 5-4 on a walk-off single from Noah Denevi, Chris' oldest son.
Noah's single scored his younger brother, Mickey, who had reached on a leadoff walk before advancing to second base on a passed ball. The late-inning heroics capped a comeback from a 4-0 deficit. Mogenson said it takes tremendous support from the players' parents to make the team run smoothly.
"Administratively, so much goes into this All Star program," he said. "We have a great group of parents and without their support, this wouldn't be possible. We have additional coaches during practices that help out there and in administrative roles, so that's been huge."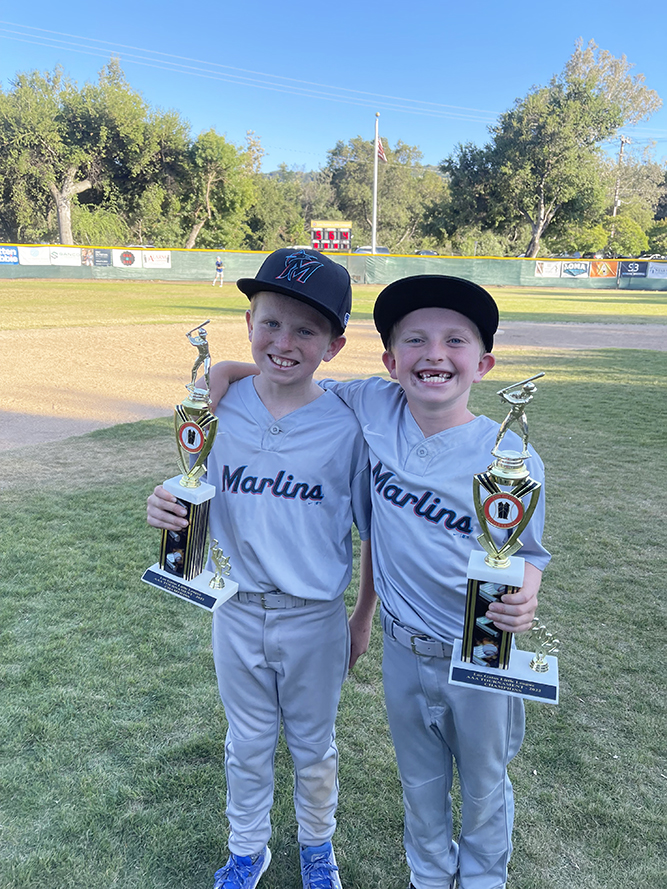 Sports editor Emanuel Lee can be reached at [email protected]