A year ago, the Los Gatos High girls cross country team exceeded all expectations by winning the Central Coast Section Division I championship.
This season, the Wildcats' challenge to repeat as section champions will be tougher as they've been placed in Division II, meaning they have a much larger field of schools to contend with in the CCS Championships.
The good news is Los Gatos lost just one starter from its 2021 team and returns standouts Sophie Tau and Shea Elmore along with a handful of other talented returners and newcomers. The Wildcats have their first official practice on Aug. 8 and their first race is the Ed Sias Invitational in Martinez on Sept. 10.
The Los Gatos boys also have the same start date and they're out to improve upon their solid fifth-place showing at CCS in 2021 (more on them later in the story). For the girls team, joy comes from seeing each other again.
"I'm excited for all of us to run together," said Tau, a senior who enjoyed a breakout season in 2021. "Everyone has been away for the summer, so it'll be nice to have the whole team back together again."
Tau finished second overall in the CCS Division I race last year, running the 2.95-mile Crystal Springs Course in Belmont in 18 minutes, 22.2 seconds (6:13-mile pace). She has a personal-record (PR) of 18:15 at the course, which will be the site of the CCS Championships again this year.
"I definitely want to break 18 (minutes)," Tau said. "I think only a few people (among all divisions) did that last year, so it'll definitely be hard. But with good conditions and good training, I definitely think I can accomplish that."
Tau has been running 30 to 40 miles a week, consisting of a lot of easy pace and moderate pace runs. Harder workouts will come in due time.
"Summer training is really important, but we don't want to do too many hard workouts so we don't burn out because the season goes until November," she said. "We're doing a lot of base running and a couple of tempos a week at 6:45 pace and slowly building up."
Elmore should have another tremendous year coming off a freshman season in which she won five races and never placed below third until the CIF State Championships. Elmore has a PR of 18:10.3 at Crystal Springs and like Tau is gunning for a sub-18 time at Crystal.
Tau said Elmore was at a weeks-long running camp this summer which should only make Elmore stronger for this season. Two other returning sophomores, Tatum Pyle and Sarina Salzer-Swartz, have PRs of 19:11.4 and 19:13.9, respectively, at Crystal Springs.
Juniors Kate Herron and Abigail Zolla have lifetime-bests of 19:36.1 and 20:04.6, respectively, at Crystal Springs.
"Kate and Abigail are definitely putting in some good workouts," Tau said. "Kate will be the junior captain, so we have some good leadership on the team. They're both having some good runs which makes it exciting for all of us."
Sophomore Addison Lundstrom was on the junior varsity squad a year ago, but she's a runner to watch out for, Wildcats coach Paul Lawryk and Tau said. That's because Lundstrom had a tremendous track and field season in the spring, finishing 14th in the CCS Semifinals in the 800-meter run.
She also had a PR of 5:25.72 in the 1600, which can translate well to cross country's longer distances.
"Addison has improved a lot," Tau said. "She's also building up and it'll be exciting to see how she does."
Tau said the team has a special bond and that's what makes going to practices a highlight.
"They're sometimes the best part of our day," she said. "We always have a good time and it's nice we can decompress with friends after school. It's always fun to go on long car rides (for out of area meets) and stay at hotels and enjoy each other's company. We're all really lucky to be on a team with good teammates."
Meanwhile, the boys team should be strong once again. The Wildcats added sophomore Aydon Stefanopoulos, who transferred from Mitty after last year's cross country season. Stefanopoulos had a terrific freshman season, finishing in sixth place in the CCS D-2 race in a PR of 15:57.9.
That qualified Stefanopoulos for the state meet, where he took 22nd. Seniors Jack Fan and Keaton Wong are two of the top returnees, with PRs of 16:48 and 17:05.6, respectively, at Crystal Springs.
Lawryk said he's expecting some good things out of sophomore Ben Klarich, who hasn't run cross country since the seventh grade but is coming off a strong track season.
"Ben is one of those guys who has some good upside, and he could be someone who could make a breakthrough," Lawryk said. "We have some pretty good runners and if no one gets hurt, we could be a top three or four team."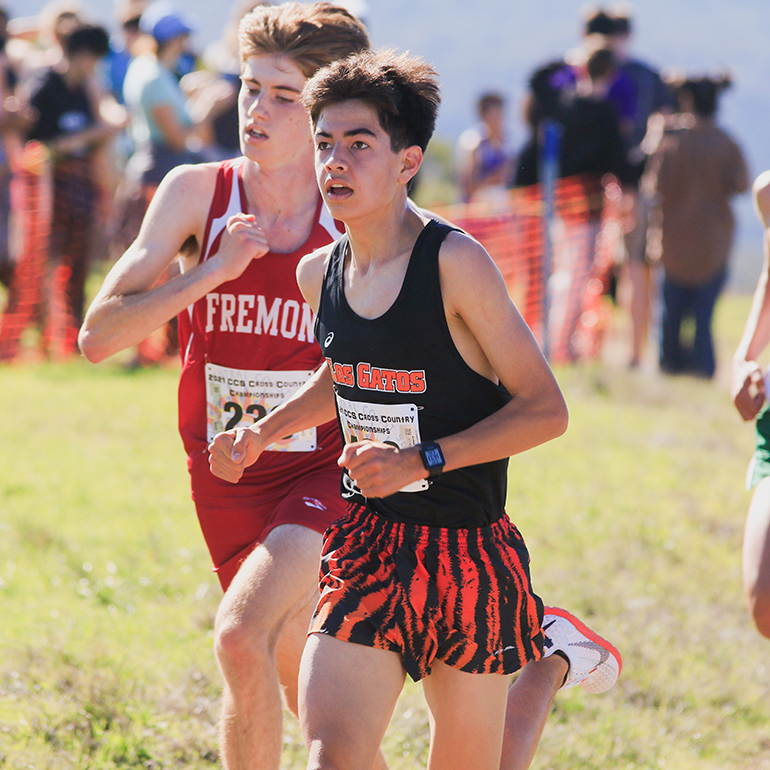 Sports editor Emanuel Lee can be reached at [email protected]