Jeff Alzina has come full circle.
After 25 years living in Southern California, the all-time winningest coach in AVP history returned home to Santa Cruz in February 2019 to become the head coach of the Santa Clara University beach volleyball program.
Then, just three months ago, Alzina teamed up with Los Gatos resident and Director Courtney Burry to launch the Mandala Beach Volleyball club. Mandala holds practices at West Valley College in Saratoga and Main Beach in Santa Cruz, and will add practices at Northgate High in Walnut Creek by October.
For the 54-year-old Alzina, becoming the head coach of a club volleyball program represented a unique opportunity and challenge with a deeper meaning.
"I've got a 7-year-old daughter and really strong roots to the Santa Cruz area, so the whole idea of building something from scratch was something extremely attractive to me," said Alzina, a fifth generation Santa Cruzan. "I've thought about doing a club (again) for close to 15 years. The time was right for it."
Alzina pointed to the paucity of beach volleyball clubs, the sport's rise in popularity and the rich talent in the Bay Area as reasons why this was the perfect time to go all in.
"There's so many great players and so many great athletes with families that are interested in it that this is the area that makes the most sense to grow the sport," he said. "One of our big goals is not just to grow the sport, but to show the Bay Area that playing beach volleyball year-round and making a commitment to becoming an NCAA player is a viable option. The majority of players in this area still play other sports through high school, and so hopefully we're going to create enough support and quality that players realize they don't have to keep chasing this collegiate indoor dream."
Girls beach volleyball is in its initial season as a California Interscholastic Federation (CIF)-sanctioned sport. Los Gatos High is offering up the sport in the spring of 2023.
"Beach volleyball is the fastest growing NCAA sport," Alzina said. "It's rapidly growing all over the nation. Florida, Texas, Arizona and Southern California have been way ahead of the curve and for some reason Northern California has been about three to four years behind those other regions. But we're hoping this is an area where we can create a ton of growth and a ton of opportunities because there are a lot of great players and interest up here."
That's one of the reasons that got the 54-year-old Burry to launch Mandala. A senior vice president of product and corporate marketing, Burry's daughter, Sydney Morey, a sophomore at Los Gatos High, recently decided to take up the beach game full time.
Burry's path into becoming Mandala's club director began with a push to give girls an outlet during a turbulent time. When things were still shut down due to Covid in the final months of 2020, Burry organized tournaments to give girls in the area an opportunity to keep on playing.
From that, she received a lot of positive feedback.
"A lot of the players' moms came to me and said I should do a club because there wasn't a club down here in the South Bay," Burry said. "I was introduced to Jeff and he was looking to give back to the community as well, so we decided it would be a kind of labor of love for both of us."
Burry and Alzina met in February and launched Mandala in just three months. Burry said the club has enrolled 100 girls across the 10-18 age level, and she expects that number to grow as word gets out.
"This started as a way to give girls an outlet during Covid, but has morphed into something more," she said. "We're seeing really great traction, and it's exciting to see the interest in beach volleyball taking off. But there's always a little bit of if you build it, will they come? You're doing something for the first time and so you're figuring it out as you go."
With no previous experience running a sports club, Burry turned out to be a quick study.
"You learn things as you go, like how to structure the classes," she said. "The moms are really vocal (laughs) about telling us what they think, what they like and what they want to see, which is great. Jeff and I both have different experiences. I have more of the business side which is nice because I'm really organized and I can do all the management side of things. And he's got the amazing coaching experience."
Mandala has already had a number of its teams compete in Junior Nationals and notable AVP and AAU tournaments. Several of the teams won medals, especially at the 16U and 12U level. Top players include Amelia Vugrincic, a 2022 Palo Alto High graduate who has a scholarship to play at Cal, and Emma Donley, a senior at Menlo School who is committed there.
Athletes from beginner to advanced are drawn to a person with Alzina's pedigree. He has coached 25 years across the club, college, professional and Olympic levels. Save for leading a team to an Olympic gold medal, the UC Santa Barbara alum has pretty much accomplished everything in the sport.
Alzina has been a national team coach for eight different countries, and enjoyed a highly successful eight-year run with former pro Stein Metzger. Alzina got his first big break in 1998 from Sinjin Smith, one of the greatest beach volleyball players of all time.
Beach volleyball had just become an Olympic sport in 1996, but was still in its infancy from an overall operational standpoint.
"The legendary Sinjin Smith really did me a big favor in 1998 when I let him know that I heard the Greek Volleyball Federation was searching for someone after they earned the (2004) Olympic Games in 1997," Alzina said. "There were only a handful of people even coaching beach volleyball then, and I wasn't one of them. But I had a relationship with Sinjin and his partner at the time who was my roommate and convinced them that I knew enough about the game that I could basically help create the position and the profession of coaching players and develop talent year-round."
Describing it as his "first real volleyball salaried position," Alzina moved to Athens for three years to prepare a Greece team to qualify for the 2004 Olympic Games.
"Initially, it was a seven-year plan, but we were able to get two really talented indoor players from the indoor national team who were playing beach part-time and convinced the Federation to pull them away and give them the same salary, but play beach full-time starting in 1999. Within a year, we trained so hard and they got so good they qualified into the (2000) Sydney Olympic Games. I think there were less than 10 people coaching in the world in beach volleyball at the time, and so no, I never had any aspirations whatsoever (of making a living off it).
"I just knew there was a position someone wanted to create and I had dedicated probably the 15 years prior to playing and understanding the game and helping people run practice and get better at things in an informal fashion. When someone was going to say, 'Hey, this is going to be a paid position and you'll travel the world and we're going to give you all the support you can imagine to become better at this profession,' it was a total no-brainer. That just set everything in motion."
Alzina chose Mandala for the club name because it's a Sanskrit word that means circle. Symbolically, it's used to represent the universe, and more specifically a balanced universe.
"The Hindus and Buddhists have grabbed it and ran with it for thousands of years as a symbol of when things in your larger world are balanced," Alzina said. "I've done a lot of studying on how to balance yourself with all of the things in your head and your life, and have always enjoyed that concept of being a healthy, balanced person."
A volleyball is the center of Mandala's club logo.
"So basically beach volleyball is the center of our universe—that's the idea," he said.
Alzina has come full circle, back home where it all started.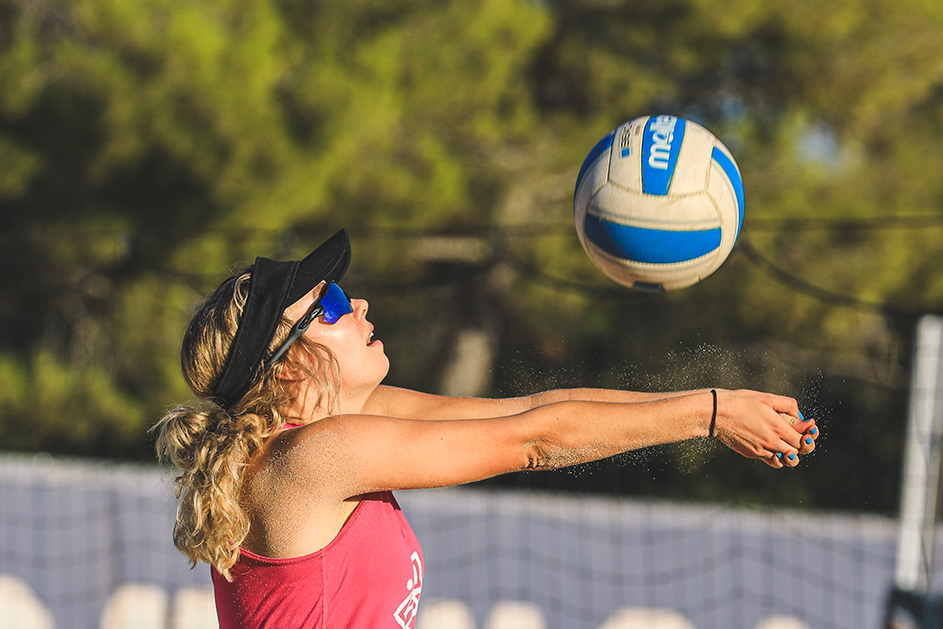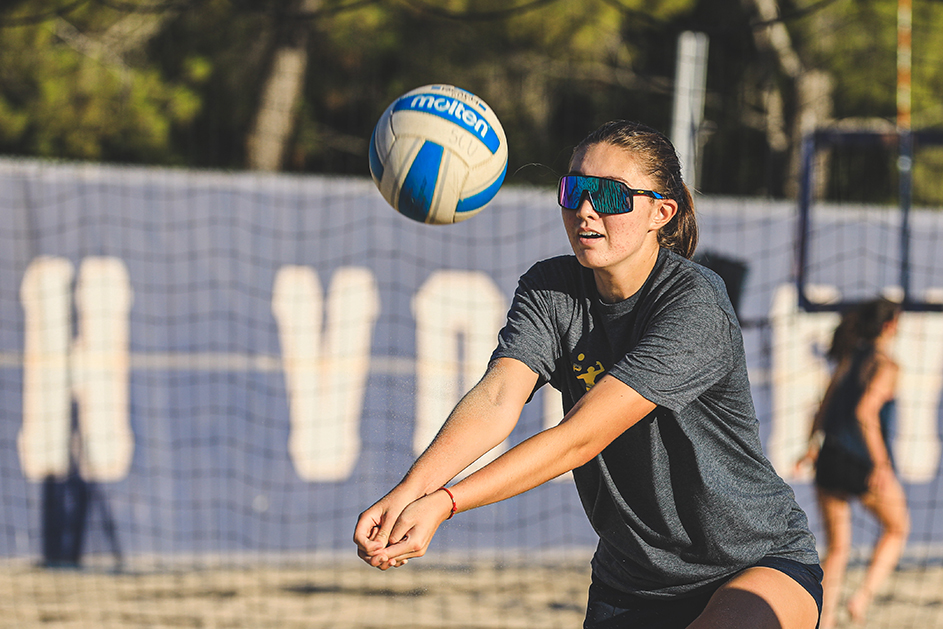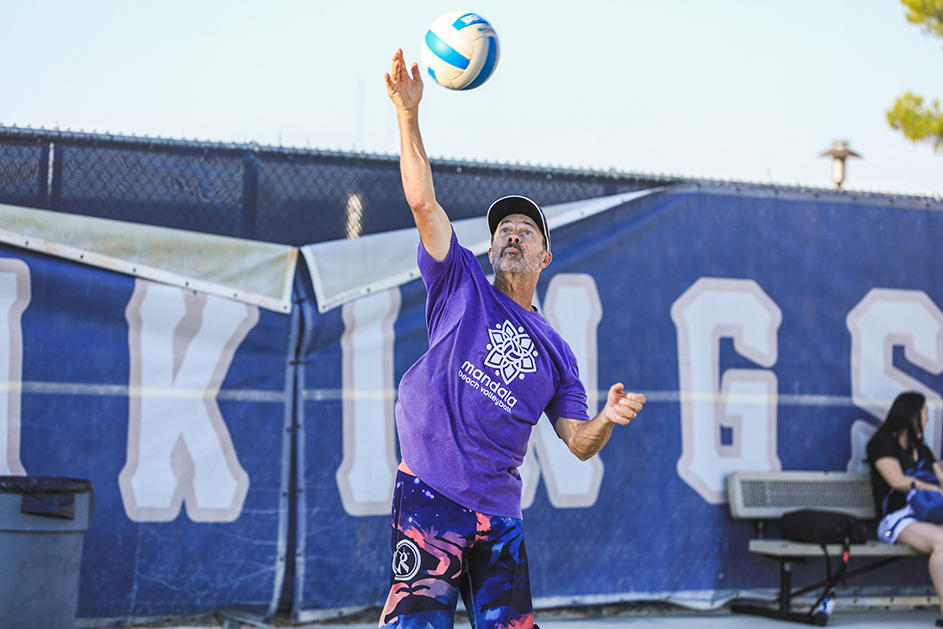 Sports editor Emanuel Lee can be reached at [email protected]