NUMU holds juried art competition
The Los Gatos Art Association (LGAA) presents the juried fine art show: Greater Bay Area Open at New Museum Los Gatos (NUMU).
For this exhibition, LGAA invited artists to interpret the theme "Potentiality / Actuality" in their own way. Attracting both 2D and 3D artwork from the greater Bay Area spanning Napa Valley to Carmel, there will be prizes of up to $6,000 total.
The jurors include Pancho Jiménez of Santa Clara University and NUMU Curator Allison Railo. 
The exhibit opens at NUMU in the main gallery on Nov. 17 and runs through March 9. A free public reception and awards presentation will take place on Nov. 16 from 5-7pm.
Located at 106 E. Main St., NUMU is open Friday-Sunday from 10am to 4pm.
"We are delighted to be partnering with NUMU to showcase exceptional artistic talent in this biennial fine art competition," Los Gatos Art Association President Jane Loomis said. "This exhibit brings together talented local California artists in the Greater Bay Area, and we are so excited about the prospect of enjoying great art in person again."
Jiménez holds an M.F.A. in Sculptural Ceramics from San Francisco State University, and a BA degree from Santa Clara University. He has exhibited extensively in the San Francisco Bay Area and nationally at universities, private galleries and civic spaces. His work is part of the permanent collection of the Crocker Museum of Art in Sacramento, the Autry Museum of the American West in Los Angeles, the Triton Museum of Art in Santa Clara, the University of San Francisco and Santa Clara University.
Railo received an MA in Art History and Visual Culture from San José State University, specializing in contemporary alternative process photography. Her MA thesis grew into the 2020 Image + Object Exhibition at NUMU, where she also curated the NUMU's Los Gatos History Project. She earned her first MA in Museum and Gallery Management from City University in London, and her BA in World Arts and Cultures from UCLA.
In the past, New Museum Los Gatos regularly hosted both member and open juried exhibitions organized by the Los Gatos Art Association, so the two nonprofits have a long history of partnership and mutual promotion.
"NUMU is proud to support our local artist community," NUMU Executive Director Kimberly Snyder said.
For information, visit numulosgatos.org.
New form of dining for senior living community helps those with physical challenges
The Watermark at Almaden in San Jose is introducing Gourmet Bites Cuisine, which allows senior residents living with cognitive, neuromuscular or physical challenges to eat nutritional meals with their hands. 
The cuisine takes all the elements of a full, traditional menu and recomposes them into gourmet bites they can eat with their fingers, creating an inclusive, sensory experience for residents who have trouble holding utensils.
"When people choose to live at Almaden with us, we want them to thrive where they live," said Debbie Teixeira, director of dining services at Watermark at Almaden. "Being able to eat nutritious and healthy food with accessibility and dignity when you have dexterity issues, is one more way we make sure they do thrive."
The Cuisine also allows Teixeira's team to add fresh vegetables they get locally, such as their organic tomatoes from Los Gatos.
There's also a social aspect.
"By ensuring people can eat with independence at the table, it allows them to sit with people and be active with the community, which is important, as isolation is often an issue with those who have cognitive challenges," Teixeira said.
While Gourmet Bites Cuisine has been introduced with great response to other Watermark communities across the U.S., and this is the first time it's being introduced to San Jose.
"I'm thrilled to bring this to our community," Teixeira said. "Dining is one of life's great pleasures and I love seeing that pleasure return to our residents' faces."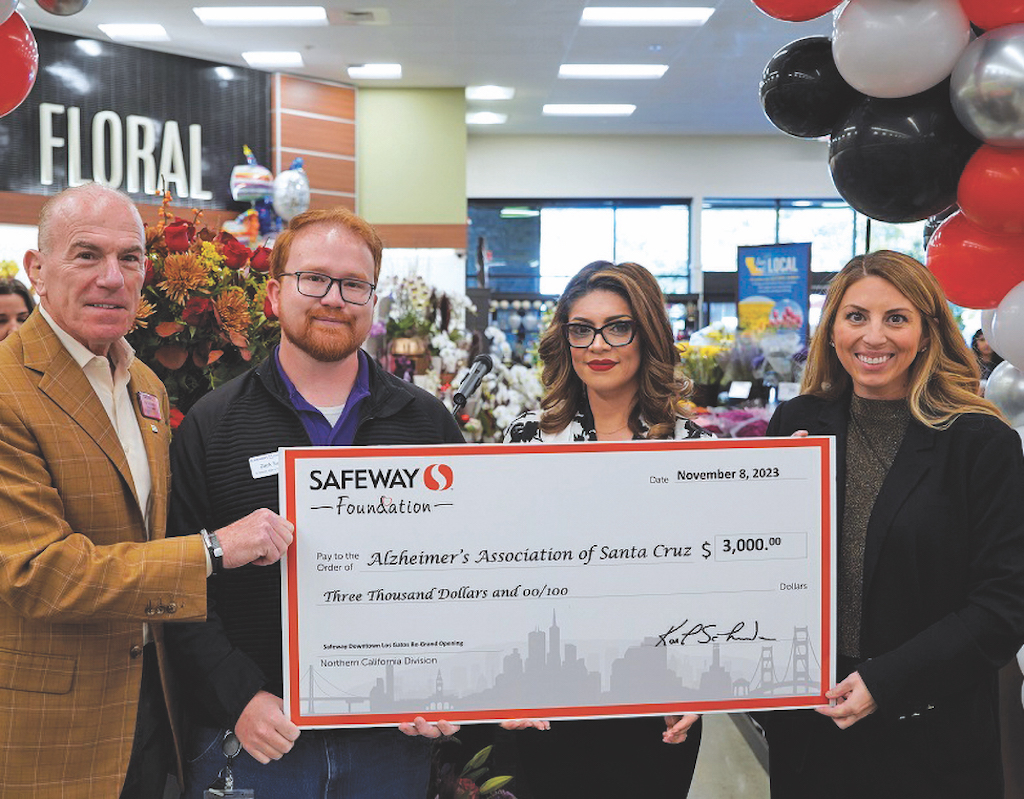 Safeway Supports Alzheimer's Association
The downtown Los Gatos Safeway, 470 N. Santa Cruz Ave., celebrated the remodeling of its facility on Nov. 8. The ceremony marked the occasion with a donation of $3,000 from the Safeway Foundation to the Alzheimer's Association of Santa Cruz and remarks from Store Director Maritza Arias and Los Gatos Vice Mayor Mary Badame.
New store offerings include a range of freshly prepared meals and ready-to-serve options in the deli department, an assortment of organic fresh-cut offerings, meats and an oyster bar. Customers will find a "World of Cheese" shop with a variety of local and gourmet cheeses that pair with an expanded selection of wine and spirits.
Safeway has been serving the Los Gatos community since 1969.