Spring has finally arrived! As beautiful as it is today, imagine what spring was like when thousands of acres of fruit and nut trees were in full bloom in the "Valley of Heart's Delight." Did you know that many of those orchards might not have survived without the efforts of a Los Gatos entrepreneur named John Bean? The product that he invented in a shed behind his house saved an incalculable number of trees. The startup company that he launched eventually went public and now employs thousands of people worldwide. His remarkable tale is just like a contemporary Silicon Valley success story except that it began more than 100 years ago.
Bean was born in Maine in 1821. As a young man living in Michigan, he invented the Buckeye Force Pump, the world's first deep-well water pump. He sold the patent and the manufacturing rights for $25,000 and royalties of 25 cents per pump, which was a significant sum in those days.
When diagnosed with tuberculosis at age 62, Bean decided to retire here, believing like many did back then that our "salubrious" climate might improve his health. He purchased 10 acres of land which included a large almond orchard, and settled comfortably into his Los Gatos home.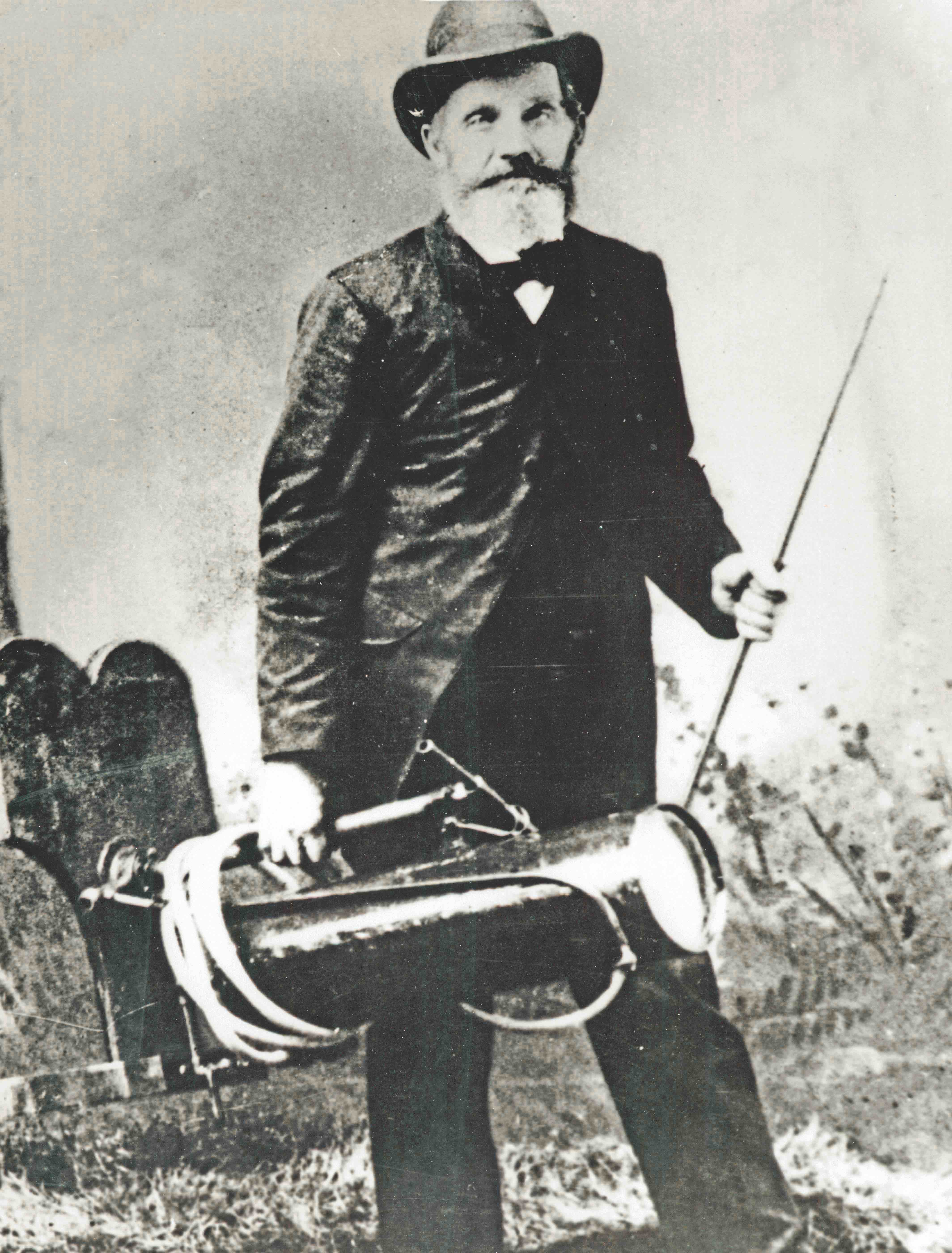 But fate soon intervened when Bean found his trees infested with highly destructive scale insects. A typical squirt gun insecticide sprayer was weak and ineffective, so he used his self-taught engineering skills and his pump design experience to create a high pressure pneumatic device which could spray into every crevice of a tree, continuously, from top to bottom.
Bean showed his invention at the California State Fair in 1883. It was such a sensation that he decided to start a small company to manufacture and market his pump. As demand grew, he asked his son-in-law David Crummey to take charge of the new Bean Spray Pump Company so that he could focus on design and engineering.
In 1901, Bean created the Magic Pump, a large mechanical sprayer which featured higher air pressure and adjustable nozzles. His pumps helped to save not only his almond trees but also many of the orchards in Santa Clara Valley. The pumps were exhibited at the 1915 Panama-Pacific World Exhibition and sold to orchardists from as far away as South Africa and New Zealand.
John Bean passed away at age 88 while working on a new model of his famous sprayer. In 1928, shares in the newly renamed John Bean Manufacturing Company were first offered on the San Francisco stock exchange. After two major acquisitions, his little company had grown into the world's largest manufacturer of agricultural and canning machinery and was renamed the Food Machinery Corporation. Today, FMC is a multi-billion-dollar conglomerate with more than 6,400 employees. The Bean family remained involved until 1971 when co-founder David Crummey's 93-year-old son John retired as Honorary Chairman of the Board.
John Bean's orchard was eventually subdivided into residential lots and is now part of the Almond Grove historic district. Sadly, the large Victorian home which he built for himself and his extended family on the corner of what is now Bean Avenue and N. Santa Cruz was bulldozed in 1938 to make way for a retail building and parking lot, and John Bean's remarkable success story has largely been forgotten.
Content and photos from "Discover LOST Gatos" historical walking tours by Alan Feinberg, Peggy Conaway-Bergtold and Sandy Decker. Download the free mobile app from the Apple App Store or Google Play. Contact us at [email protected].