Jake Boyd isn't exactly feeling the love quite yet from four-year college programs, but that's OK.
The Los Gatos High senior will be playing for some team next year, and anyone around the Wildcats' baseball and football programs will agree that college will be grateful to have him. Los Gatos football coach Mark Krail and former baseball coach Justin Oliver will be the first ones to say Boyd leads by example and is a professional in how he approaches each sport.
In terms of production, the intangibles and talent, Boyd has done everything possible to put himself in a position to succeed. The 6-foot, 180-pound Boyd looks to lead the Wildcats football team to a Central Coast Section championship this season, something it last did in 2019.
Boyd is coming off a stellar 2021 season in which he threw for 1,887 yards, averaging 9.7 yards per completion. One of Boyd's greatest attributes is his even-keel temperament, which was best displayed in a season-opening 28-14 loss to Southern California power Corona del Mar.
Under heavy duress throughout, Boyd still managed to complete 10-of-19 passes for 133 yards with a touchdown and no interceptions. Even though the offensive line struggled, Boyd deflected blame knowing everyone could've done better, including himself.
"It's easy to look at the offensive line in that game and say they weren't great, but a lot goes into that and we all struggled," he said. "The first game of the season is always exciting, but there are always a lot of kinks and problems that go on, which is natural. But the important thing is we used those struggles to get better and took that into the Liberty game, which was a huge bounceback."
No kidding. The Wildcats rang Liberty to the tune of 31-0 in a Week Two contest, and Boyd finished 14-of-18 for 221 yards.
"After that game, I felt really satisfied with what happened," he said. "Some games are tough and you don't throw many completions, but everything was rolling in that game. The receivers were wide open so it's not like I had to make some incredibly tough passes. It was a good game all around and they made me look good, so I'll take it. It was more of a credit to the offensive line and the receivers because they made my job easier."
Boyd said another huge factor in the team's bounceback victory was running back Emiliano Mejia, who was limited to eight yards on four carries in the opener. But the senior had 94 yards rushing on 14 carries against Liberty and then went off in the team's 34-0 win over Live Oak on Sept. 9, totaling 121 yards on eight rushes with three touchdowns.
"Emiliano in my opinion is the best running back in CCS," Boyd said. "So as great as it was for me to not get hit at all (against Liberty), we have to get him going because he's a huge part of our offense."
The Los Gatos defense has posted two consecutive shutouts and has been pretty much on point since the start of the season. Strong safety Landon Heard has been absolutely sensational, collecting an interception in each of the three games.
Sophomore Henry Masters and junior Spencer Burg have caught on fast as new starters.
"They played really well (against Liberty)," Krail said. "Learning as they go. We threw them out in Week One vs. Corona del Mar and wow, what a fast education they were going to get, but they went with it.
We played probably 15, 16 guys on defense through the first three quarters (against Liberty) and more after that. We had nine guys running out there on the defensive line.
"One of the things that will be a luxury down the road is the depth we have because we can rotate guys through. We had constant pressure on their quarterback and often times it was only rushing three guys and playing eight deep in the secondary. When you can provide pressure with only three, that makes it tough on the quarterback. By and large, any time your defense pitches a shutout, that's a good night for sure."
Boyd played two years for the Pop Warner Longhorns football team before entering high school. He never played quarterback until he became the starter on the freshmen team in his ninth-grade year. Boyd's progression continued, as he was the junior varsity starting signal-caller as a sophomore before taking over the varsity reins last year.
Boyd has developed in every phase of the game, from reading defenses to going through his progressions to having a sense of the pass rush and when to pass it or run with it.
"When I started playing quarterback, I did a lot of guessing," he said. "But as time went on, I started understanding how football works and what it takes for a play to develop. I understood the defense's moves and who does what, and it's something I continue to work on."
After an outstanding baseball season in the spring in which he pitched and was one of the section's best center fielders in his first year at the position, Boyd took a brief break before gearing up for summer football workouts, which serve as a crucial component in a player's development and on the recruiting front.
The Wildcats were involved in a passing league and Boyd also went to a camp at Cal and two San Jose State camps.
"Those were good not only for teaching football skills, but more for trying to get recruited and getting your name out there," said Boyd, who carries a 4.3 GPA. "It was a good experience. Nothing huge came of it, but it was cool to get that experience."
Boyd has done a lot of reflecting lately on which sport he would play in college if he had to pick one, as is the case with most multi-sport standouts.
"I enjoy playing football more and the atmosphere of football, but long term wise, realistically, I think baseball is also a good option," he said.
Boyd has some strong athletic bloodlines. His parents played sports, and his grandfather from his mom's side, Joe Fiorentino, was a high school All American in baseball and football at Bellarmine in the mid-1950s.
Boyd's grandfather from his dad's side also comes to all of Boyd's games, and Boyd cherishes the relationships he has with both of his grandfathers to this day.
"I have really good relations with my grandparents on both sides, so I'm really fortunate for that," he said. "As much as they've gotten older, they still support me in every way. It's a positive and a healthy thing to have a good relationship with them."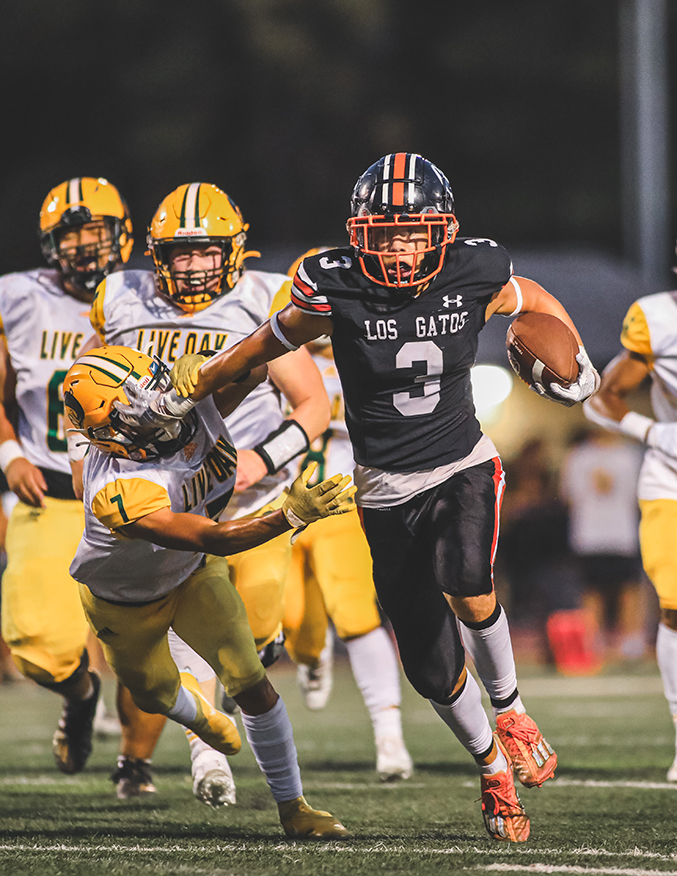 Sports editor Emanuel Lee can be reached at [email protected]