St. Patrick's Day offers the perfect opportunity to pay homage to one of Los Gatos' most fascinating and colorful characters, Charles Henry McKiernan, better known as "Mountain Charlie." 
McKiernan was born in Ireland in 1825. He joined the British navy to escape the potato famine and was stationed in Australia when he heard about the discovery of gold in California. His enlistment having expired, McKiernan boarded a steamer headed for San Francisco to seek his fortune.
After achieving some success in the mines, McKiernan and a few of his former shipmates organized pack trains to transport goods to other miners. That venture only lasted until the second trip, when they were ambushed and all of their provisions and livestock were stolen.
Timber was becoming the new gold for fortune seekers, so McKiernan traveled south to the Santa Cruz Mountains. He claimed squatters rights to thousands of acres of redwoods by camping in the burned-out trunk of a giant redwood tree while building a cabin, thereby becoming the first known European settler in the mountains.
On May 8, 1854, while hunting with a friend, Charlie's face and head were badly disfigured in an attack by a ferocious California grizzly. It seems that he got between a thousand-pound mama bear and her cubs. His friend was able to distract the bear, but not before she grabbed Charlie by the head and took part of his skull with her. He survived after a local doctor fitted a four-inch-square metal plate made from melted silver dollars into his skull.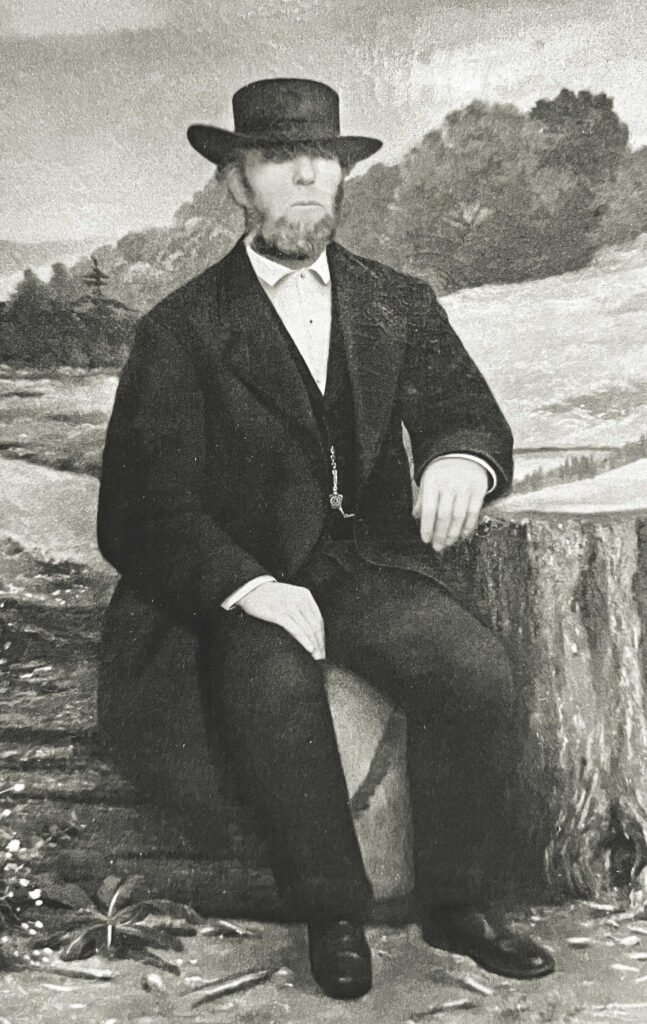 As luck would have it, the nurse during his long recovery happened to be a recent Irish immigrant named Barbara Kelley. They fell in love, married two years later, and expanded Charlie's cabin into a large homestead where they eventually raised seven children.
After surviving the nearly fatal attack, McKiernan always wore a hat low on his head to hide the gruesome scar over his damaged left eye which he called his "bad lamp." History records that he enjoyed telling his tale with great enthusiasm, often frightening local children by quickly removing his hat.
In 1858, McKiernan and his neighbor Hiram Scott were awarded a contract by the Santa Cruz Turnpike Company to construct a toll road to the summit from Scott's cabin in what's now known as Scotts Valley. The McKiernans' home, called Halfway House, became a popular stagecoach stop. Barbara cooked meals for their guests while Charlie helped with the horses. You can still drive along a narrow, winding, five-mile section of Mountain Charlie Road between Glenwood and the summit. You'll pass commemorative markers at the site of Charlie's log cabin and at the intersection of Summit Road.
The McKiernan family moved to San Jose in 1884 after the railroad diverted most of the toll road business. Charlie died there in 1892.
To set the record straight, our "Mountain Charlie" isn't the same person as "One-Eyed Charley." The latter was a tough, tobacco-chewing, stagecoach driver named Charley Parkhurst who lived as a man for more than 60 years. It wasn't until after her death that she was revealed to be a woman.
While Charles Henry McKiernan is best remembered for that infamous bear fight, he ultimately became quite successful as a hunter, rancher, road builder and businessman, living by the motto, "Right Wrongs Nobody." His nemesis, the native California Grizzly, was eventually hunted to extinction.
Content from "Discover LOST Gatos" historical walking tours by Alan Feinberg, Peggy Conaway-Bergtold and Sandy Decker. Download the free mobile app from the Apple App Store or Google Play. Contact us at discoverLOSTg[email protected] with comments and suggestions for future stories.